Is Modi spewing empty rhetoric?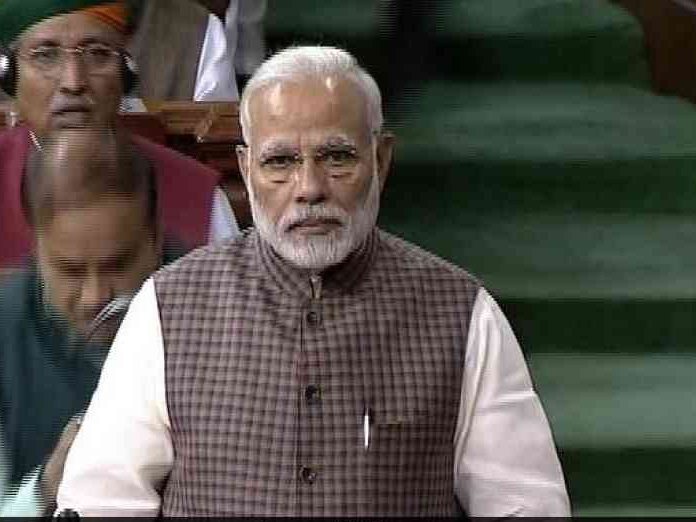 Highlights
In his penultimate speech in the 16th Lok Sabha, Prime Minister Narendra Modi strongly defended his governments achievements and mocked at opposition calling them as grand adulteration and tried to pitch his tenure of 55 months of service to the nation as against misuse of power by Congress governments which dismissed 100 state governments and 50 of them by Indira Gandhi
In his penultimate speech in the 16th Lok Sabha, Prime Minister Narendra Modi strongly defended his government's achievements and mocked at opposition calling them as grand adulteration and tried to pitch his tenure of 55 months of service to the nation as against misuse of power by Congress governments which dismissed 100 state governments and 50 of them by Indira Gandhi.
The speech while replying to the motion of thanks to President's address began on a positive note, with the PM wishing opposition leaders healthy competition in the coming elections and welcoming crores of young voters who would exercise their right to franchise for the first time, but soon it went off the track. Rhetoric is common for any Political leader whether he be the leader of the house or opposition. But the tone and tenor of the Prime Minister was something which was unlike his speeches between 2014 and early 2018.
Darna padega (You'll have to be afraid). I assure you, those who have robbed the nation will continue to be scared of Narendra Modi. Well Modi ji if 'Darna padega' threat is only for those who have robbed the nation it is welcome and we are with you. But the ground situation is people are already afraid of you and are wondering ….'kahan gaye woh achche din, kahan hai cooperative federalism'.
Where is that Prime Minister whose speeches were inspirational and people used to get glued to television sets?.
Pradhan Mantri ji, the ground situation is that your push for projection of yourself as the only alternative did not get the kind of positive response it should have. Has nothing gone wrong in 55 months? Can we call you Mr Perfect? If that is so then we need to change the saying 'To Err is human'.
Yes Prime Minister Sir, you did it in 55 months what your predecessors did not do. Your tally of visits to 92 nations (including repeated visits) with just one foreign nation hop short of drawing equal with his predecessor Manmohan Singh who visited 93 nations (including repeated visits) as the prime minister.
The difference between Modi and Manmohan Singh is that while Modi visited 92 nations in little less than five years, Singh scored 93 visits to nations in 10 years and two terms. Further, Indira Gandhi took 15 years and three terms to create her record of about 113 visits.
If the amount which the country spends only on maintenance of the aircraft, chartered flights and hotline facilities (not including the cost of hotels and other overheads for the PM entourage) during the prime ministers' foreign visits is added, PM Modi's visits to these 92 nations is a whopping Rs 2,021 crore. In comparison to PM Modi's term Manmohan Singh's 50 odd trips had cost the exchequer almost Rs 1,350 crore.
"In 55 years, sanitation coverage was around 38 per cent; in our 55 months it has risen to nearly 98 per cent. Their 55 years yielded 12 crore gas connections; another 13 crore were added in 55 months. We have worked at greater speed in our five years". But figures don't matter PM ji reality matters….No state not even Ahmedabad is as clean as you claim.
"For 30 years the country saw 'milavati' (adulterated) governments. A health-conscious society keeps away from adulteration. A healthy democracy too abhors adulteration." But Sir let us not forget the BJP too was part of milawat in the past. This is first time that it has won with absolute majority. That was because there was sort of feeling among the common man including me, 'Ab ki baar Modi Sarkar'. But is the situation same now? It's time to ponder with cool mind.
There is nothing wrong in blowing one's own trumpet. In fact, every government and every leader does it and should do. Hence it was natural for the Prime Minister to present a sort of progress report of his 55 months of rule and refer to new provident fund accounts, the sale of commercial vehicles and Mudra loans to claim his government had created employment in both the formal and informal sectors to counter the criticism of not addressing the issue of unemployment.
But how far is it justifiable to call loan waiver schemes implemented by various governments a betrayal of farmers. Though he just referred to Karnataka, it applies to all the states which have successfully implemented it, Telangana and Andhra Pradesh have also done it. If it was betrayal of farmers, TRS would not have romped home with thumping majority Modi ji.
In 55 months, one has heard several times the word Chaiwala. Sentiment and sympathy cannot last for ever. It's 55 months and time to give up the chaiwala slogan. Yes, it's a great achievement of the common man that chaiwala has become PM and Indian democracy has proved that such things can happen only here. But it's time for examination and let's talk of 55 months of progress sheet.
In 55 months for a change, this time the Prime Minister greeted Senior leader L.K. Advani with folded hands. Modi acknowledged Advani's greetings.
Modi sought to play up his humble beginnings and status as an outsider in Delhi. "The root of the problem is that a poor man who has never seen the streets of Delhi has done so much, that they can't digest. The Congress has been tied to power".
But Sir, there were other outsiders who were also poor men and with humble beginnings in Delhi. P V Narasimha Rao was one such great personality whom the country cannot forget. His economic policies were such that even the present BJP government has no option but to continue.
Lal Bahadur Shastri was another such poor man. My grandmother while narrating bed time stories used to tell nay hammer it into my brain saying that trying to live larger than life size is always dangerous. She also used to say never get intoxicated with your growth. Intoxication is dangerous. May her soul rest in peace.
The Prime Minister exhibited his oratory skills and tried to deflect allegations of joblessness by opposition and cited data on economic activity to assert that job creation was taking place. In a changed economy, old parameters were not relevant anymore, and therefore, token surveys of job creation were no longer useful, he said.
"Informal sector gives 85-90% jobs and organised sector offer just 10-15% of jobs. Let's talk about this small formal sector. Between September 2017 and November 18…in these 15 months, 18 million people were registered in the Employees' Provident Fund Organisation. And you say this happened without jobs?" the PM said.
The Prime Minister's speech was both a political attack on his rivals and an attempt to convince the nation about his economic agenda, especially job creation. "That jobs have been created is partly true, but there is a question of sufficiency and quality," said Amit Basole, an economist with Azim Premji University."
The Guardian recently in an article commented, Modi is determined not to concede the folly of demonetisation, which cost 100 lives, at least 1.5m jobs and left 150 million people without pay for weeks.
It said Modi has no one else to blame. It was he who, in November 2016, when Donald Trump's election transfixed the world, announced that all 500- and 1,000-rupee notes would be withdrawn immediately from circulation. At a stroke the Indian prime minister rendered 86 per cent of currency worthless outside a bank branch. Old notes would have to be exchanged for limited supplies of new currency. This was a populist measure carried out in the name of the poor, who had been convinced by Mr Modi's lurid tales of purging the country of black-economy millionaires and their piles of illicit cash.
Yet as data from India's central bank shows, almost 99.3 per cent worth of currency notes that were in circulation have come back into the banking system. Corruptly acquired fortunes in India are not kept in cash at home. "Black money", acquired through shady means, had, as economists explained at the time, been converted to shares, gold and real estate long ago.
There was also no direct fiscal gain from demonetisation through an increase in the central bank surpluses. Mr Modi's government has been reduced to boasting that the fact that almost all the cash was returned revealed how efficiently the government can collect money. This is, one columnist wrote, "like throwing yourself off a building while praising how hard the ground is".