ATL aims to produce Neoteric innovators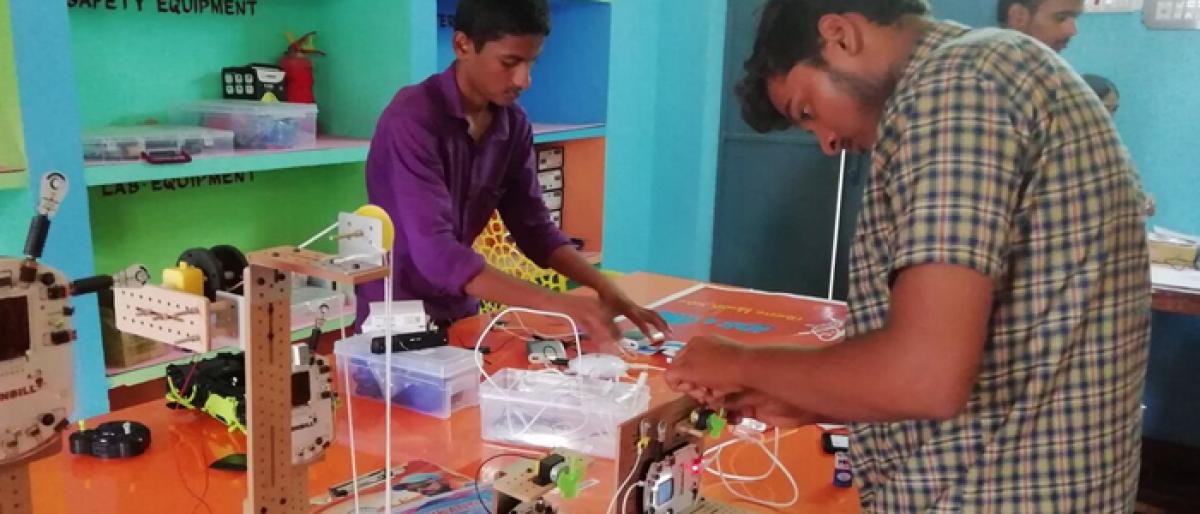 Highlights
Our greatest natural resource is the minds of our children This remark of Walter Elias Disney will reflect the significance of the young minds and channelizing their abilities In our country, NITI a National institution for Transformation of India has flagged of the brainchild of Prime Minister Sri Narendra Modis Atal Innovating Mission AIM
"Our greatest natural resource is the minds of our children" This remark of Walter Elias Disney will reflect the significance of the young minds and channelizing their abilities. In our country, NITI (a National institution for Transformation of India) has flagged of the brainchild of Prime Minister Sri Narendra Modi"s "Atal Innovating Mission (AIM)". The objective of this programme is self-employment and Talent Utilization (SETU). It will also serve as a platform for innovation hubs, self-employment ideas, and start-ups, especially in the technology-driven areas. Under the umbrella of AIM, Atal Tinkering Labs (ATLs) are established in the schools across the country to nurture the young minds.
These labs will work with a vision to "Cultivate one million children as Neoteric innovators", and to foster the curiosity, creativity, and imagination in young minds. These ATLs, unlike the science labs, provide workspace for the children to give shape to their ideas. We are aware that the young minds are very smart and creative that can think divergently and if they are provided with the facilities they can do wonders. The Atal Tinkering Labs are providing a congenial atmosphere for this through the hand on experience. Literally will be thrown in the midst of tools such as do yourself kits and equipment on electronics, robotics, open source controller boards, sensors, and 3-D printers and computers that are not easy to access for all the children particularly urban and underprivileged.
It is very essential to know why these labs are called as "Tinkering" Labs. Though it has various meanings this sounds very apt trying things out and develop a "Let's try something New" approach. These labs will inculcate ability to experiment with various electronic, robotic, and technology tools; understanding their potential and creating a solution for local problems using ideation as a starting point.
These labs will play the role of incubators of ideas and inspire the young generation students of our nation to leave their comfort zone and to work on novel concepts, embrace future skills as well as develop confidence and personality skills. These labs are realizing the remark of Ken Robinson" Creativity is putting your imagination to work, and it is produced the most extraordinary results in human culture ". These labs are helpful for the young in many ways such as Though these are named as labs they are completely different from science labs which will go for open-ended experiments instead guided experiments, provided with sturdy tools for experimenting instead fragile equipment; the experiments are institutionally evolving based on the topography of the area rather than static design.
They will promote creativity, life skills and self-confidence and irrespective of their academic value offer an advantage for the future needs instead of doing experiments for textual concepts. These labs will give support to the students to create and innovate unrestrictedly instead to work in a fixed curricular manner. These labs are financially supported by AIM with one-time establishment 10 lakhs and an operation cost Rs 10 lakhs for a maximum period of 5 years to each ATL. The NITI ayog has given its nod for 5441 ATLs across the country and they are in various stages. The schools under the various management such as government, local bodies, private schools established by trusts are eligible to get this workspace facility. This idea of NITI ayog is the very good initiative to make our future generations as self-reliant and meet our country's future needs.
We are aware of that the world is in the lap of 4 industrial revolutions in which combining the physical and digital world access in all disciplines and industries. It is noticeable that Artificial intelligence, virtual reality, robotics are occupying the place of the core of fourth industrial revolution. This idea is well received by the educational institutions; nearly 13005 applications were received by the NITI ayog for ATLS. From Andhra Pradesh, 1207 applications were reached to NITI ayog. It is hoped all will get these creative idea hatching labs and maketh the children to focus their abilities in such direction which will benefit the nation greatly. It is so right Zig Ziglar:"Success is the maximum utilisation of ability you have"...So, try that you will hit the roof easily.