Rs 1,000 cr relief for flood-hit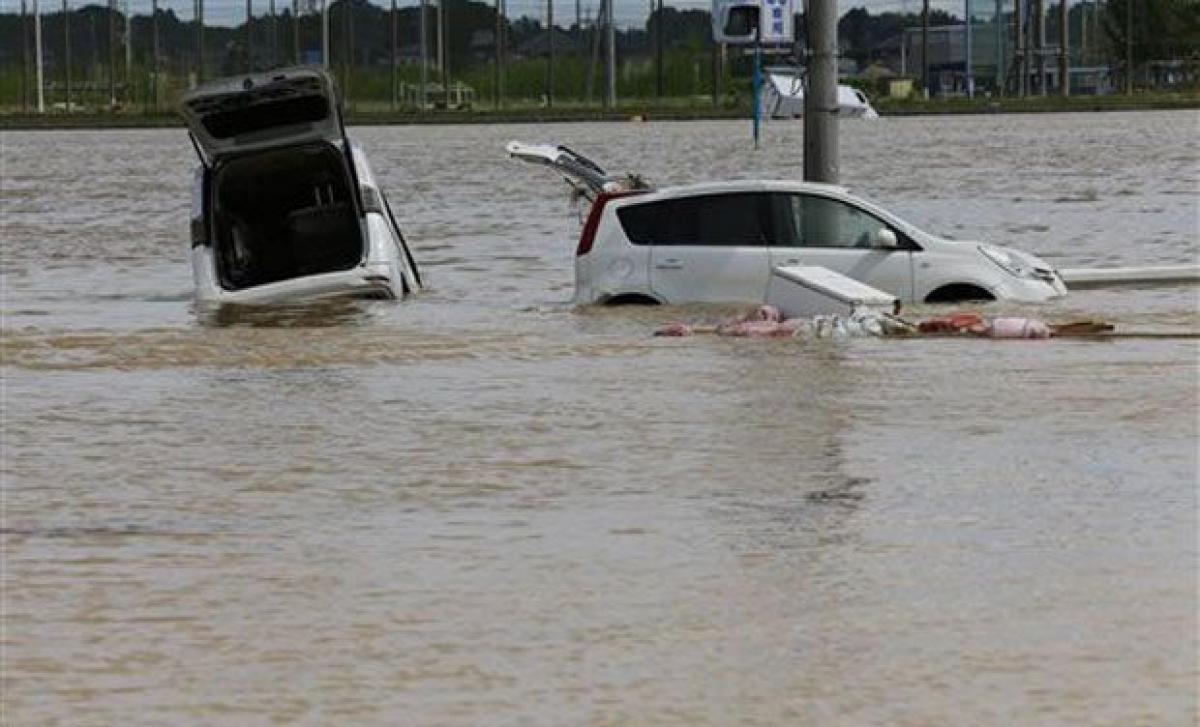 Highlights
North India flood toll rises to 150 Thousands still stuck in Uttarakhand Rescue efforts pick up as clouds clear No fresh reports of...
North India flood toll rises to 150
Thousands still stuck in Uttarakhand
Rescue efforts pick up as clouds clear
No fresh reports of landslides, floods
Extensive damage to property, roads
Venkat Parsa Prime Minister Manmohan Singh and Congress President Sonia Gandhi undertook an aerial survey to assess the large-scale devastation caused by floods after discussing the situation at the Congress Core Committee meeting on Wednesday. The Prime Minister announced a flood relief package of Rs 1,000 crore, out of which Rs 145 crore was released immediately. He said that Rs 2 lakh would be given to the kin of those killed; Rs 50,000 to those injured and Rs 1 lakh for those whose houses have been destroyed from the Prime Minister's Relief Fund.
The Prime Minister said: "What Chairperson UPA and I saw today was most distressing. While the most recent estimates put the death toll at 102, it is feared that loss of lives could eventually be much higher. So far, more than 10,000 people have been rescued and are being provided food, clothing and shelter. Many persons still remain stranded. The maximum damage has been in Kedarnath and its vicinity. The immediate need is for rescue and relief operations and the Government will not spare any effort in this regard."
Thirteen teams of the National Disaster Response Force have been deployed. The Air Force has deployed 18 helicopters and a C-130 aircraft. Private helicopters have also been engaged by the State Government. The Prime Minister spoke to Uttarakhand Chief Minister Vijay Bahuguna and enquired about the flood situation in the State. He assured the Chief Minister of all assistance in rescue and relief operations in the flood-hit State. He has also directed all agencies of the Union Government to assist in rescue and relief operations in the flood affected areas of the State.
Meanwhile, rescue of stranded people and relief operations intensified on Wednesday in Uttarakhand where the death toll shot up to 150 as thousands of pilgrims still remained stuck. Reports suggested that the famous Kedarnath shrine, where 50 people died in the landslide that accompanied torrential rain and flash floods, is intact notwithstanding the heavy damage all around.
With rains abating in the last two days, there were no fresh incidents of landslides and flooding. Uttarakhand Principal Secretary Om Prakash said the death toll in the State had gone up to 150 but was not in a position to give the exact estimate since several villages in Chamoli and Rudraprayag districts in the upper reaches were still under water. Chief Minister Vijay Bahuguna told reporters it would take one year to restore normalcy on the road to Kedarnath from the after effects of the cloud burst which he described as a "Himalayan tsunami".
The first priority is to rescue the stranded people especially those on pilgrimage from various parts of the country, distribution of medicines and rehabilitation and compensation for the affected, he said. The weather cleared in most places making it easier for rescue personnel to launch operations for those stranded, especially in Badrinath shrine where 12,000 pilgrims are still stuck.
Survivors recount harrowing tales
Haridwar/Lucknow (IANS): Akash and his three friends watched in horror as a rain swollen river in Uttarakhand washed away their car, leaving them stranded. On their return to Haridwar, they said they escaped the nature's fury by taking shelter at a private helipad. All four feel they have had a second birth. At one time, they had given up all hopes of surviving the rampaging floods in Uttarakhand that have claimed over 100 lives and affected thousands.
"We saw houses and hotels collapse like they were made of cardboard," recounted another survivor of a group from Lucknow that went to Kedarnath, one of the worst hit places in Uttarakhand. Even as the authorities, with help from the Indo-Tibetan Border Police (ITBP) and the Army, stepped up rescue efforts, survivors from last week's heavy rains, landslides and cloud bursts have returned with harrowing tales.
One survivor recounted how a girl walking ahead of them was suddenly swept away in the rains. Apparently, more than 100 people, mostly pilgrims, remain stranded near Sonprayag. Shailendra Prakash Singh, another survivor, says the destruction was so sweeping that he was left only with the clothes he was in. Everything else he had was lost.
Rampati Ram Tripathi, former Uttar Pradesh president of the BJP, is trapped in a Garhwal tourism guest house in Uttarkashi. Efforts are on to rescue him. He told party colleagues that he has been stranded since June 15 after returning from Gangotri. According to him, all major roads have been wiped off the map. "There is no help coming our way," he complained. "There is no power, no food. All that we have is shelter at this place," he said on telephone.
There are more than 20 people from Lucknow and over 30 families from Uttar Pradesh who have been caught in the disaster in Uttarakhand, informed sources said. Many were lucky to telephonically alert their families before losing the mobile network.
Thousands died in floods, claims BJP New Delhi: Leader of the Opposition in Lok Sabha Sushma Swaraj has said thousands of people have died in the floods and landslides in Uttarakhand and asked Home Minister Sushilkumar Shinde to use the army for the rescue operations in the state. Swaraj discussed the flood situation and the state of the people stranded in parts of Uttarkhand in a telephone conversation with Shinde. "Thousands of people have died and there is no rescue operation," Swaraj said. BJP President Rajnath Singh also expressed concern over the situation in Uttarakhand.
In a message on Twitter, Singh said, "Uttarakhand and Himachal Pradesh are currently facing a national calamity. I urge the Centre and state governments to provide immediate relief."
SSB Academy damaged; Loss at Rs 90 cr Dehradun (PTI): The premier officers training academy of paramilitary Sashastra Seema Bal (SSB) in Srinagar in Garhwal has been damaged in heavy rains and floods in Uttarakhand with the preliminary estimate of loss put at around Rs 90 crore. The main building area and campus of the academy have been extensively damaged after the Alaknanda river changed its course due to heavy rains and dumped six-feet silt on the facility. "It is a big damage to our academy in Uttarakhand. Fortunately there have been no casualties and we have sent our officers and other staff to safe locations," SSB chief Arun Chaudhary said. Chaudhary said the initial assessment of the damage to the academy is estimated at around Rs 90 crore.
Disaster response force has no chief New Delhi: Even as nature's fury is causing multitude of disasters in Uttarakhand and Himachal Pradesh, the Centre is yet to appoint head of the specialised 10,000- personnel strong NDRF, the mainstay for disaster mitigation and rescue operations in the country. The post of National Disaster Response Force (NDRF) Director General is being held as an additional assignment by the chief of ITBP for more than a fortnight now, forcing the second-in-command officers to tackle the challenge that has erupted recently. The last incumbent, senior IPS officer P M Nair, retired on May 31 and since then the Union Home Ministry has tasked Indo-Tibetan Border Police (ITBP) DG Ajay Chadha to hold the post in an "additional" capacity.
Yamuna crosses danger mark in Delhi New Delhi (IANS): The muddy, swirling waters of the Yamuna river were flowing over the danger mark on Wednesday, leading to the closure of the city's 145-year-old railway bridge, and forced the evacuation of 2,000 families living along the river banks.
The landmark double-decker rail-cum-road bridge, built in 1868 and connecting sprawling capital city to its eastern part, has been closed for vehicular traffic, an official said Wednesday. "The railway bridge will remain closed till the water level recedes to the safe level of 204 metres," Delhi Chief Secretary D.M. Sopli told IANS.
The danger mark for the Yamuna river stands at 204.83 metres in the city, while at present the river is flowing at 206.48 metres. The water level has been rising in the Yamuna due to the release of 8.06 lakh cusecs of water from the Hathinikund barrage in Haryana on Monday, and an additional 3.38 cusecs on Tuesday morning.
"Around 2,000 families have already been evacuated from the area around the river and will be allowed to go back only after the monsoon recedes," said Sopli. As the city is not witnessing heavy rains, authorities are hopeful that no major flood situation would arise here. "We are prepared to tackle any flood situation. The disaster control room has also started monitoring the situation and disseminating information regarding the water level in Yamuna through SMS," a Delhi government official said.