Rythu Rakshana Vedika urges farmers to unite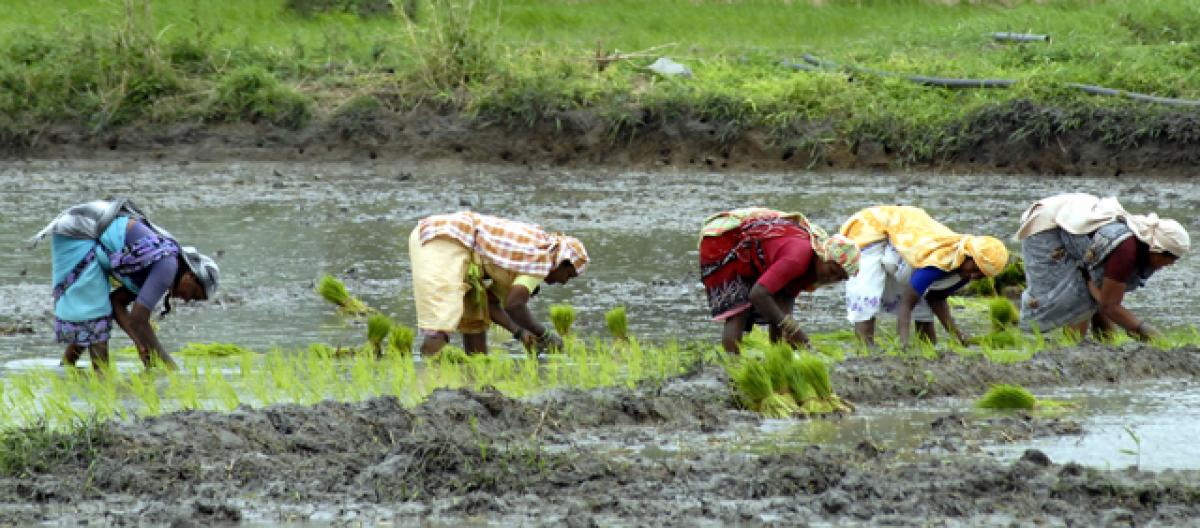 Highlights
Its members visit families of farmers who committed suicide Nirmal (Adilabad): The members of Rythu Rakshana Vedika, an initiative of The Hans India...
Its members visit families of farmers who committed suicide
Nirmal (Adilabad): The members of Rythu Rakshana Vedika, an initiative of The Hans India and HMTV, visited the family of farmer Boda Malliah, who committed suicide in July 2012, on Monday at Mamada mandal headquarters in the district and enquired into the causes for his death. They found out that government agencies had not rendered any assistance to the family at all.
Malliah had eight acres and he sank borewells for seven times and failed each time. Eighth time he succeeded and grew cotton crop. However, it failed, plunging him in debt-trap. Vedika member Sajaya said that the final magisterial enquiry established that the death was due to crop loss. But the compensation which should have been paid within a month is yet to reach the distressed family. "No financial support came from government and none cared about us" complained Mallaiah's wife Gangavva and their son Mutyam, who has taken up agriculture.
A few kilometres away, at Ellareddypet of Nirmal mandal, a farmer along with his wife and daughter ended their lives. due to financial burdens caused by recurring crop losses and lack of good support price for three continuous years. Bathula Somaiah, his wife Bhagirtha and their daughter Sumitra consumed poison in their field. Somaiah was extremely distressed that he could not perform his daughter's marriage. Besides crop loss and poor MSP, the farmers in Ellareddypet face a grave threat to their crops from wild pigs, monkeys, blackbucks and others. "We cannot kill them and at the same time we cannot suffer the loss, this is our plight," said the farmers.
The Rythu Rakshana Vedika members interacted with the villagers on the issues. The Hans India and HMTV Editor-in-Chief K Ramachandra Murthy told the farmers to elect those who actively take up their causes in Legislative Houses. He advised them to be united and change their attitude in electing the persons to represent their issues and lends a supporting hand in times of need. Sajaya asked the farmers to adopt organic means of agriculture in order to reduce investments and boost the soil health. She also stressed on the need to reduce use of chemical fertilizers and pesticides.
Vainala Govardhan suggested to the farmers to form an apolitical group in order to discuss and resolve their problems connected to agriculture and also form a cooperative set up. Another member D Satyanarayana appealed to the farmers not to end their lives, but instead face the problems boldly. "Everyone in the village should strive for a positive change; it is the need of the hour," he said.
The delegation comprised Acharya NG Ranga Agriculture University former registrar Jalapathi Rao, Sarvejana Sukhinobhavanthu representative D Ashok Kumar,Telugu Rythu leader Nallamala Venteshwara Rao and others. It may be recalled that Rythu Rakshana Vedika had on Sunday organized Dasha Disha programme on agriculture in Nirmal, where several farmers, kin of deceased ryots and organizations deliberated on ways to end agrarian crisis. It intends to hold Dasha Disha programme in all districts in the State to bring together like-minded organizations and concerned citizens.