Food Alert!! All new places in city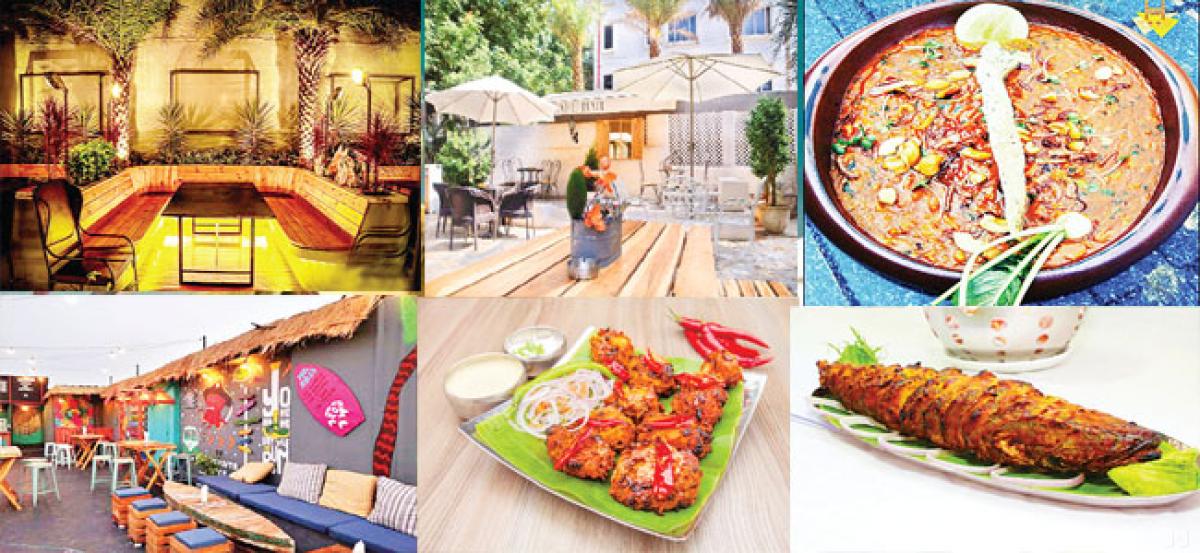 Highlights
Hyderabad welcomes new innovation, techniques and always brings something fresh whether it is a trend of drive-ins, coffee culture or cuisines beyond local delicacies. 
Hyderabad welcomes new innovation, techniques and always brings something fresh whether it is a trend of drive-ins, coffee culture or cuisines beyond local delicacies.
The city constantly opens doors to new restaurants almost every week! A series of new restaurants have opened up in the city that offers variety of cuisines to experiment and indulge, something that didn't exist before. So here is a list of all things new that have been seeing love from all foodies, not only for their food and ambiance but also the offbeat dishes.
Toll Gate
It is a wonderful place to spend time with your loved ones. The entire décor catches your attention as it represents various dhabas on the highway all across India. Its opening hours are slight different; it's from 7am-2am.
They offer food like Kanchipuram Idli, filter coffee; Chicken Panini sandwich, fruit bowl and kulfis thatare some of the best items on the menu with affordable price range.
Where: Road No 45, Jubilee Hills
Karma
It a fabulous place to enjoy good quality food and music. There ambience and décor is vibrant and mostly attract youngsters. They also offer a live music and a bar. This place located in 8th floor where a view from the terrace is stunning especially at night with electrifying music in background.
Where: Road no 2, Banjara Hills
Le vantage café and bar
Le Vantage has already become one of the most liked places for it décor aesthetics. When you make an entry at this place, it willremind you of Mediterranean style architecture, with white rough walls and big curved doors. Food served is continental and decent, they haven't focused much on the menu in terms of variety, but you can try their burgers and sandwiches.
Where: Road 13, Opp mocha bar, Jubilee Hills
Calangoat
This place doesn't need a weekend to be visited. Good old school rock and various genres from the nineties will keep your mood steady. The place has nice interiors, which are probably the first thing that'll catch anyone's eye when they first walk in apart from thebold murals and Goan themed seating. As the name suggests they offer a wide range of Goan delicacies.
Where: Check Post Rd, Jubilee Hills
Chai Kahani
There are multiple outlets of Chai Kahani in the city! The Chai Kahani at Jubilee Hills is very special and unique. The peaceful and calm surroundings make it for a perfect spot to sip on some garam chai, needless to say they have options that will make a chai lover go carzy.
Where: Road Number 25, Jubilee Hills
Vivaha Bhojanambu
This place is located in Jubilee Hills; it is popular for authentic Telugu cuisine with variety of food from regionsof Rayalaseema. They offer two thaalis, vegetarian priced at 259 and non-vegetarian at 469 making it very reasonable for what they offer in it.
Where: M.G. Road, Secunderabad
Farzi café
Farzi is a chain that recently launched in Hyderabad after a huge success in other metropolitan cities. This place is known for its fusion food, good music and uber cool drinks. The food here is excellent and served in the fanciest way possible. It's a two-store building and can accommodate a huge crowd. It's a chic café that presents global cuisine with an Indian twist including molecular gastronomy.
Where: Road 59, Jubilee Hills
Ulavacharu
Ulavacharu has recently opened another outlet at Gachibowli and has classic décor with comfortable seating, photo frames dotting their walls, further enhancing the aesthetics. The restaurant has two sections - a simple dining section, and a very typical village hamlet section with mock ethnic huts, lanterns, artificial trees and clay pots to give a village-like feeling.
Their menu predominantly offers Andhra cuisine; they also have North Indian and Chinese dishes to be able to cater to all kinds of palate.
Where: Biodiversity Circle, Gachibowli