Good law without proper implementation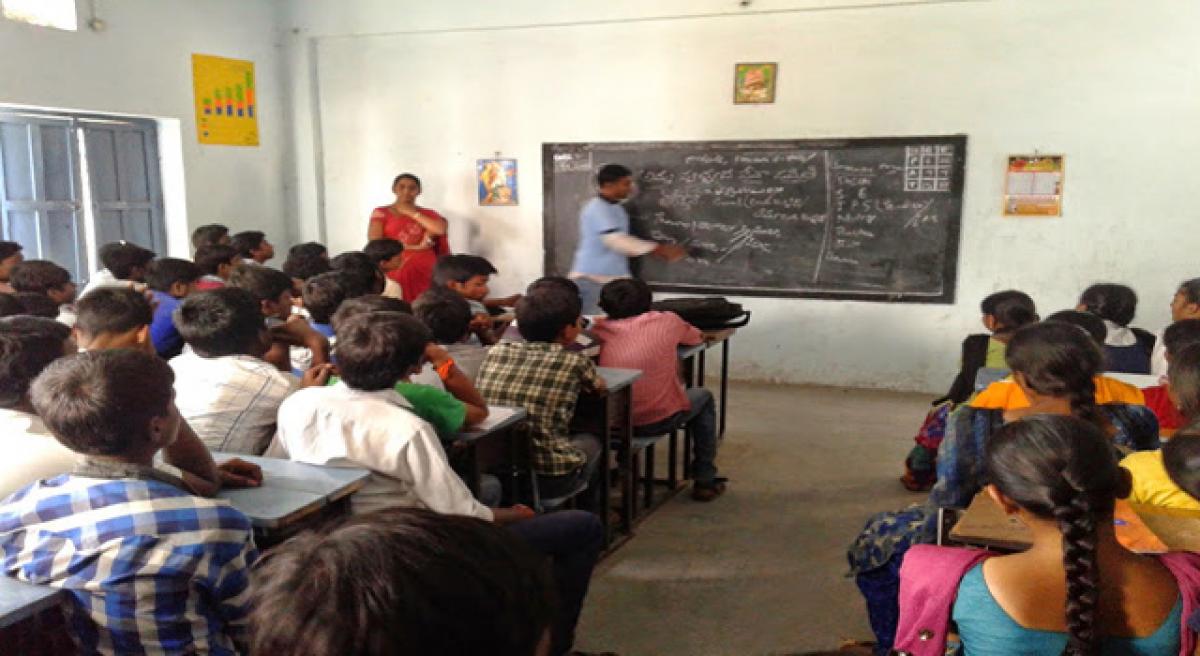 Highlights
Punishing schoolchildren on reasons of discipline and study is illegal and unreasonable. Corporal punishment in schools in India is a serious problem. The United Nations Committee on the Rights of the Child defines:
Punishing schoolchildren on reasons of discipline and study is illegal and unreasonable. Corporal punishment in schools in India is a serious problem. The United Nations Committee on the Rights of the Child defines:
"corporal" or "physical" punishment as any punishment in which physical force is used and intended to cause some degree of pain or discomfort, however light. Most involves hitting ("smacking", "slapping", "spanking") children, with the hand or with an implement – a whip, stick, belt, shoe, wooden spoon, etc.
But it can also involve, for example, kicking, shaking or throwing children, scratching, pinching, biting, pulling hair or boxing ears, forcing children to stay in uncomfortable positions, burning, scalding or forced ingestion (for example, washing children's mouths out with soap or forcing them to swallow hot spices). In the view of the Committee, corporal punishment is invariably degrading.
In addition, there are other non-physical forms of punishment that are also cruel and degrading and thus incompatible with the Convention. These include, for example, punishment which belittles, humiliates, denigrates, scapegoats, threatens, scares or ridicules the child.
Article 28(2) of UNCRC requires the State parties to "take all appropriate measures to ensure that school discipline is administered in a manner consistent with the child's human dignity and in conformity with the present Convention."
Similarly, Article 29(1) (b) of the Convention emphasises that the "State parties agree that the education of the child shall be directed to the development of respect for human rights and fundamental freedoms, and for the principles enshrined in the Charter of the United Nations". Further, Article 37(a) of UNCRC requires States Parties to ensure that "no child shall be subjected to torture or other cruel, inhuman or degrading treatment or punishment".
This is complemented by Article 19(1) of the Convention, which requires States to– "Take all appropriate legislative, administrative, social and educational measures to protect the child from all forms of physical or mental violence, injury or abuse, neglect or negligent treatment, maltreatment or exploitation, including sexual abuse, while in the care of parent(s), legal guardian(s) or any other person who has the care of the child."
Article 19(2) lays down that– "Such protective measures should, as appropriate, include effective procedures for the establishment of social programmes to provide necessary support for the child and for those who have the care of the child, as well as for other forms of prevention and for identification, reporting, referral, investigation, treatment and follow-up of instances of child maltreatment described heretofore, and, as appropriate, for judicial involvement."
Law against physical assault:
Article 21 of the Constitution of India which protects the right to life and dignity includes the right to education for children up to 14 years of age. Corporal punishment amounts to abuse and militates against the freedom and dignity of a child. It also interferes with a child's right to education because fear of corporal punishment makes children more likely to avoid school or to drop out altogether. Hence, corporal punishment is violative of the right to life with dignity.
Article 21A of the Constitution provides that "the State shall provide free and compulsory education to all children of the age of six to fourteen years in such manner as the State may, by law, determine." This fundamental right has been actualised with the enactment of Right of Children to Free and Compulsory Education Act, 2009.
Article 39(e) directs the State to work progressively to ensure that "… the tender age of children are not abused". Article 39(f) directs the State to work progressively to ensure that "children are given opportunities and facilities to develop in a healthy manner and in conditions of freedom and dignity and that childhood and youth are protected against exploitation and against moral and material abandonment."
Till recently, the provisions of Sections 88 and 89 of the IPC were invoked to explain the power teachers exercised when inflicting corporal punishment. These two provisions in the chapter on 'General Exceptions' cover harms that may be caused without penal consequence. Section 88 exempts an act from being treated as an offence when the harm was caused "to any person for whose benefit it is done in good faith".
Section 89 exempts acts "done in good faith for the benefit of a person under 12 years of age ... by or by consent, either express or implied, of the guardian or other person having lawful charge of that person." However, contrary to Sections 88 and 89 of the IPC, the Gujarat High Court in its judgement Hasmukhbhai Gokaldas Shah v. State of Gujarat, 17 November 2008, has clearly stated that "corporal punishment to child in present days ... is not recognised by law".
Further, India is a State Party to the Convention on the Rights of the Child. The standard of 'the best interests of the child' is now a part of domestic law. In 2006, the Committee on the Rights of the Child explained this obligation further when it reiterated, in General Comment No. 8, "the right of the child to protection from corporal punishment and other cruel or degrading forms of punishment".
Right to Education Act, 2009: The Right of Children to Free and Compulsory Education (RTE) Act, 2009, which has come into force with effect from 1 April 2010, prohibits 'physical punishment' and 'mental harassment' under Section 17(1) and makes it a punishable offence under Section 17(2). These provisions read as follows:
17. Prohibition of physical punishment and mental harassment to child – (1) No child shall be subjected to physical punishment or mental harassment. (2) Whoever contravenes the provisions of sub-section (1) shall be liable to disciplinary action under the service rules applicable to such person.
Sections 8 and 9 of the RTE Act place a duty on the appropriate Government and the local authority to "ensure that the child belonging to weaker section and the child belonging to disadvantaged group are not discriminated against and prevented from pursuing and completing elementary education on any grounds".
The RTE Act does not preclude the application of other legislation that relates to the violations of the rights of the child, for example, booking the offences under the IPC, etc. The Juvenile Justice (Care and Protection of Children) Act, 2000 is an important statute that criminalises acts that may cause a child mental or physical suffering. This law further fortified the law against corporal punishment in schools, when it was revised in 2015.

Juvenile Justice 2015 Act says:
Section 82. (1) Any person in-charge of or employed in a child care institution, who subjects a child to corporal punishment with the aim of disciplining the child, shall be liable, on the first conviction, to a fine of ten thousand rupees and for every subsequent offence, shall be liable for imprisonment which may extend to three months or fine or with both.
(2) If a person employed in an institution referred to in sub-section (1), is convicted of an offence under that sub-section, such person shall also be liable for dismissal from service, and shall also be debarred from working directly with children thereafter.
(3) In case, where any corporal punishment is reported in an institution referred to in sub-section (1) and the management of such institution does not cooperate with any inquiry or comply with the orders of the Committee or the Board or court or State Government, the person in-charge of the management of the institution shall be liable for punishment with imprisonment for a term not less than three years and shall also be liable to fine which may extend to one lakh rupees.
A teacher proved to be guilty cannot be given any work associated with children. It's mandatory to avoid him/her in associating with children. If the management does not act in this direction, the person in charge of the management will be made liable to imprisonment for three years and also for fine which may extend to Rs 1 lakh. Parliament took serious note of the corporal punishment and does not want such teachers to be associated with students any more.