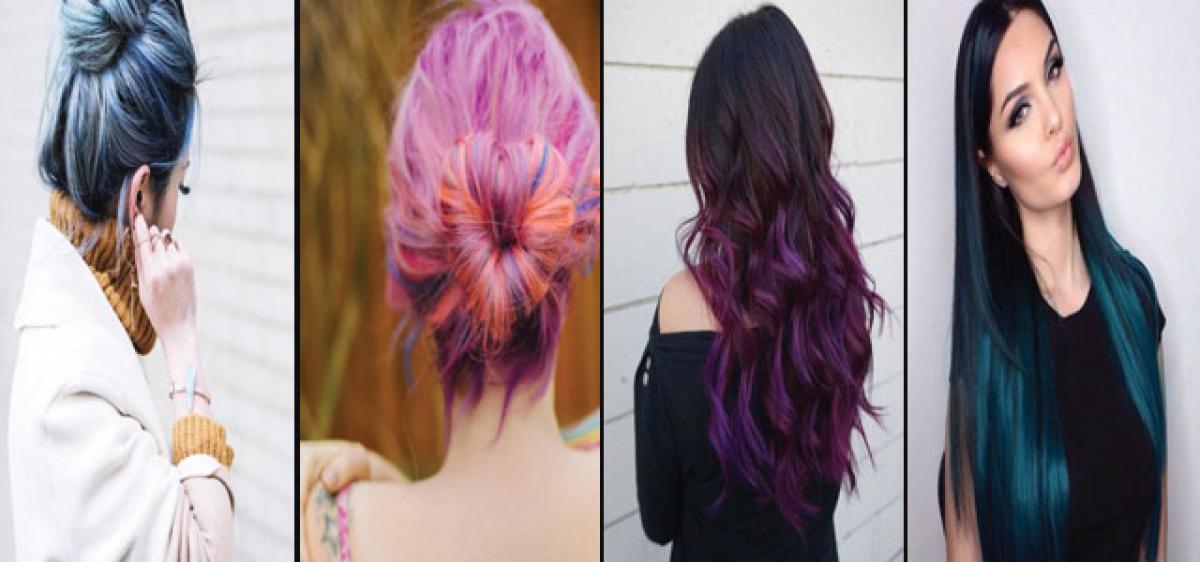 Highlights
When it comes to colouring hair, most women go routinely to salon every six or eight weeks, some even more frequently. Colouring of hair is usually...
Indians are experiencing new trends and the next generation wants to experiment with their hair, though at the cost of their health. One can go for natural ingredients that not only add colour but health to the hair
When it comes to colouring hair, most women go routinely to salon every six or eight weeks, some even more frequently. Colouring of hair is usually done to hide the advancing grey shades of hair or even to get a little lift of colour in the form of highlights or lowlights.
In a study in the year 2008, it was found that about 75 per cent of women use hair dyes to colour their hair but, the commercials hair dyes are loaded with chemicals like, Ammonia, which may harm nose, throat, eyes and skin. Quaternium-15 may release formaldehyde, a known cancer agent.
Alkyl Phenol Ethoxylates which causes hormonal disorders and Phenylenediamine (PPD), Resorcinol and Catechol are classified as toxic heavy chemicals in the European Union and they are also skin and respiratory irritants.
However, there are some natural ingredients of colouring hair that may add the desired colour to one's hair and also add volume and shine to the hair and moreover, it also becomes a tool for dandruff control. The natural ingredients open up the hair cuticles and react with the colouring pigments in the hair cortex and give it a new colour.
Some of the natural ingredients that are easily found are:
Henna
Using henna for colouring the hair is an age old process passed on by our ancestors. It not only provides a red-orange tint but also act as a conditioner. Henna is a powdered form of the leaves that come from the henna plant (Lawsonia). To make own henna for hair dye, mix about one cup of henna powder with other herbs like Amla, Shikakai, Bhringaraj, and one teaspoon of lemon juice. Alternatively, you can also add a teaspoon of vinegar to help release the colour. Allow to sit about 3-4 hours until it thickens. Apply to hair and comb through. (This is messy so be careful that it does not stick). Wrap your hair in plastic wrap and allow sitting 2-3 hours before rinsing.
Indigo
Natural indigo leaves also provide vibrant shades on the application on hair next day of Henna application. Some formulae of henna with indigo can also be tried.
Tea
It is best ingredient if someone is thinking of covering the grey hairs and wants to give them a black colour naturally. The key is to make the tea highly concentrated. Use 3-5 teabags (or about the same amount in loose-leaf tea) for two cups of water. You can apply the cooled tea to hair alone, or mix with conditioner. If you're seeking to cover grays, mix with some fresh or dried sage, which helps open up the hair follicles.
Leave on hair for at least an hour. One can even put on a cap and wear the tea overnight, then rinse the following morning. Check the colour to determine what intensity you need. One should keep in mind that tea works best with your natural colour. Black tea can darken blonde hair and chamomile can lighten it—especially if you sit in the sun while you have it in.
Coffee
Coffee works great if someone is looking for darker hair, cover grey hairs, or add dimension to dark tresses. For this one need to simply brew a strong coffee (espresso works well), let it cool, and then mix one cup with a couple cups of leave-in conditioner and two tablespoons of coffee grounds.
Apply on clean hair and allow it to sit for about an hour. If you use apple cider vinegar to rinse, it will help the colour last longer. You may need to repeat the process a couple times to see noticeable results.
Beet and carrot juice
These are products available straight from the kitchen, which give you that red tint to your hair. These two products are great nutrients for the hair. Crush the ingredients and extract out it juice mix it with some coconut oil. Apply it to your hair and leave for 2-3 hours and then rinse well. (These juices stain so one should wear something to protect skin and clothes).
These products are free from any chemicals and it may take some time to get that dark colour but its regular usage may help to get the desired colour after 4-5 usage. So, now it's time to colour your hair with some of the natural ingredients available at your own home rather than going to the salon and loading your hair with harmful chemicals. Before you opt for these ingredients as hair colourant, always keep in mind that these formulae provide you temporary to semi-permanent hair colour.
Condition your hair
After application of these hair colourants, make sure to provide deep conditioning of scalp and hair regularly for which you may choose curd, milk or egg white.
By: Dr Naresh Arora
The writer is an aromatherapist and founder of Chase Aromatherapy Cosmetics.
Subscribed Failed...
Subscribed Successfully...