IIIT-H, MCEME conduct meet on AI and Defence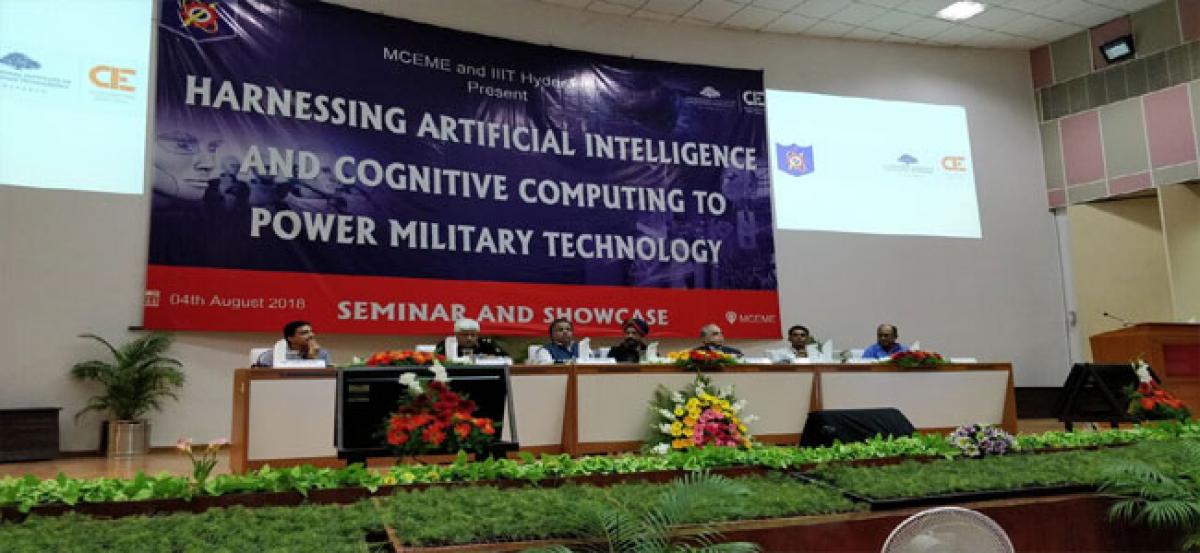 Highlights
IIITHyderabad IIITH and Military College of Electronics and Mechanical Engineering MCEME jointly conducted a conference on Harnessing Artificial Intelligence and Cognitive Computing to Power Military Technology
Hyderabad: IIIT-Hyderabad (IIITH) and Military College of Electronics and Mechanical Engineering (MCEME) jointly conducted a conference on Harnessing Artificial Intelligence and Cognitive Computing to Power Military Technology.
The conference on AI/ML & defence deliberated on the state of technology and its several use case possibilities in defence applications. As artificial intelligence becomes rapidly mainstream, its application possibilities in numerous areas including defence are expanding. From language based intelligences, processing of speech and other signals, to using camera imaging based analytics for threat detection etc, the use cases have far reaching possibilities.
It included a seminar on the state of research in AI & ML where innovators and technology creators deliberated with defence leaders and decision makers on the potential use case of AI/ML in defence and security. The conference was also an opportunity for academic research labs to connect with defence leaders and explore new solution possibilities that defence organizations could consider through academic research or start-ups. Participants included leaders from the military services, researchers from defence research labs, defence technology providers as well as academic research labs engaged in AI research, technology industry leaders and innovators/start-ups.
[email protected] curated 11 start-ups from across the cities that were taken to a unique day-long immersion at MCEME. Senior army officers deliberated with start-ups to explore possible use cases for the start-up products in the army. The start-ups then presented their start-up pitches at a showcase, for possible pilots. [More details on start-ups in Annexure A].
The 7 research projects from IIIT that were showcased included an in-pipe climbing robot, Omni crawler robot, parts inspection and visual serving with UAVs, autonomous navigation and exploration with UAVs, pomegranate yield estimation and forestry conservation with UAVs, tracking scene of interesting videos, and camera sync and par anomic video Speaking about the conference Prof P J Narayanan, Director, IIIT-Hyderabad said, "This is a valuable opportunity for IIIT-Hyderabad to apply its research for the defence of our country. We hope to see the fruitful implementation of some of our research in powering military technology".
Lt Gen Paramjit Singh, VSM Comdt MCEME said, "Our adversaries are taking major strides in the field of AI with an aim to take lead in this technology. Hence the time has come to focus and channelise our research and efforts towards mastering this technology so that we take lead and don't get left behind. The industry and defence have to shake hands to work out a strategic partnership which ensures timely introduction of AI in Military based applications".