Enter to learn and learn to achieve is the driving force behind Institute of Aeronautical Engineering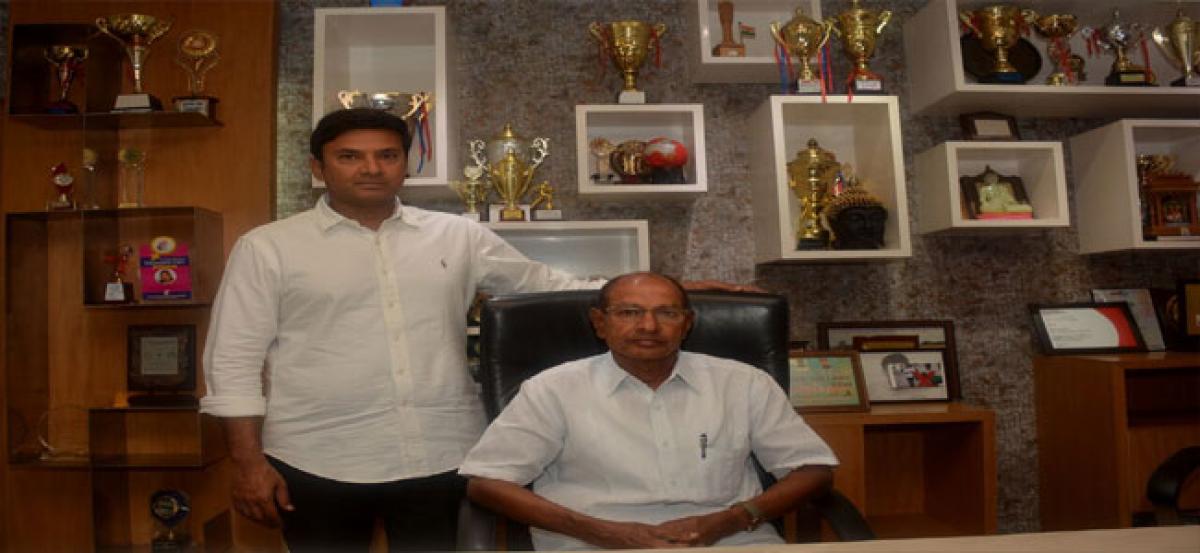 Highlights
Enter to learn and learn to achieve is the driving force behind the Institute of Aeronautical Engineering IARE which has been encouraging its students to incubate, innovate and excel during their stay at the institute, since its inception Secretary and Correspondent Ch Sathi Reddy and Executive Director and Treasurer B Rajeshwar Rao shared the IARE journey in last 18 years with the Young Hans
Hyderabad: Enter to learn and learn to achieve is the driving force behind the Institute of Aeronautical Engineering (IARE) which has been encouraging its students to incubate, innovate and excel during their stay at the institute, since its inception. Secretary and Correspondent Ch Sathi Reddy and Executive Director and Treasurer B Rajeshwar Rao shared the IARE journey in last 18 years with the Young Hans, and how it has joined in the league of top 12 engineering institutions in Telangana.
i What made you start an institution for aeronautics?
Initially, it was a place meant to impart training for Licensed Aircraft Maintenance Engineer (LAME or L-AME). But, few of us from the industry had seen that viability and importance of the field of aeronautical engineering and the opportunities open up for the younger generations in the ears to come. So, in 1999-2000, we started the course in the aeronautical engineering with 40 students, at a time when there was no syllabus for it in the Jawaharlal Nehru Technological University, Hyderabad (JNTU-H). However, upon seeing our interest the JNTU-H had constituted a 7-member expert committee and finalised the syllabus to run the course. Initially, the college was located near the old airport.
But, as the additional branches adding up we have relocated to it near the current location. With seven branches at B.Tech, M.Tech and MBA at the postgraduate level, the college now has a strength of 4,800 students. Nearly, 300 non-teaching and 300 teaching staff out of which 74 are doctorates, with rich teaching, research and industrial experience. Students from different parts of the country like Delhi, West Bengal, Jammu and Kashmir, and other countries like Dubai study at our institution.
i How are you maintaining the standards at the IARE?
Under the leadership of Marri Rajasekhar Reddy, our chairman, all of us come from the industries background. Along with the academic staff, we identify and take every step needed to strengthen every department. All our efforts over the time had made the college to get recognition's from National Board of Accreditation (NBA), National Assessment and Accreditation Council (NAAC), University Grants Commission Recognition (UGC), Scientific and Industrial Research Organization (SIRO) as well as the autonomous status.
Each department has a centre of excellence and students are empowered to explore things beyond the syllabus-to ideate, innovate, incubate and implement. So far, we have four startups and three incubation centres at the college. To promote incubation centres, start-ups and entrepreneurship, IARE signed an MOU with National Research Development Corporation (NRDC) to cooperate for the development of technologies and their successful transfer to industry for commercial and socio-economic benefits. The students are provided with avenues to showcase their talents and innovative skills. They also participate in various national level engineering competitions like Baja SAEINDIA, Supra SAEINDIA, Go-kart, ADC championships to name a few and have made their mark by winning prizes and ranks. They participate in national and state level project competitions as well as conferences to share their research findings.
Students have represented the institute at international level as well. IARE has 12 sponsored research projects with grants to the tune of about Rs 3 crore from different agencies including the Department of Science and Technology (DST), AICTE, UGC etc. The Institute also has a record of intellectual property with 4000+ research paper publications by faculty as well as students and 1500+ citations, 23 patents in last 5 years. Internal Revenue Generation through consultancy facilitates and promotes activities pertaining to the energy audit, mobile apps, Golabs-BuildIT coding module, Intellect Campus Management and office automation, exam and result automation, drones in agriculture, agricultural tools, and material testing are a few names how the institution carving out a name for itself.
i What kind of infrastructure facilities are there at the institute?
Institute has state of art infrastructural facilities to support teaching-learning, research and administrative services. The institute is spread over 16.72 acres with a built-up area of 3, 05,500 sft. of housing 30+ smart classrooms, 2 studio rooms, 6 seminar halls, 4 conference rooms, 103 laboratories, auditorium and an open-air theatre. Campus-wide Networking with 200 Mbps Internet connectivity, Wi-Fi and CCTV facility is available. To reduce the consumption of electricity efficient lightings are used with the solar electric energy of 160 KW on the grid. A captive power of 480 KVA is provided to ensure smooth working of the institute in times of power outage. The institute operates 31 buses for the benefit of students and staff.
Automation has been given top priority and students can access all kinds of services like bus pass to the examinations and academic activities through the mobile applications developed for the purpose. The campus has good hostel facilities and other on-campus facilities like banking, canteen and the like. Every department has air-conditioned classrooms, workshops, labs, exclusive training and placement facilities to provide training to the students. The central library houses a rich collection of books for all subjects with recent publications.
There are about 76,473 books, 20,665 individual titles, nearly 84 National Journals and 479 International Journals, 2715 back volumes, and e-journals from Elsevier (Science Direct), Springer, ASME, ASCE and IEEE (ASPP) and the like. Apart from this, the students have an exclusive access to DELNET for resource sharing. The library is open for 10 hours on weekdays and even on Sundays. Book distribution process has been automated for quick and easy access. For circulation of library books 'Automated Self Service Kiosk' has been installed, which enables users to issue, return and renew books by themselves.
i How IARE prepare its students industry-ready?
We have a healthy student and teach ratio of 1:15. Besides, laying emphasis on strong academic base, our students will have the opportunity to go for various certifications in Oracle, Microsoft, CISCO, Cadence, ARM, National Instruments, CESSNA 172 Flight Simulator, CESSNA 172 Flight Simulator, AUTOCAD Training and Certification CATIA Training and Certification, ANALYSIS (CAE) – ANSYS Training and Certification, Advanced Manufacturing (CAM / CNC) - CADEM (CNC Programming and Machining) Training and Go-kart. The training and placement cell plays a key role in the talent transformation conducting various training programmes for the students.
Last year, 42 companies have visited our college and the IARE has an average placement percentage of 75 per cent every year. Since IARE is one among the industry-backed institution it has been delivering the much-needed talent to the industry. Further, we are entering into a MoU with Nanyang Technological University (NTU Singapore) and Asian University of Technology, Thailand and two more foreign universities. This would help our students spend a semester to do their project works there which would bring value addition in making them industry ready. Placement and training centre is instrumental in signing the Memorandum of Understanding (MOU) with many reputed organizations including Infosys, Tech Mahindra, NTT Data, Mphasis, TATA Advanced Systems, Cyient, MTE Industries, CISCO, Cadence, Autodesk, DesignTek, ARM, NAL, MCEME etc.
i What are the difficult times you faced in your journey?
Right from the inception, our endeavour is to make it as the best institution with international standards. However, it was the pending fee reimbursement issue which has been creating some hurdle in our efforts. Institutions like ours can provide more quality if such issues are addressed.