Seminar on failure of environmental movements held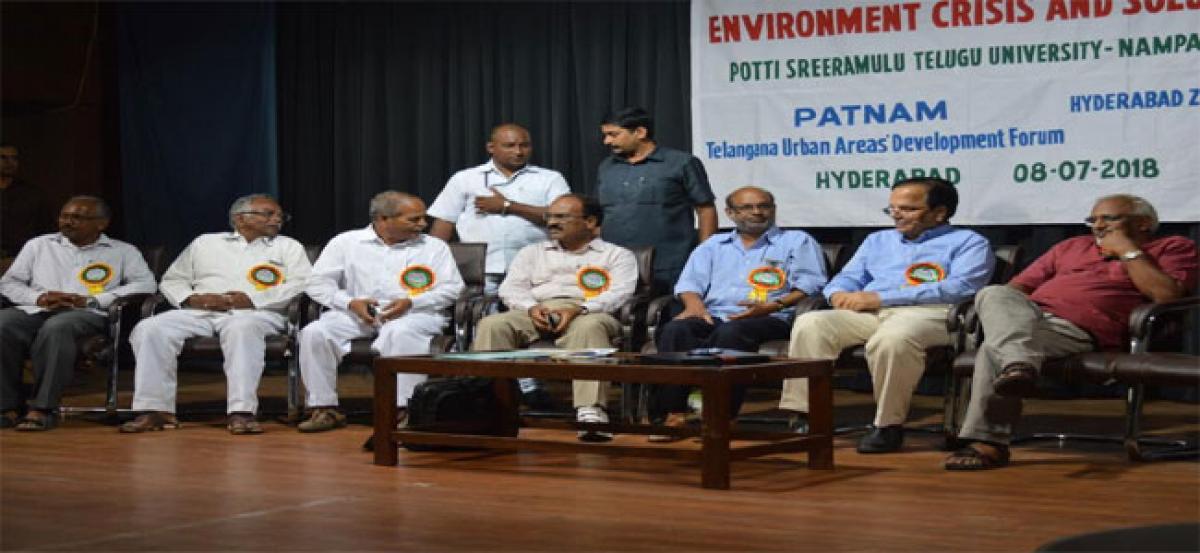 Highlights
A seminar Environmental Crisis Solution was organised at Potti Sreeramulu Telugu University at Nampally on Sunday The event was adorned with posters describing the timeline of environmental changes in the global and national context
ADVERTISEMENT
Nampally: A seminar 'Environmental Crisis Solution' was organised at Potti Sreeramulu Telugu University at Nampally on Sunday. The event was adorned with posters describing the timeline of environmental changes in the global and national context. Several prominent environmentalists and activists were together to discuss the issues about environmental policies in the country and their implementation.
The crucial discussion was about environmental movements in India and why do they have a tendency to fail. The whole pattern of movements were discussed starting from the movements of early 70s like Chipko Andolan, Save silent valley movement in 1978 and compared it with the eco-revolutions of today.
Director of Delhi science forum, Dr D Raghunandan spoke of the rotten works in the State and Central level Pollution Control Boards discussed the reasons for the negligence of environmental crisis from the past three decades.
"The country must produce second generation reforms of environmental laws standards, regulations and procedures and shall overhaul independence of regulatory bodies such as the central and state pollution control boards. It should look forward to setup an independent environment regulator which can oversee implementation and conduct of environmental clearances."
Environmentalist professor K Purushotham Reddy said "Environment is not a topic of discussion, it is the question of life and death." Professor Purushotham elaborated the discussion by presenting a list of issues local environmental issues and how they can be resolved. "I have sought the help of law students and attorneys to resolve the issues of the pollution and encroachment issues of river Musi. Since students are motivated and they do it as a part of responsibility with enthusiasm, some of the students from symbiosis law school have filed an affidavit against the encroachments in river Musi recently." He added.
Key resolution to overcome environmental crisis were discussed during the event most reminiscent among them was the 'eternal vigilance' which has to be kept over the policies and over governing bodies such as state and central PCBs. Apart from prominent speaker's Dr Raghunandan and Professor Purushotham, Greater Hyderabad Municipal Corporation (GHMC) Commissioner, B Janardhan Reddy was also present on the occasion.