Heritage activists allege sabotage, demand judicial probe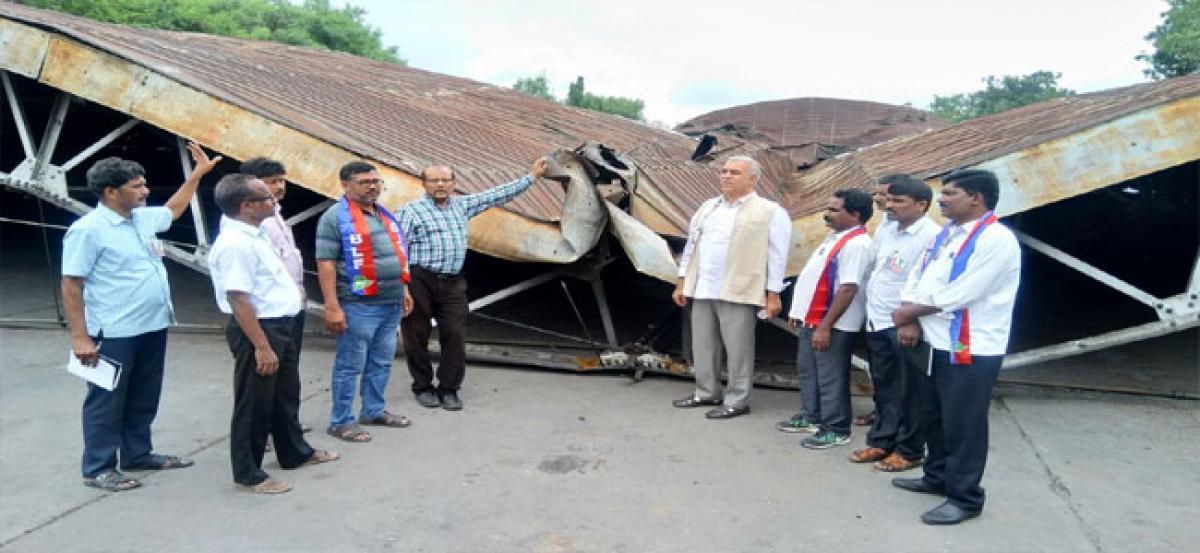 Highlights
Alleging sabotage in collapse of old Gowliguda busstand, the Heritage activists representing civil society groups and political parties on Monday demanded the government to launch judicial probe
ADVERTISEMENT
Gowliguda: Alleging sabotage in collapse of old Gowliguda bus-stand, the Heritage activists representing civil society groups and political parties on Monday demanded the government to launch judicial probe.
After examining the remains of the structure also known as 'Mississippi Hangar', the representatives of Hyderabad Heritage Buffs, TMASS and BLF (Bahujan Left Front) felt that anyone with some knowledge of engineering would suspect 'deliberate negligence' and a 'sabotage' in the collapse of the heritage structure, which earlier handled 2,500 bus trips and about 85,000 passengers per day. They held that the casual statements given by regional manager and transport minister that new building will be developed in its place and was evacuated seven days before its fall gives enough evidence to our suspicion.
"These kinds of structures are designed to take load and impact of high wind pressure as they are very high from ground level. We demand an explanation and an high-level inquiry and request the government to fix responsibility on the concerned officials for this irreparable damage," said Dr Mohammed Iqbal Jaweed, Chairman TMASS South Hyderabad and Hyderabad Heritage Buffs. He felt that many more Heritage assets in Telangana will be lost by this attitude of the authorities.
While referring to the negligence being meted out by the Osmania General Hospital, he demanded that the government should 'wake up' before more damage is caused during monsoon. In this 'fact finding mission' John Wesley Telangana TMASS secretary, Prince Nawab Mir Najaf Ali Khan grandson of NIZAM, Kanakayya, secretary T mass south hyderabad and Nayeemullah shareef, T MASS and other leaders took part and protested against the attitude of the authorities.