Shaikpet filter beds filled with debris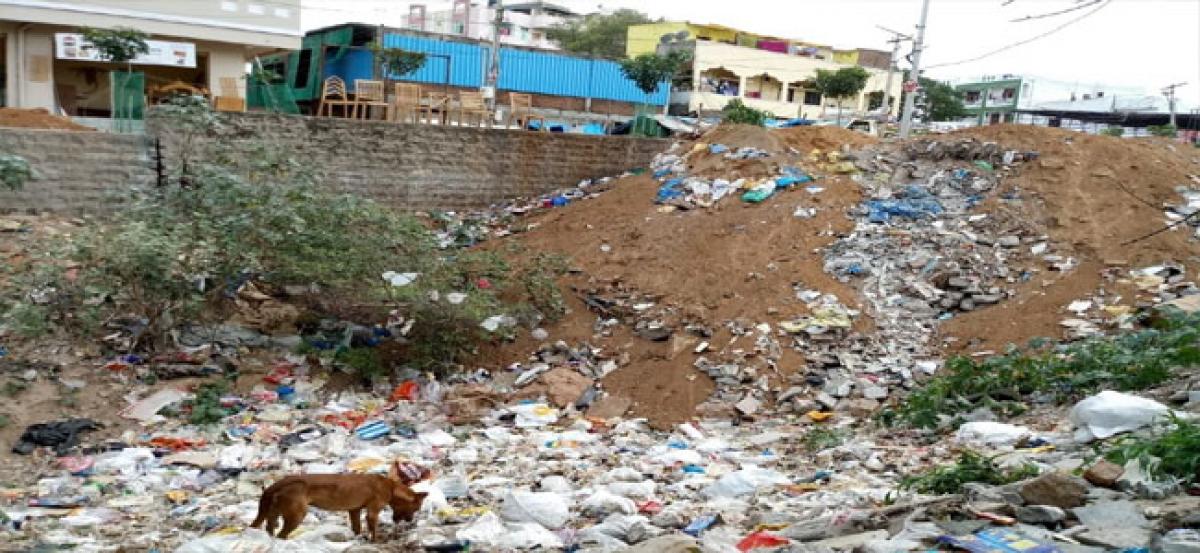 Highlights
More than a gateway to the IT corridor, Shaikpet is a commuter belt which homes innumerable settlements but finds no way to manage waste The area is surrounded by immense construction debris which can be seen scattered along the roadside
Shaikpet: More than a gateway to the IT corridor, Shaikpet is a commuter belt which homes innumerable settlements but finds no way to manage waste. The area is surrounded by immense construction debris which can be seen scattered along the roadside.
Shaikpet to Manikonda main road has both residential and commercial complexes which is filled with dust, construction waste and foul smell as there are no dustbins in the 3 km stretch. The waste from the neighbouring colonies of Vinayak Nagar, Laxman Nagar, Peace Colony, Jai Hind colony and Friends colony is disposed of in the canal along the stretch.
"Earlier the whole canal was a working one through which the water was pumped to Shaikpet filter beds. After the development works started in the areas of Shaikpet, Puppalguda and Manikonda, canal was being used for dumping construction debris and rubbish," said a resident from Vinayak Nagar, Mahaveer.
Now the canal is almost flattened with the accumulation of waste and rubbish for years but the roadside has turned into an eyesore. "The business is shirking because of filth around this road," said Sanjeevaiah, a vegetable vendor in the area.
"As there are no garbage bins, waste from the neighbouring colonies is collected and burned on the road every week. In this way we try to manage the waste," said a security guard Nagaraj from Friends Colony. Plethora of protected heritage sites lie in utter state of neglect of which Shaikpet mosque, is being used as a storage site by the adjoining potters, while construction waste is surrounded in the adjacent tomb. Internal roads at many colonies in the area are untouched by cement or asphalt, all that the roads have to offer is a bad ride experience though uneven contours.
A resident of Vinayak Nagar, Humayun said "We are living here for the past five years without any proper road, since there is no concrete or cement roads here, it turns disastrous during rainy season." Shaikpet area corporator Mohammed Rashed Farazuddin said "Zonal commissioner of Khairtabad, Bharati Hollikeri paid a visit to the area and identified that about 40-50 trucks will be used to clear up the waste. The work will start within a fortnight zonal commissioner promised."
BY Mayank Tiwari