Sufi Ulema asks government to 'supply animals for Bakrid'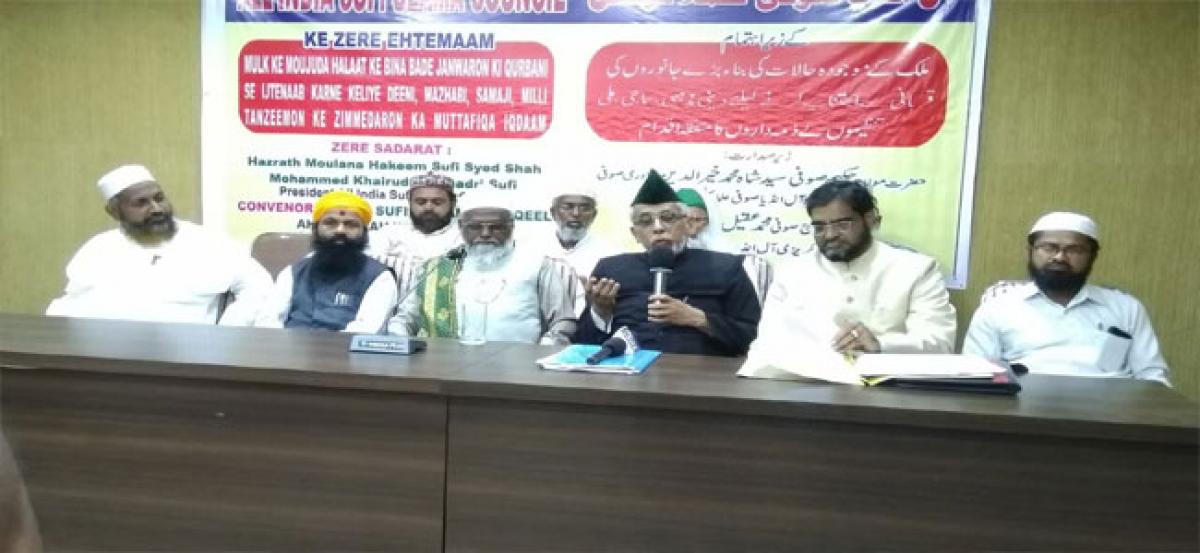 Highlights
The All India Sufi Ulema Council on Thursday asked the State government which successfully implemented the Telangana Bandu scheme to extend the same formula for Bakrid by distributing animals through sale counters all across the State
ADVERTISEMENT
Hyderabad: The All India Sufi Ulema Council on Thursday asked the State government which successfully implemented the 'Telangana Bandu' scheme to extend the same formula for Bakrid by distributing animals through sale counters all across the State.
Speaking to media persons, Moulana Hakeem Sufi Syed Shah, President AISUC said that the incidents of recent mob lynching by Gau Rakshaks has forced them to appeal to the State and Central governments to supply cattle through, State Animal Husbandry outlets. This step on one hand, he felt would satisfy fellow countrymen and also certification that no prohibited cattle was being slaughtered. On the other, the cattle suppliers' community would be saved from harassment and monetary losses, when the cattle were sieged by Gau Rakshaks. Moreover, these traders also face criminal charges by police, who arrest the men besides loss of their stock.
Moulana Tariq Quadri said that as law abiding citizens are more interested in not only following mandate of law but also the sentiments of 'Hindu brothers' were kept in mind, the Council requests that the State Government step in to provide relief and succor to its citizens by arranging large scale distribution of cattle for Bakrid for slaughter through animal husbandry counters.
"The State Government under dynamic leadership of 'Telangana Bandu', KCR had this year adopted Telangana sheep and buffalo distribution scheme, successfully distributing Rs 5,000 crore worth sheep and RS 800 crore worth buffaloes to Yadav and Kurma communities. This was an innovative scheme and similarly arranging slaughter cattle through sale counters would be first of its kind in the entire motherland," added Quadri.
Sufi Ulema Council appealed to Government for providing through its counters the animals considered to be fit for slaughter. The Ulema also urged Muslims to avoid slaughtering prohibited cattle, while simultaneously exercising democratic rights to make the Government supply slaughtering cattle, Hakeem added.