India-UK after Brexit: Hope for strategic partnership overshadowed by tight visa norms?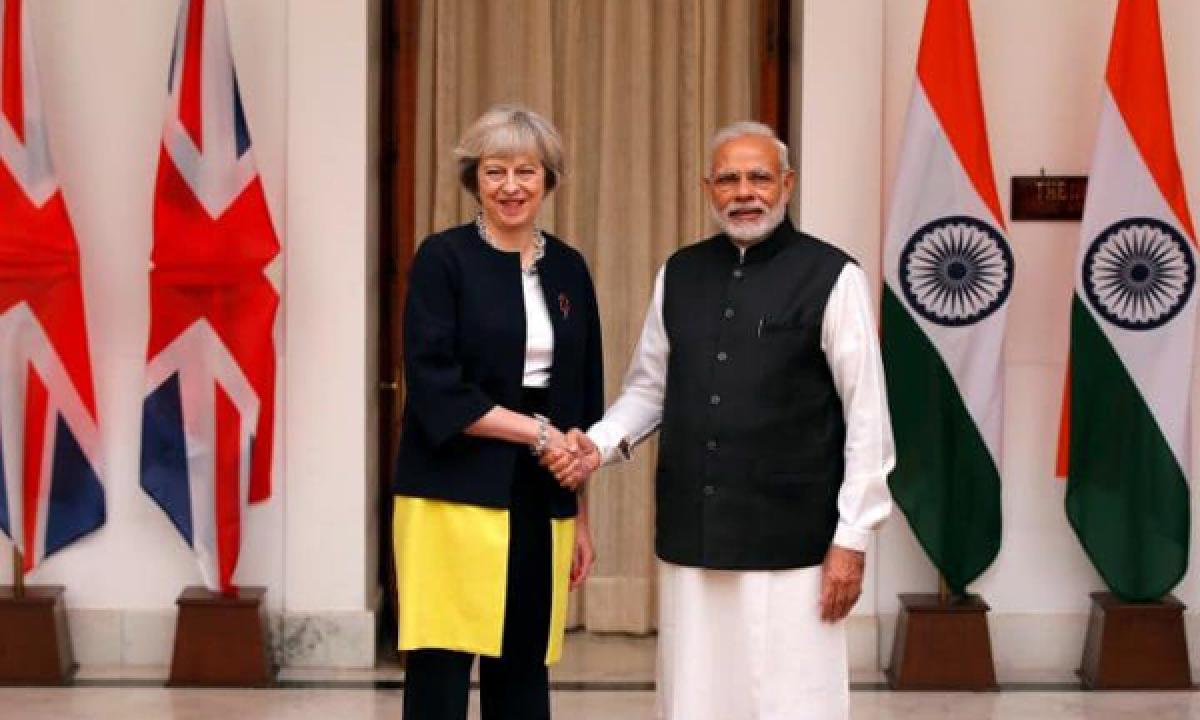 Highlights
Britain\'s historic vote in 2016 favouring an exit from the EU was a political upheaval of seismic proportions as it led to a leadership change which brought to power a woman Prime Minister whose first bilateral visit outside Europe to India signalled the depth in ties. Theresa May\'s choice of India for the trip after assuming office following the June 23 referendum sent a positive message but her
Britain's historic vote in 2016 favouring an exit from the EU was a political upheaval of seismic proportions as it led to a leadership change which brought to power a woman Prime Minister whose first bilateral visit outside Europe to India signalled the depth in ties. Theresa May's choice of India for the trip after assuming office following the June 23 referendum sent a positive message but her government's recent crackdown on student and professional visas can hardly be called India-friendly.
'Brexit' also emerged as the word of the year due to the massive projected repercussions of the June 23 referendum, with the shock defeat forcing David Cameron to step down and triggering a bloodbath in world markets besides opening a fresh debate over issues like immigration and advance of the right-wing across Europe. The early indications for Indo-UK ties seemed positive as there was widespread excitement over the prospect of a free trade agreement between India and Britain -- one of the EU's big three economies, freed from the perceived shackles of its membership of the 28-nation economic bloc after four decades.
"As we leave the EU, we will forge our own trade deals. The leaders from India, Mexico, South Korea and Singapore said they would welcome talks to remove trade barriers," the new Prime Minister told the House of Commons in September. She then followed up on this promise during her November visit to India which came under very different circumstances than the other high-profile UK visit in April by Prince William and wife Kate the Duke and Duchess of Cambridge. Her visit also came nearly a year after Prime Minister Narendra Modi's maiden visit to the UK - the first by an Indian premier to the country in nearly a decade.
Ahead of the visit, May said she would use this visit to "reaffirm the importance of the strategic partnership we already have, which delivers huge benefits for both our countries, and to work with Prime Minister Modi to agree to concrete steps to realise our shared vision of going even further in our cooperation across trade, investment, defence and security". However, this message was somewhat overshadowed by her government's wider efforts to curb immigration into the UK, with a crackdown on student and professional visas expected to hit Indians the hardest.
Modi was candid in his message as he opened the UK-India Tech Summit in New Delhi alongside May: "Education is vital for our students and will define our engagement in a shared future. We must, therefore, encourage greater mobility and participation of young people in educational and research opportunities." Within days, tougher new rules announced on November 24 by the UK Home Office for the Tier 2 intra-company transfer (ICT) category, raising the salary threshold requirement to 30,000 pounds, came into force. With Indian IT workers accounting for nearly 90% of visas issued under this route, the tightening of this visa category as well as an expected halving of the number of student visas issued to non-EU applicants, including Indians, is unlikely to be seen as very India-friendly. However, during her visit, May said there were "more opportunities for Britain and India and a clear message that Britain is very much open for business".
Taking about the capital required for India's infrastructure, she said that since the launch of the first masala bond in London in July, rupee-denominated bonds worth over GBP 900 million have now been issued, "and we expect a further four bonds with a total value of GBP 600 million to be issued in the next three months". "This is a vote of confidence in India's growth story. And it's a vote of confidence in London as the world's leading financial centre," she said, adding the potential to expand the commercial opportunities for both countries is huge. The "Leave" vs "Remain" campaign itself had a distinctly Indian flavour with so-called "curry wars" dominating much of the debate around the perceived bias against migrants from outside the European Union, including countries like India.
Priti Patel, the then UK employment minister and Cameron's Indian Diaspora Champion, led the Brexit charge with claims that Britain's membership of the EU meant unmanageable levels of European migration which led to Indian chefs being denied visas. She said: "There are over 12,000 Indian restaurants in the UK. But the future of this sector is under pressure and at risk while we remain in the EU. "Curry is often voted Britain's favourite meal. But there are fewer and fewer chefs able to come into the UK to cook curry dishes and train the next generation of chefs." Pitted against her on the side in favour of "Remain" was Britain's longest-serving Indian-origin MP Keith Vaz, who accused Patel of playing "divide and rule" politics by claiming Britain's curry houses could be saved with Brexit.
"I was furious to see Priti Patel claiming that leaving the EU and shutting the door on immigrants from Poland and elsewhere would save Britain's curry houses. This is divide and rule politics of the worst kind," argued the Opposition Labour MP. However, in a year marked by a series of shockwaves and changes, Patel's camp went on to win the referendum 52 to 48% and led to her being promoted to the post of Secretary of State for International Development -- making her the senior-most Indian-origin politician in the UK Cabinet. In her assessment of India-UK ties in a post-Brexit scenario, Patel told PTI that the government remains determined to deepen the relationship under May's leadership.
"The people-to-people ties have never been stronger. The year 2017 will be marked as UK-India Year of Culture, which is a great celebration of the history between our two countries. This is truly an exciting time for the UK-India relationship," she said. Her colleague in the Foreign and Commonwealth Office, Indian-origin Minister for Asia Alok Sharma, described the India-UK relationship as "unique and hugely important". "The future of the UK-India relationship is incredibly bright. Wherever you look -- in finance, technology or education, our economic and personal ties are thriving and there is scope and willingness on both sides to do more," he said. Vaz, meanwhile, faced a turmoil of his own when in September, 'Sunday Mirror' published allegations of him paying for male prostitutes.
The 59-year-old scandal-hit MP was forced to step down as chair of the influential House of Commons Home Affairs Select Committee, though in a relief days ago, Scotland Yard dropped its investigation against him over alleged drug offences. In November, he was among a number of Indian-origin MPs who urged Modi to address concerns over the demonetization of Rs 500 and Rs 1,000 notes in possession of NRIs and PIOs based outside India. "The stress and strain of not knowing whether families will lose money they cannot afford to is causing too much suffering after weeks of delay," said Virendra Sharma, Labour MP for Ealing Southall, a heavily Indian-origin neighbourhood in southwest London. The uncertainty around Tata Steel's decision to sell off its UK plants in March this year added to the concern and anxiousness over Brexit. The Indian steel giant, then under the chairmanship of Cyrus Mistry, had put its entire loss-making UK business up for sale.
However, the year ended on a more positive note for workers at the UK's largest steelworks - Port Talbot in south Wales - after a crunch meeting between workers' unions and Tata management ended with a 10-year commitment of 1-billion pound investment to save thousands of jobs. In the UK, the move was largely attributed to the sacking of Mistry and Ratan Tata stepping in as interim chairman and "saviour" of the British steel industry. Tata Steel's future in Europe will no doubt unfold in the New Year, as will many of the uncertainties thrown up by the Brexit referendum.