Fearful for decades, Pakistan's main parties now openly campaign in Karachi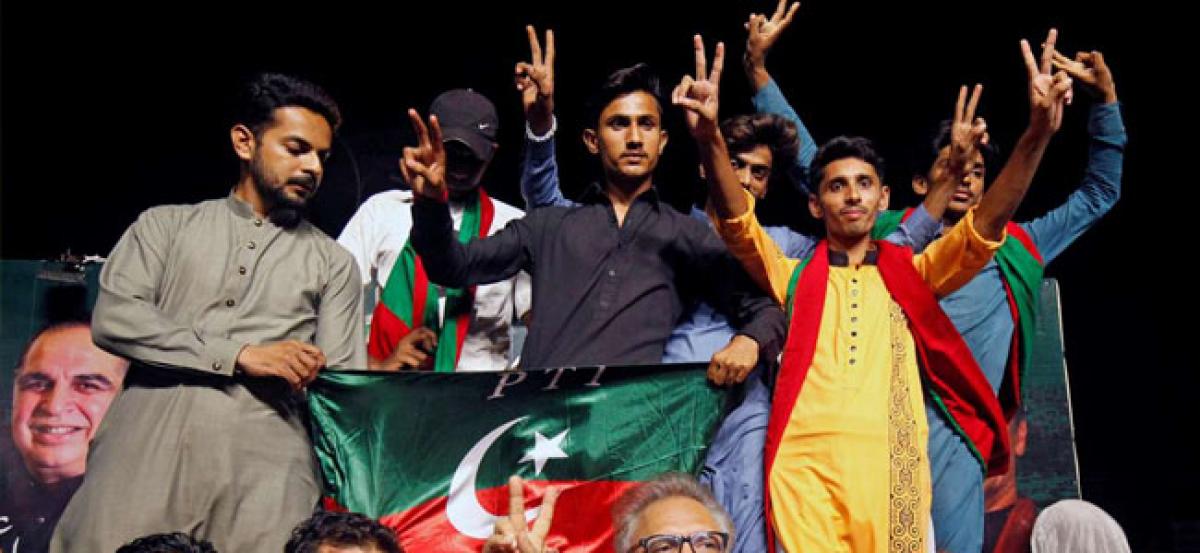 Highlights
For over 25 years, maverick political leader Altaf Hussain had an iron grip on Karachi, able to bring Pakistans largest city to a standstill with a single phone call
For over 25 years, maverick political leader Altaf Hussain had an iron grip on Karachi, able to bring Pakistan's largest city to a standstill with a single phone call.
But much has changed in the last five years in the coastal metropolis of 20 million people, and the transformation is playing out in the run-up to Pakistan's general election next week.
The country's three main national parties now campaign openly in the teeming, financial hub, once considered one of the world's most dangerous cities and dominated for decades by Hussain's Muttahida Qaumi Movement (MQM), even though he himself has lived in self-imposed exile in London since 1992.
"Karachi is peaceful today," said Shehla Raza, a candidate for the Pakistan Peoples Party (PPP) in one of Karachi's parliamentary constituencies. "I am going to bazaars (markets), multi-storey apartment blocks, I am getting a tremendous response."
At the last election in 2013, the MQM won 16 of Karachi's 20 seats, and critics say they were aided by a campaign of intimidation and violence.
Some months after the election, a paramilitary crackdown transformed Karachi, sharply bringing down murder and kidnapping rates, while splits within the MQM's leadership in 2016 broke the grip of Hussain.
Hussain's representatives in London did not respond to requests for comment. Hussain has denied charges in the past of exhorting his supporters to violence. He has said hundreds of MQM members have been arrested and killed in extra-judicial operations.
Authorities say they have targeted criminals and militants irrespective of political affiliation, and brought down crime rates considerably.
According to the Pakistan Institute for Peace Studies, at least 57 people were killed and nearly 300 injured in violence in Karachi from January 2013 until the election in May that year. This year, police say, just two murders have been reported.
The change is palpable in the city - people throng to shopping malls and restaurants until past midnight. In earlier years, the city would essentially shut down soon after dark.
With elections coming up, Karachi is festooned with party flags and posters and small neon-lit trucks scurry around the city with photographs of leading candidates.
PPP workers installed billboards sporting the face of party leader Bilawal Bhutto Zardari atop the MQM's former headquarters, an act that would have been unimaginable in previous elections.
TEMPTING PRIZE
The city's current 21 seats represent a tempting prize for the main parties vying for control of the 272 elected seats in the National Assembly. They may also be crucial for smaller parties hoping to play kingmaker if, as many expect, the elections result in a hung parliament.
Nationally, polls suggest the election is between the opposition party of cricketer-turned-politician Imran Khan and the Pakistan Muslim League-Nawaz of now-jailed former prime minister Nawaz Sharif, which hopes to win a second term in office.
Both Khan and Sharif's brother, Shehbaz Sharif, are among the contestants for seats from the city.
Also hoping for a strong showing is the Bhutto family's PPP, which is running third nationally in opinion polls but dominates politics in the rest of Sindh province, where Karachi is located.
The MQM emerged from the city's university student movements in the 1980s, giving voice to ethnic Mohajirs, descendants of Urdu-speaking migrants from India, who form the largest group in the city.
For much of the 1990s, security forces in Karachi cracked down on the MQM, eventually pushing Hussain to seek asylum in the United Kingdom.
Even from exile in London, Hussain controlled the city through a powerful network, a security official and several former MQM leaders told Reuters.
Then, in 2013, the national government led by then-Prime Minister Nawaz Sharif gave free rein to the paramilitary Rangers for a sweeping crackdown on crime.
In 2016, MQM leaders in Karachi announced a split from Hussain and his inner circle in London amidst infighting and a leadership struggle leaving the party in disarray with three competing factions.
While the PPP hopes to regain its base in Karachi, equally confident is Khan's PTI party, which has traditionally done well in large cities and won one Karachi seat in 2013.
"We hope that when Imran Khan wins from Karachi and becomes prime minister, it would help undo the deprivations and neglect the metropolis has faced for years," senior PTI leader Imran Ismail told Reuters.
Even Nawaz Sharif's PML-N, which does not have traditional support outside its political heartland in Punjab province, is campaigning hard in Karachi.
With few opinion polls of Karachi alone, it's unclear which of the major parties will reap the spoils of the MQM's fracture – or if one of the remaining factions can hang onto the loyalty of Mohajir voters.
Hussain himself, still in exile, is not a factor: the faction he controls has announced a boycott of the polls.
"Political parties again want to win Karachi, temporarily they will, but in the long run only Altaf Hussain and his companions will be victorious," Hussain said in a speech earlier this month.