Amid political turmoil, US calls on Sri Lanka president to immediately reconvene parliament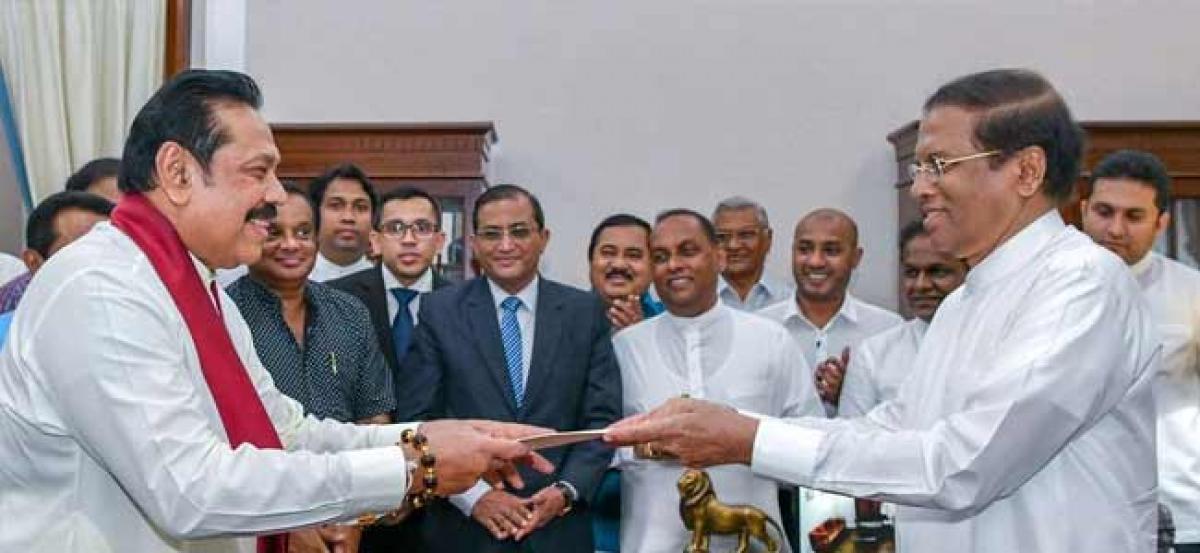 Highlights
The US has called on Sri Lanka President Maithripala Sirisena to immediately reconvene parliament to allow the democratically elected representatives there in deciding who will lead their government following a political turmoil sparked by the sudden sacking of Prime Minister Ranil Wickremesinghe
The US has called on Sri Lanka President Maithripala Sirisena to immediately reconvene parliament to allow the democratically elected representatives there in deciding who will lead their government following a political turmoil sparked by the sudden sacking of Prime Minister Ranil Wickremesinghe.
Sirisena on Friday sacked Wickremesinghe and appointed former strongman Mahinda Rajapaksa as the new prime minister, triggering political chaos in the Indian Ocean island nation.
Next day, he suspended Parliament after Wickremesinghe, who had termed his sacking as illegal and unconstitutional, sought an emergency session to prove his majority.
The president also withdrew Wickremesinghe's personal security and vehicles in order to accord them to his 72-year-old successor, who staged a dramatic political comeback.
"We call on the President, in consultation with the Speaker, to immediately reconvene parliament and allow the democratically elected representatives of the Sri Lankan people to fulfil their responsibility to affirm who will lead their government," US State Department Spokesperson Heather Nauert said.
The United States continues to follow developments in Sri Lanka with concern, she said.
"We urge all sides to refrain from intimidation and violence," Nauert said in a statement.
The United Nations also expressed concerns over the political developments in Sari Lanka.
UN Secretary-General Antonio Guterres called on the Sri Lanka government to respect democratic values and constitutional provisions and process, uphold the rule of law and ensure the safety and security of all Sri Lankans.
The Secretary-General urged all parties to exercise restraint and address the unfolding situation in a peaceful manner, the spokesperson for the UNSG said.
The political crisis in the island nation on Sunday triggered violence as one person was killed and two others injured as the bodyguards of Petroleum Minister Arjuna Ranatunga, a Wickremesinghe loyalist, fired live rounds when supporters of Rajapaksa threatened the cabinet member.
The political developments, which has thrown the country into a constitutional crisis, unfolded after Sirisena's broader political front United People's Freedom Alliance (UPFA) announced that it has decided to quit the unity government with Wickremesinghe's UNP.
Sirisena and Wickremesinghe had joined to form a government of national unity in 2015 to bring in constitutional and governance reforms including a new Constitution to address the long-standing issues of the Tamil minority.
Sri Lanka nearly faced economic sanctions from the West over Rajapaksa' brutal military crackdown on the banned LTTE.
The LTTE sought a separate Tamil homeland in the northern and eastern provinces of the island nation for nearly 30 years before its collapse in 2009 after the Sri Lankan Army killed its supreme leader Velupillai Prabhakaran.