Washington: Targeted for being Hindu, avers Tulsi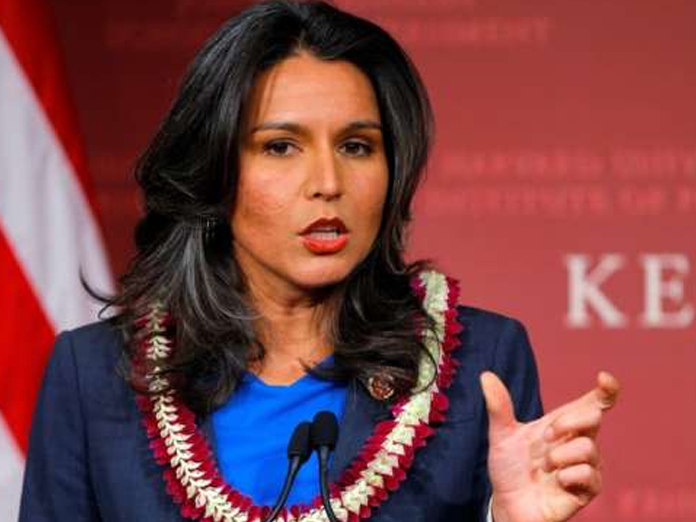 Highlights
Congresswoman Tulsi Gabbard has hit back at critics who accuse the Democratic presidential hopeful of being a Hindu nationalist, saying questioning her commitment to America while not probing nonHindu leaders creates a double standard that can only be rooted in religious bigotry
Washington: Congresswoman Tulsi Gabbard has hit back at critics who accuse the Democratic presidential hopeful of being a "Hindu nationalist", saying questioning her commitment to America while not probing non-Hindu leaders creates a "double standard" that can only be rooted in "religious bigotry".
Gabbard, the four-term lawmaker said from Hawaii, wrote an op-ed for the Religious News Services on Sunday, describing the campaign against her, supporters and donors as "profiling and targeting of Hindu Americans and ascribing to them motives without any basis".
The 37-year-old on Jan. 11 announced that she would be running for the White House in 2020.
Gabbard, the first Hindu elected to the US Congress, noted that she has been accused of being a Hindu nationalist. "Tomorrow will it be Muslim or Jewish Americans? Japanese, Hispanic or African Americans?" she asked.
"To question my commitment to my country, while not questioning non-Hindu leaders, creates a double standard that can only be rooted in one thing: 'religious bigotry'. I am Hindu and they are not," Gabbard said.
"I am proud to be the first Hindu-American to have been elected to Congress, and now, the first Hindu-American to run for president," she said.