Common people rue as ATMs run out of cash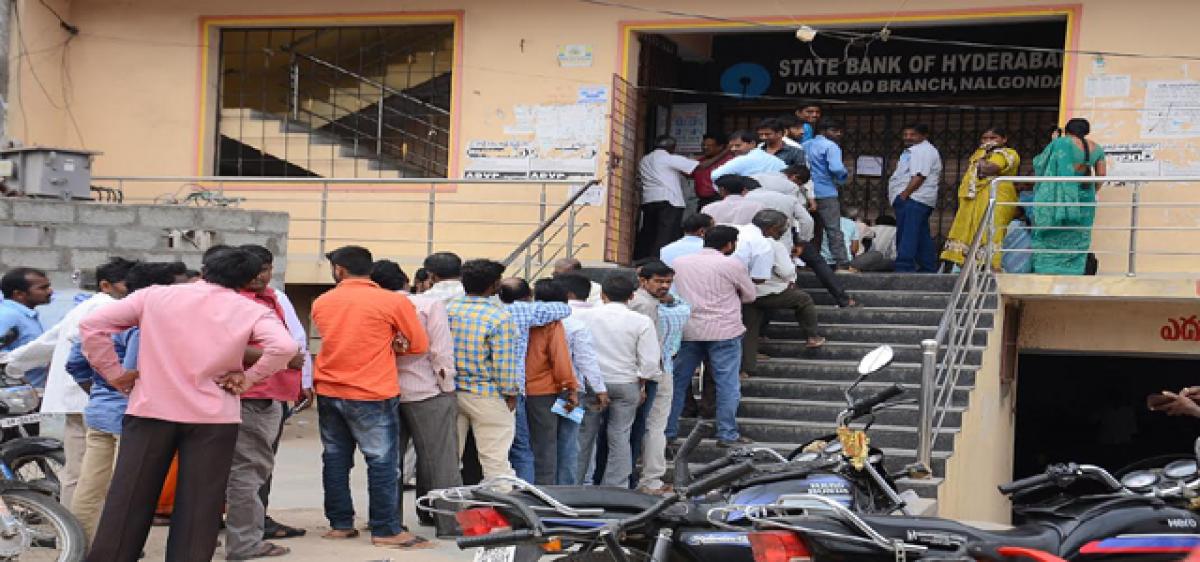 Highlights
People who have been facing problems for the last 20 days in securing cash for meeting the daily expenses waited on Friday for hours to receive cash from banks. While some were lucky, those who could not get cash went back disappointed. They grumbled that staff of several banks has been telling them during the last two-three days that there was no cash in their banks, although they received the mo
​Bhongir: With the seven ATM centres of seven banks in the famous temple town displaying "no cash" boards on Friday, customers faced hardships as it was only the second day of the December.
People who have been facing problems for the last 20 days in securing cash for meeting the daily expenses waited on Friday for hours to receive cash from banks. While some were lucky, those who could not get cash went back disappointed. They grumbled that staff of several banks has been telling them during the last two-three days that there was no cash in their banks, although they received the money.
This resulted in heated arguments between the waiting customers and the bank staff. The waiting customers appealed to the government to intervene for initiating steps to facilitate cash payment to the common man for purchasing essential commodities.
Devotees visiting the Lakshmi Narasimha Swamy temple are also facing problems as they are unable to draw cash from ATMs. Those staying in the guest houses and waiting at the booking and prasadam counters had to spent anxious moments, as the temple staff refused to accept the banned Rs 500 and Rs1,000 notes.
In Nalgonda, the salaried class and pensioners stood in serpentine queues at banks across the district on Friday.They were able to get a portion of their earnings in hand as the banks restricted withdrawals to Rs 10,000.
The activity at banks and ATMs picked up since morning until cash available, while majority of ATMs ran out of cash and remained closed. Nalgonda district lead bank manager Suryam informed that bank branches had given Rs 10,000 per customer against the maximum limit of Rs 24,000 for facilitating more number of customers. Meanwhile, pensioners suffered a lot in queue lines to get Rs 10,000 cash from respective bank branches.
Vehicle queues witnessed at petrol bunks till late night in Nalgonda, Yadadri and Suryapet districts after the Centre banned acceptance of Rs 500 and 1,000 notes at petrol bunks.