Auto-rickshaw drivers seek parking stands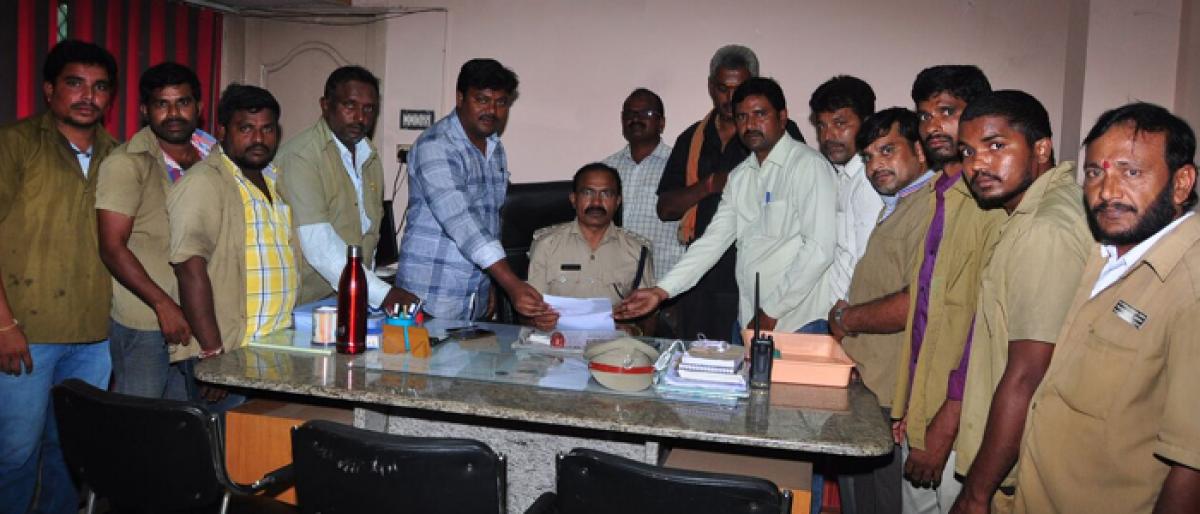 Highlights
The representatives of Auto Workers Union affiliated to All India Road Transport Worker's Federation (AIRTWF) alleged that due to lack of proper auto stands in the city, the auto workers were facing lot of hardships. The representatives of the Union along with Centre for Indian Trade Unions (CITU) sought auto stands at various locations in the city and handed over a memorandum to the Traffic Assis
Khammam: The representatives of Auto Workers Union affiliated to All India Road Transport Worker's Federation (AIRTWF) alleged that due to lack of proper auto stands in the city, the auto workers were facing lot of hardships. The representatives of the Union along with Centre for Indian Trade Unions (CITU) sought auto stands at various locations in the city and handed over a memorandum to the Traffic Assistant Commissioner of Police Sada Niranjan at his office in Khammam on Friday.
Speaking on the occasion, the CITU district vice-president T Lingaiah said more than 5,000 autos belonging to Khammam city and from surrounding villages ply in the city. Due to lack of auto stands, the auto workers were facing lot of hardships.
There is a need to establish auto stands at important locations such as railway station out post, ZP Circle, Yellandu crossroads and at NTR Statue besides establishing an auto stand for the autos which are entering the city from surrounding villages to prevent traffic problems, he pointed.
Responding positively to the auto workers, the ACP assured them that steps would be taken for establishing auto stands in the said locations. The AIRTWF State vice-president Upendar, Private Educational Institutions Bus Drivers Union leaders S K Saidulu, Pasha, S Lingaiah, Auto Workers Union leaders Basati Rama Krishna, Ch Upendar, Srinu, Nageshwar Rao, Mallaiah and Vemula Upendar were present along with others