Collector grants 1.6 cr loan to women groups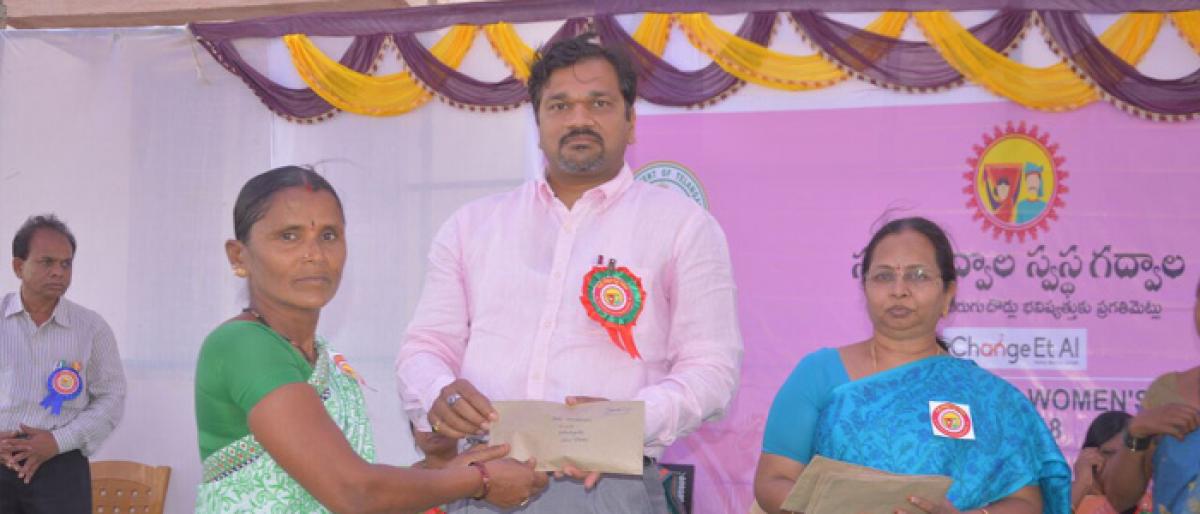 Highlights
District Collector Rajat Kumar Saini on Thursday stressed the need for a positive change in the mindset of people in improving their living standards. While addressing a meeting attended by 5,000 women on the occasion of International Women's Day celebration in Gattu mandal in Gadwal district, the Collector said  "Gadwal is backward in literacy
Gadwal: District Collector Rajat Kumar Saini on Thursday stressed the need for a positive change in the mindset of people in improving their living standards. While addressing a meeting attended by 5,000 women on the occasion of International Women's Day celebration in Gattu mandal in Gadwal district, the Collector said "Gadwal is backward in literacy, leads in child marriages and child labour in the country and despite of our efforts to construct individual latrines even today people are not willing to stop open defecation. Unless and until the mindset of the people change, we cannot bring real development in the society.
I really regret for not conveying my wishes to you all on the International Women's day, because nothing has changed for the past 200 years in Gadwal. Change can come only when people want it to happen and if they are not willing to change, all the efforts done by the government and the district administration will all go in wane."
The Collector said even after two hundred years, the people of Gadwal were still reeling under illiteracy, and continued to be number one in the country in Child Marriages and Child labour and open defecation. "I regret to tell you that during past 200 years except cell phones, bikes, jeans, TVs and cinemas, nothing positive has changed in Gadwal. The living standards of people have not improved; the mind set is not changed," he said.
The Collector questioned the women and asked them why is that they are not asking their husbands to construct toilets and latrines in their homes and why is that they are encouraging the child marriages. "I am not able to understand why is that the women are not asking their husbands to construct ILs and why are they silent when their grown-up girls are going for open defecation.
Why are the women silent when a girl child who has not reached her marriage age getting married? And why are the mothers, and women in general allowing their small children to work in fields, quarries and brick klins as child labourers? The change has to come from you, unless and until a women change and her mindset gets changed nothing will be changed in the society.
It is women who have to take a lead to bring a change and I am waiting for that time to see the attitude and willingness of change from you," observed the Collector while expressing his deep concern for not getting proper support from the people of Gadwal towards change.
The Collector said the government is giving Rs 12,000 for the construction of individual latrines, and government has sanction of 63,000 ILs but people are not willing to build ILs until they get a deposit of Rs 12,000 into their accounts.
Later the Collector gave away cash awards of Rs 6,000 and Rs 4,000 to three Anganwadi teachers and workers respectively for their exemplary services. IKP project managers G Praveena, Koteshwari and J Parijatam were also felicitated for achieving 100 per cent results. A total of 66 women groups were given loan to the tune of Rs 1.60 crore through the hands of the district Collector.