Water will be provided 2crores acres in coming days- Chief Minister N.Chandra Babu naidu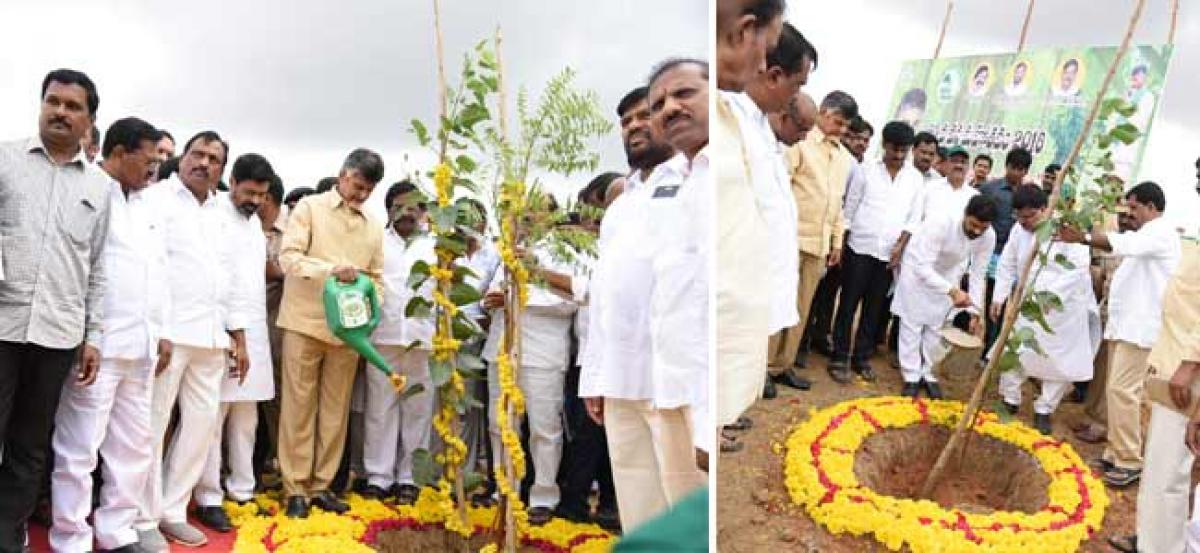 Highlights
While expressing determination over the development of Primary Sector Agriculture Sector in the state, Chief Minister Chandra Babu Naidu has said a comprehensive plan has been designed in providing water for 2crores acres in coming days
Kadapa: While expressing determination over the development of Primary Sector (Agriculture Sector) in the state, Chief Minister Chandra Babu Naidu has said a comprehensive plan has been designed in providing water for 2crores acres in coming days.
The chief minister who was in Kadapa for participating in the 'Vanam-Manam' programme at Yogi Vemana University (YVU) on Saturday said apart from water will be supplied to 1crores acres in the interest of transforming AP as horticulture hub.
He said to achieve such mammoth task his government is going ahead with two initiatives one is interlinking of rivers, another one is completion of irrigation projects in a phased manner. While recalling that following interlinking of Godavari-Krishna Rivers through Patti seema project Rayala seema districts are able to secure agriculture operations and drinking water purpose even in severe sry spell conditions.
The chief minister has narrated in second phase government is planning to make interlink Godavari-Krishna-Penna Rivers, and in third phased Godavari-Krishna-Penna- Nagavali- Vamsadara rivers should made interlinked as the state would have sufficient water where ever necessary. The chief minister recalled that due to recent floods occurred in Godavari districts, about 150tmft of water was un necessarily let in to see due to incompletion of irrigation projects.
He disclosed 20 irrigation projects against 57 were already completed, while another 20 would be completed by ending of June next year as remaining under progress in different stages. While asserting that providing water to agriculture operations and drinking water purpose in Kadapa district only because of his initiative, he assured that government is keen of storage 90tmft of water in all reservoirs like, Gandikota, Milavaram, Chitravathi Balancing Reservoir, Brahmam sagar, Pydipalem and other water bodies in the district in coming days.
He said despite Kadapa district has witnessed 56percent deficit rain fall in the current Kharief season, chief minister assured farmers not worried as government will release water from Sri Sailam Reservoir under KC canal in the district.
Following plea of the local minister C.Adinarayana Reddy, chief minister has sanctioned Rs 430 crores for second lift irrigation scheme in view of storage 23tmft water in Gandikota Reservoir. While determining his commitment in preventing corruption in the welfare schemes, and developmental activities without naming late chief minister Rajasekhar regime, he said there was large scale of irregularities were witnessed as crores of public money was looted in the mask of welfare schemes, and developmental activities. Rs 4,000 crores were looted in Indiramma housing programme, and large scale of irrigulaties were witnessed in the construction of Chitravathi Balancing Reservoir . "In the earlier even Devils have own the government pensions, now it such system was totally eradicated by adopting highly sophisticated technology in every state" he said.
While stressing the need of people to consider in planting adequate number saplings as social responsibility the chief minister has detailed that due to initiative taken by the government there was 26 percent greenery was developed as it should be increased to 50 percent by 2029 He called upon larger participation of students in plantation programme as every school and college and universities compulsory to following the government guide lines in that aspect. The chief minister has lauded the YVU for state level in protecting the ecological balance by planting 40,000 saplings in the university premises.
On this occasion the chief minister had interacted with the students over promotion of plantation programme as there was interesting climate prevailed in the meeting when the CM asking witty questions as the students replied in the same manner.
Marketing minister C.Adinarayana Reddy, Forest minister Sidha RAghava Raoa YVU VC Ramachandra Reddy, collector CH.Harikiran and others were present.