TDP continues to put pressure on central government for steel plant- TDP district president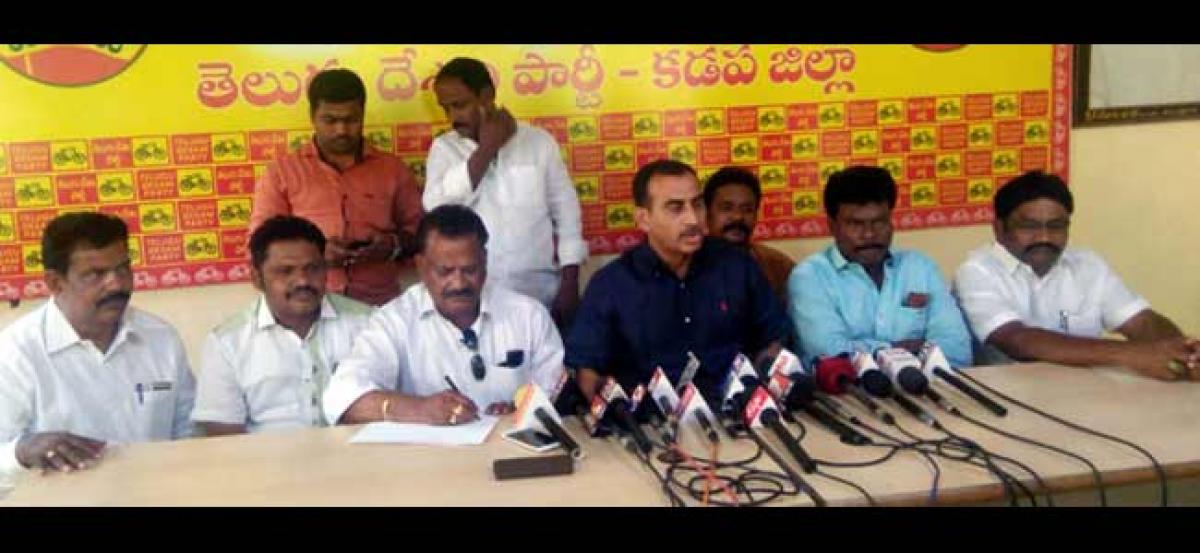 Highlights
TDP district president RSrinivasulu Reddy has said that his party will continues to put pressure on central government until it has accepted the proposal of establishing steel plant in Kadapa district
Kadapa: TDP district president R.Srinivasulu Reddy has said that his party will continues to put pressure on central government until it has accepted the proposal of establishing steel plant in Kadapa district. Addressing press conference here on Monday he said BJP lead well aware that there was all natural resources available for establishing steel plant in Kadapa district, but it has been dragging the issue willfully due to political reasons.
He said that as part this initiative TDP MPS's are leaving to Delhi very soon as final effort. He said in case if central fails in that aspect, chief minister will made specific announcement over the issue in the Dharma Porata Deeksha proposed to be held on 20th October in Kadapa town.
Finding fault with YSR congress president YS Jagan Mohan Reddy of his failure in pressuring the central over steel plant issue, TDP president pointed out that it is unfortunate even as Jagan Reddy belongs to Kadapa district, he is always trying how to escape from the cases by compromising with BHP instead putting efforts on steel plant issue.
He said there was no alternative for TDP except to came out from BJP lead NDA government as it has hatched conspiracy to betrayed AP state. He urged the all sections of people to extend their support Chief Minister by participating his Dharma Porate Deeksha by participating in it with big numbers.