TTD opts `e-locks' to strengthen security at its temples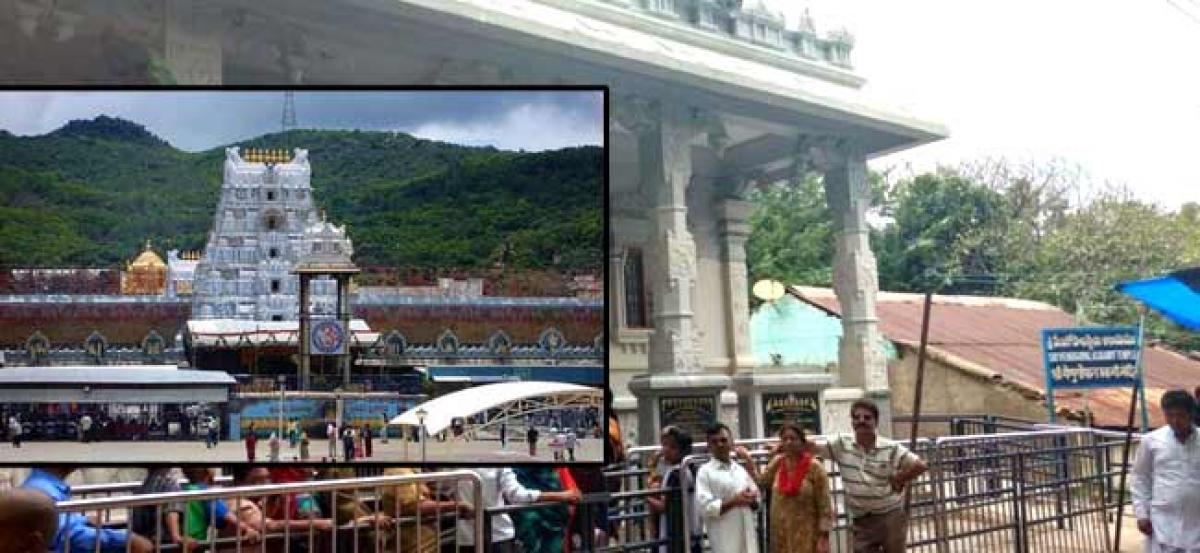 Highlights
In an effort to strengthen security in its temples and other establishments, Tirumala Tirupati Devasthanams TTD opted the latest electronic locking system
Tirupati: In an effort to strengthen security in its temples and other establishments, Tirumala Tirupati Devasthanams (TTD) opted the latest electronic locking system.
To begin with TTD introduced the latest facility ``e-locks' in the temples under its control in Chittoor and Kadapa districts and also four goods vehicles used for transporting coins from Tirumala temple to the counting centre (Coin Parakamani) located in its main office at Tirupati.
A Kolkatta based `Trans Secure' donated `40 e-locks ' and also deputed a senior technician to train TTD personnel including priests in operating the GPS equipped `e-lock s' set up in the temples, a month back and also in the four transport vehicles. The GPS `e-locks' which were provided to the shrines, are now used for the doors of sanctorum of the TTD shrines in the two districts. The TTD is having about two dozen temples under its control including in Nagalapuram, Narayanavanam, Valmikipuram, Srinivasamangapuram, Tarigonda and others places in Chittoor districts and also in some places in Kadapa district.
However, the famous Sri Venkateswara temple and other shrines in Tirumala and also the temples in Tirupati and Tiruchanur were not covered under the new locking system.
Speaking to The Hans India incharge chief security and vigilance officer (CVSO) TV Sivakumar Reddy said that, `e-lock' found to be easy for operation, based on a chip and also more effective and durable compared to the conventional locks used for the security as the locks are water and electric proof. He said that the supplier `Trans Secure' has a proven track record of providing such e-locks to containers transporting goods of high value from ports to various cities in the country, covering long distances.
With satisfactory performance of `e-lock ' facility, the TTD is contemplating to extended it to the temples in other districts in the state and also cover more points in the temples where the locking system is introduced with sanctum (doors).
Assistant Vigilance and Security Officer (AVSO) Nandiswar said the GPS enable new lock system provides effective monitoring as it enables the supervising authorities to know over mobile phones the exact time of the opening and closing of the shrines as well as alert them in case of any attempt to tamper or break them (lock). As the firm provided four chips for each lock, any one of the four staff including temple inspector, a senior official, a priest and a security staff working in the temple can operate it, ensuring standby arrangement, in case of any misplacement by any one of them.
C Srinivas, temple inspector in Applayagunta Sri Prasanna Venkateswara temple, near here said that the ` e-lock' very handy, easy to operate and found to be more durable and informed that the temple is seeking to provide more such locks to replace the locks made of bronze being used in the shrine.