Legal Metrology Dept raids jewellery showrooms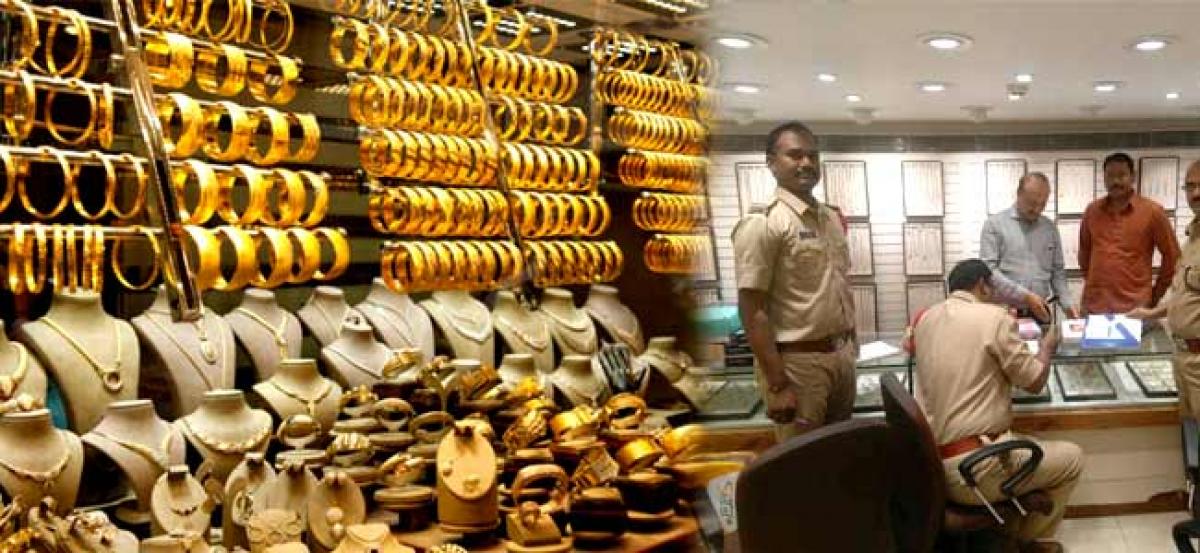 Highlights
Legal Metrology Department conducted sudden raids on gold and jewellery showrooms in Greater Hyderabad region to safeguard consumer interests
Hyderabad: Legal Metrology Department conducted sudden raids on gold and jewellery showrooms in Greater Hyderabad region to safeguard consumer interests.

As Diwali festival is near and high purchase of jewellery is done, Legal Metrology Department is taking all measures to protect consumer from getting cheated by the jewellery shops.

Legal Metrology Department formed 9 teams with 30 members headed by 3 Deputy Controllers, 5 Assistant Controllers conducted raids at major gold and jewellery showroom in Greater Hyderabad on Thursday and Friday.

Officials booked 85 cases and seized jewellery worth more than one crore rupees.

Legal Metrology Department officials conducted raids at Bhajranglal & Sons, Surajbhan & Sons, Narayana Jewellers, Totatam Sagarlal Jewellers, Sri Balaji Jewellers – Abids, Mussaddilal Jewellers, P. Satyanarayana & Sons – Basheerbagh, Mangatrai Jewellers – Punjagutta, Basheerbagh, Manepally Jewellers, Tanishq Jewellers, Vaibhav Jewellers – Dilsukhnagar, Sri Ganesh Jewellers – LB Nagar, Chandana Jewellers, CMR – Kukatpally, Punjagutta – Lalita Jewellers, PCJ Jewellers, Keertilal Jewellers, Nacharam – Sri Bhavani Jewellers, Jubilee Check Post – Mahalakshmi Jewellers… and other major jeweler showrooms.

According to Legal Metrology Department norms jewellery shops should compulsory mention purity of gold (22 carat or 24 carat), exact weight, price as of on the current day, if any stones used in the jewellery weight, price should be mentioned separately and making charges also should be stated separately in the bill given to customer. If any wastage is there it should be shown separate and the price of the wastage should not be included in the gold rate. In some cases, charging more in the name of VAT, making charges and wastage. It is against the law.

Also price should be calculated exactly on the net weight. But in some cases near about 25 percent is charged more in the name of wastage and they are charging more price than actual cost of the ornament. Legal Metrology Department officials booked cases against the offenders. Test Weight should be kept available at all the showrooms for the convenience of the customers.