Youth holding knife walked on the road created terror in Tadepalli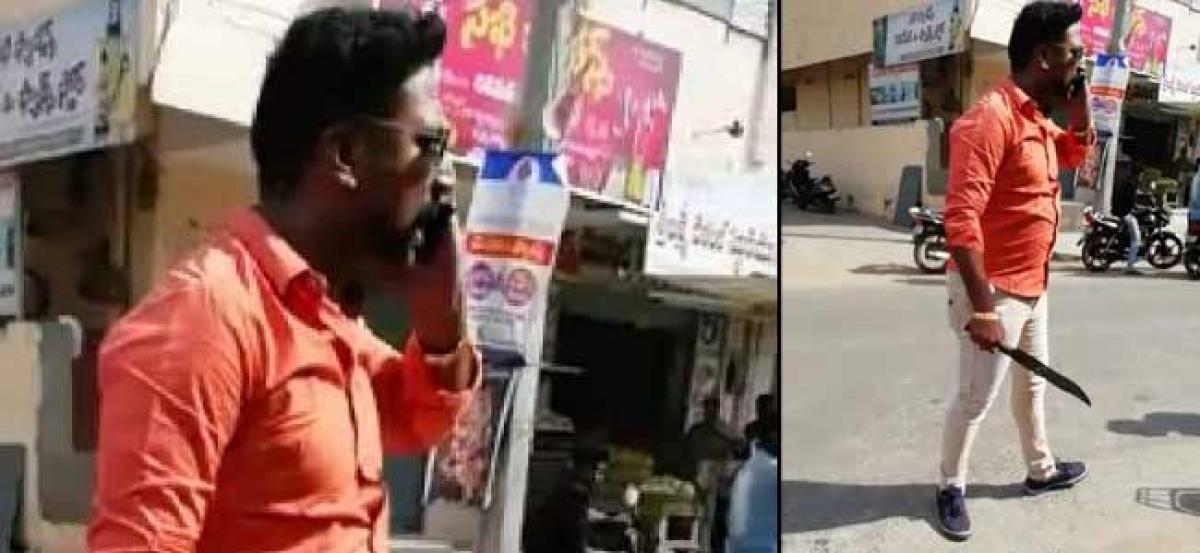 Highlights
A youth holding a knife and walking on the road on the broad day light near Chief Minister NChandrababu Naidus residence in Tadepalli and saying that he will do settlements like in the Janata Garage film and created terror Locals who saw him panicked with the incident
-Locals panicked with the incident.x
Guntur: A youth holding a knife and walking on the road on the broad day light near Chief Minister N.Chandrababu Naidu's residence in Tadepalli and saying that he will do settlements like in the Janata Garage film and created terror.. Locals who saw him panicked with the incident.

According to police, Koppolu Pradeep, who involved in several settlements ride on the bullet motor bike in Tadepalli town.He created a whatApp group with his caste persons cell phone numbers on the name of Janata Garage and asking to bring problems to his notice to settle the issues. He involved in several disputes. Police registered two cases against him for involving in the settlements.
In spite of it,there is no change in his attitude. He disputed with his relative Dileep relating to a dispute on Saturday. Pradeep along with his followers on Monday walked on the road holding a knife in his hand and local who saw the incident panicked. A resident of Singamsetty Pullaiah lodged a complaint in the Tadepalli Police Station. Police took him into custody booked a case against him and produced in the court which remanded him .