BJD MLAs protest change in funding pattern in SC scholarship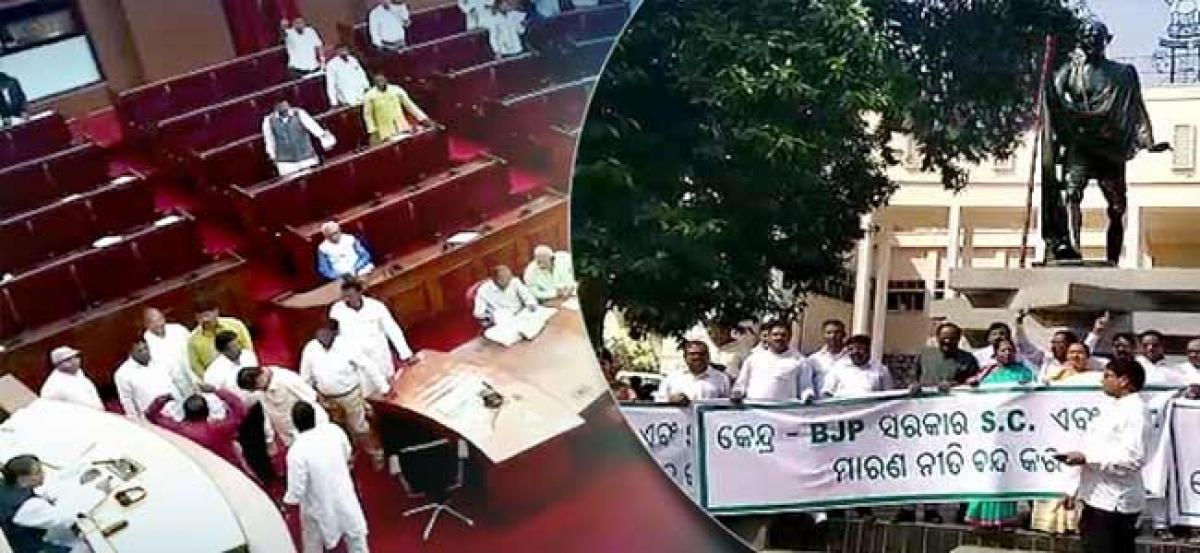 Highlights
The ruling BJD members protested in the Odisha Assembly Monday the Centres decision of changing the funding pattern of postmatric scholarship scheme for Scheduled Caste students
Bhubaneswar: The ruling BJD members protested in the Odisha Assembly Monday the Centre's decision of changing the funding pattern of post-matric scholarship scheme for Scheduled Caste students. As soon as the House assembled for the Question Hour, the members of the ruling party stood up and protested the revision of the post-matric scholarship fund for the SC students by the Centre. The opposition Congress members also rushed to the well of the House demanding a discussion on felling of large number of trees for setting up a brewery in Dhenkanal district. Unable to run the proceedings, the Speaker P K Amat adjourned the House till 3 pm.
After the House was adjourned, the BJD members sat on dharna near Mahatma Gandhi statue protesting the Centre's decision and dubbed the BJP-led NDA government as "anti-dalit and anti-tribal". The ruling party members showed a letter written by Chief Minister Naveen Patnaik to Union Minister for Social Justice and Empowerment, Thaawar Chand Gehlot. Patnaik, in a letter on November 17, had said that the Ministry of Social Justice and Empowerment was providing 90 per cent, while the state government contributed the remaining 10 per cent of the actual expenditure on providing post-matric scholarship to SC students.
Accordingly, during 2016-17, the Central share was Rs 215.80 crore while the state share was Rs 22.48 crore. However, from 2017-18 onwards, the Ministry has revised the liability of the state government towards post-matric scholarship wherein the state government has to bear 80 per cent of the total expenditure. During 2017-18, the state government had to provide Rs 238.28 crore while the Union Ministry of Social Justice and Empowerment allocated a meagre Rs 35.12 crore. During 2018-19, the state government has to provide Rs 238.28 crore, while the Central share is projected to be Rs 49.39 crore. "Such an abrupt change in the funding pattern by the Ministry has given a severe jolt to the post-matric scholarship programme for the SC and ST students," the chief minister said in the letter.
Patnaik has sought the personal intervention of the Union Minister to reconsider the matter and restore the funding pattern of 90:10 for smooth implementation of the post-matric scholarship programme for Scheduled Caste students. Leader of Opposition Narasingha Mishra of Congress outside the House, however, alleged that the ruling party members deliberately stopped the House in order to avoid a discussion on the issue of felling of trees. BJP member Pradip Purohit said that there was no need to disrupt proceeding of the Assembly over a matter relating to Central funding. "The BJD MPs could have raised the matter in the Lok Sabha. But, they deliberately raised this issue to avoid a discussion," Purohit said.
Subscribed Failed...
Subscribed Successfully...