Will deepen partnership with Africa: PM Modi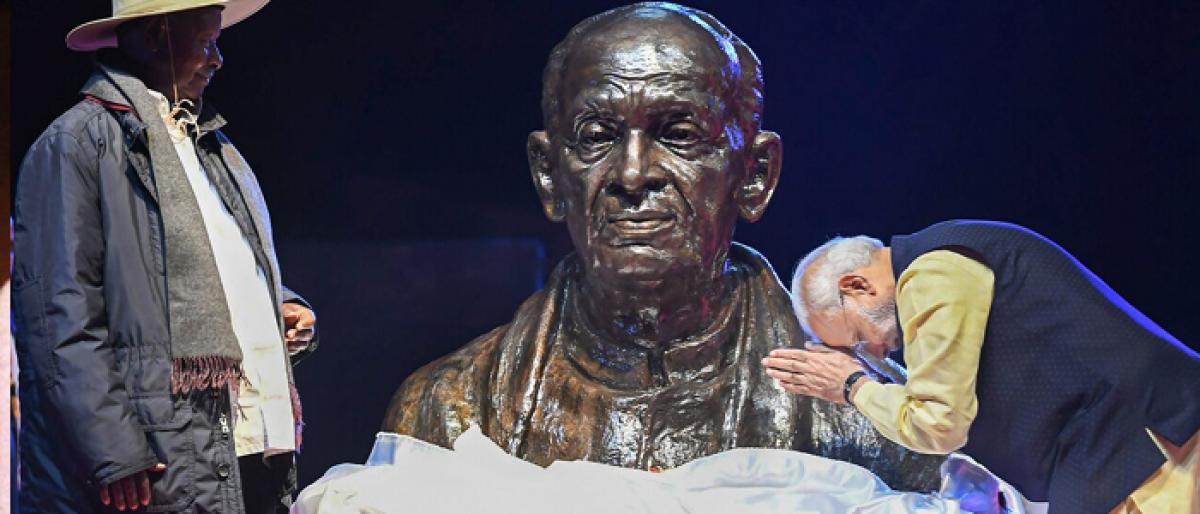 Highlights
Prime Minister Narendra Modi on Wednesday said India will deepen its development and security partnership with Africa that will build instruments of empowerment in the continent
​Kampala: Prime Minister Narendra Modi on Wednesday said India will deepen its development and security partnership with Africa that will build instruments of empowerment in the continent.
"Our development partnership will be guided by your priorities. It will be on terms that will be comfortable for you, that will liberate your potential and not constrain your future," said the Prime Minister, addressing Uganda's Parliament. "We will rely on African talent and skills.
We will build as much local capacity and create as many local opportunities as possible," he said. Modi said that Africa will be at the top of India's foreign policy agenda and enunciated 10 principles that will guide the country's engagement with the region.
The PM said India will keep its markets open and make it easier and more attractive for Africa to trade with India.
"We will support our industry to invest in Africa." Modi also said India will work with African nations to keep the oceans open and free for the benefit of all nations.
"The world needs cooperation and not competition in the eastern shores of Africa and the eastern Indian Ocean. That is why India's vision of Indian Ocean Security is cooperative and inclusive, rooted in security and growth for all in the region."
He offered to harness India's experience with digital revolution to support Africa's development; improve delivery of public services; extend education and health; spread digital literacy; expand financial
inclusion; and mainstream the marginalised.
He said India will help improve Africa's agriculture, as the continent has 60 per cent of the world's arable land, but produces just 10 per cent of the global output.
It will also help address the challenges of climate change and work to preserve its biodiversity; and, adopt clean and efficient energy sources. "We will strengthen our cooperation and mutual capabilities in combating terrorism and extremism," he said, as some of the African countries are roiled by terrorist attacks.
The Prime Minister referred to the increasing global engagement in Africa and said India and Africa "must all work together to ensure that Africa does not once again turn into a theatre of rival ambitions, but becomes a nursery for the aspirations of Africa's youth."
Calling for democratisation of the global institutions, he said India's own quest for reforms in these organisations would be incomplete without an equal place for Africa. "That will be a key purpose of our foreign policy," he added.