Emotional Kasturirangan reminisces association with Vajpayee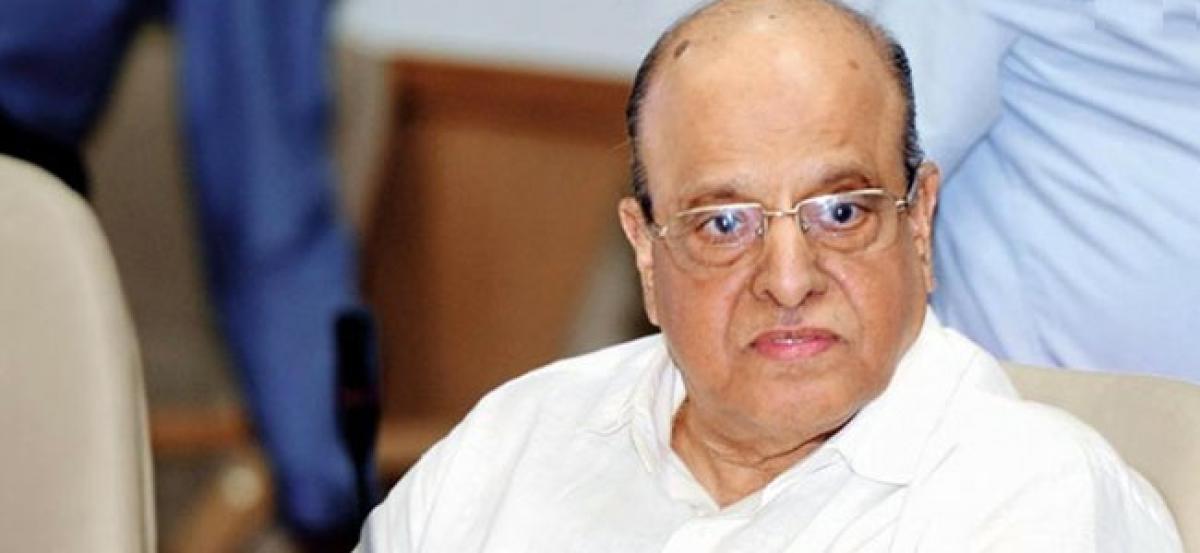 Highlights
Veteran space scientist K Kasturirangan says he is touched by former Prime Minister Atal Bihari Vajpayees remarkable quality the way he treated his colleagues and juniors, however low they might be, and his personal feeling for them
Hyderabad: Veteran space scientist K Kasturirangan says he is touched by former Prime Minister Atal Bihari Vajpayee's remarkable quality -- the way he treated his colleagues and juniors, however "low" they might be, and his personal feeling for them.
Turning emotional and nostalgic as he spoke about his association with the former Prime Minister, he said it was Vajpayee who changed the name of India's maiden mission to the moon from 'Somayaan' to 'Chandrayaan-1', and also made him a Rajya Sabha member. Kasturirangan said he worked with Vajpayee for four years when he was Secretary in the Department of Space and Chairman of Indian Space Research Organisation directly reporting to him. "I used to meet him twice in a month...nice 'Chai' and 'Kachori' he used to serve to me," he told PTI. "...an extraordinary boss who intently heard all your briefings on various progress of space, he would keep some numbers in his mind; it's remarkable, how much he absorbs when you brief him," the former ISRO chief recalled.
Kasturirangan narrated how Vajpayee renamed the Space department's proposal on 'Somayaan' as 'Chandrayaan-1', and said he was touched with the way the former Prime Minister treated his colleagues and juniors. Vajapayee made the announcement on Chandrayaan-1 during his Independence Day address in 2003. Kasturirangan recalled when he asked Vajpayee about the issue, the latter informed him that he spoke to Sanskrit scholars who felt 'Chandrayaan' was a better word than 'Somayaan.' "I have put one (Chandrayaan-1) also there because India is a big country, very prosperous, growing, developing, how can we have only one mission for a planetary programme? It has to be a series, so it's Chandrayaan-1," he quoted Vajpayee as having told him.
Kasturirangan said at the age of 59 when he was ISRO Chairman and Space Secretary, he sent a letter to Vajpayee saying that he was stepping down the following year. He requested him to nominate a successor who could work with him for a year or so as space activity had grown very complex and the person who steps into his shoes gets the totality of the picture. But Vajpayee chose to let him continue in the position till the age of 62, saying "you (Kasturirangan) are young and doing well." Kasturirangan quoted the then Principal Secretary to the PM, Brajesh Mishra as telling him that Vajpayee was thinking about the position to be given to him post-retirement.
Later, after he completed 62 years, he was informed that it has been decided to nominate him for the Rajya Sabha, the space scientist said. "So, obviously he (Vajpayee) was waiting for an opportunity... The country would have so many looking for it (RS seat), but he chose my name, decided to nominate me, nobody questions him when he nominates, I became Rajya Sabha member," Kasturirangan said. He said he was overwhelmed by the personal feeling and touch that Vajpayee showed for people who worked with him closely. "The level in which he thought for his juniors, person thinks about his juniors, waits for proper placement of his juniors, even though he is not bound by anything...the way he treated his colleagues...is remarkable", he added.