India's most vital hub city not in India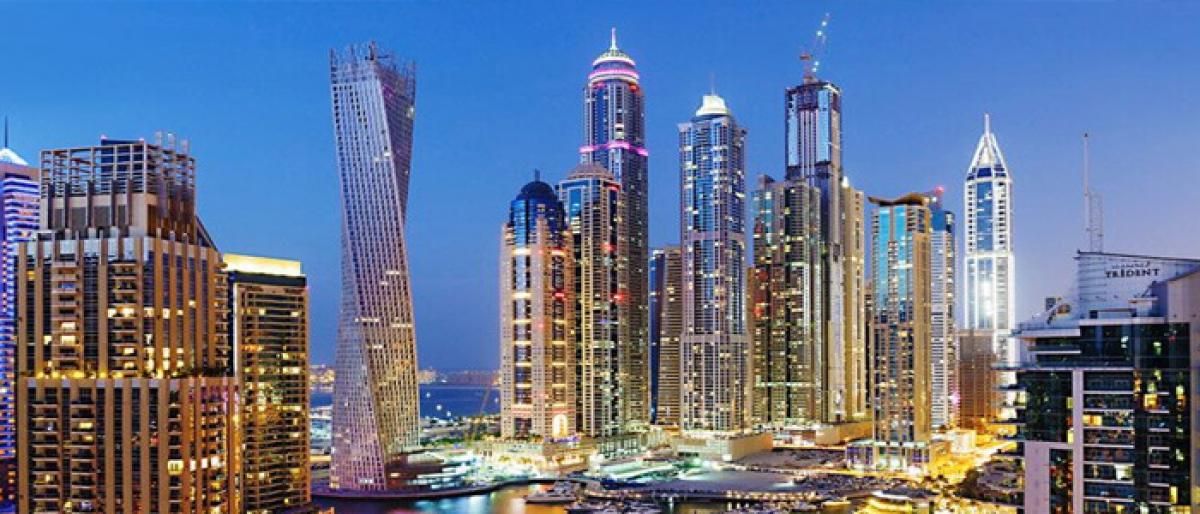 Highlights
Look up at the departures screens at any major Indian airport and you are likely to see a familiar pattern: Dubai and Abu Dhabi appear repeatedly on the flickering displays. Roughly one in three international passengers in India are either heading to or arriving from the United Arab Emirates.
Look up at the departures screens at any major Indian airport and you are likely to see a familiar pattern: Dubai and Abu Dhabi appear repeatedly on the flickering displays. Roughly one in three international passengers in India are either heading to or arriving from the United Arab Emirates.
Many Indian passengers use Dubai, Abu Dhabi or, increasingly, Sharjah as hub airports, connecting in the UAE to flights bound for Europe, North America, or elsewhere in Asia. Now that the UAE has become India's gateway to the world, the two countries are also developing a strategic alliance that could reshape geopolitics across South Asia and the Middle East.
Prime Minister Narendra Modi was among the Indian passengers disembarking last month in Dubai, a city that has come to signify, for upwardly-mobile Indians, what Hong Kong represents for affluent mainland Chinese: a place to trade, invest, shop and connect.
When Modi last visited the UAE, in 2015, he was the first Indian Prime Minister to do so in 34 years. Given the two countries' shared past, this seems remarkable: when the UAE became a nation in 1971, Indian merchants had already lived there for generations; until 1959, the Indian rupee was the official currency. But while history helps explain why trade between India and the UAE remains robust, at $53 billion annually, the UAE's relationship with Pakistan hampered a broader alliance with India for decades.
In recent years, however, Emirati ties to Pakistan have grown increasingly frayed. As UAE officials began taking a stronger stand against militant Islam, Pakistan's murky ties to the Taliban became more problematic. In April 2015, the UAE publicly repudiated Pakistan for refusing to take sides in the war in Yemen.
In January 2017, Abu Dhabi Crown Prince Sheikh Mohammed bin Zayed al-Nahyan was the guest of honor at India's National Day celebrations in Delhi. That visit elevated the relationship beyond the purely commercial. Last month, an Indian consortium led by India's Oil and Natural Gas Corp (ONGC) was awarded a significant stake in an offshore oil concession by the Abu Dhabi National Oil Company, and the two countries agreed to a currency swap arrangement that would allow for direct trade in UAE dirhams and Indian rupees.
Last year, India was the largest source of tourists to Dubai, beating out Britain and Saudi Arabia. But many more of the Indians landing in the UAE are neither tourists nor transit passengers. They are returning to jobs and residences: some 2.8 million Indian nationals live and work there, outnumbering Emirati nationals by nearly three to one.
These Indians are the clerks and accountants, the travel agents and the real estate brokers that make up the large emerging market middle class that calls the UAE home. In addition, there are many Indians in C-suites and professional firms across the UAE, filling the consultancies, banks, design firms, and public relations shops that keep the commercial wheels moving. Then, of course, there are the laborers who toil long hours to erect the buildings that have put the UAE on the global map.
During Modi's 2015 visit to the UAE, he visited a worker's camp in Abu Dhabi, home to thousands of Indian laborers. The message was clear: India will be paying attention to the UAE's often-criticised treatment of its migrant laborers. This was an important message, and should be followed up with consistent engagement on the issue.
Domestic workers from India and elsewhere have also been under the spotlight recently, as the UAE passed reforms to the kafala, or sponsorship, system, which leaves workers beholden to the employers who secured their visas, thereby creating opportunities for exploitation. Human Rights Watch called the new worker protections a "step forward," though implementation will be the key to their success.
Despite the challenges, Indians continue seeking opportunities in the UAE. Indians working in the Emirates send more than $12 billion back to India annually, making the UAE India's largest single source of remittances. What's more, Indians based in the UAE are the largest group of non-resident investors in real estate back home, accounting for some 20 per cent of all investment. According to the Dubai Land Department, Indians are the biggest foreign investors in the UAE as well.
It's no wonder then that the 130,000 seats per week on flights between India and Dubai are often overbooked. When global air giant Emirates was founded in 1985, the oft-branded "Middle East carrier" chose two Indian destinations for its first three flights: Mumbai and Delhi (the other was Karachi, Pakistan). Abu Dhabi-based Etihad Airways boosted India's aviation industry when it bought a minority stake in Jet Airways in 2013.
Despite its relatively small population of 9.5 million, the UAE is India's second-largest export destination, accounting for nearly 12 per cent of all exports. A large proportion of those goods land in Dubai ports and are transshipped elsewhere. Clocking in at $30.7 billion, India exports to the UAE roughly the same amount as it does to its next three top export destinations combined: Hong Kong, China, and the United Kingdom.
UAE entities are significant investors in India as well. Dubai-based DP World has invested some $1 billion in developing ports across India and last month announced a $3 billion joint fund alongside an Indian state entity to invest in logistics businesses.
In a series of advertisements organised by Dubai's tourism board, Shah Rukh Khan, the Bollywood mega-star, walks around Dubai, surprising – and delighting – people while posing as a waiter, or turning up for a game of beach volleyball. In the videos, which have gone viral on YouTube, he welcomes visitors to "MY Dubai." (Fans of Shah Rukh Khan and Indian cinema may also enjoy Dubai's latest theme park: Bollywood Parks.)
Unlike Singapore, for example, the UAE rarely grants citizenship to foreign nationals, even those whose families have lived there for generations. Still, with Bollywood premieres, top-notch Indian schools, clean air to breathe, and some of the best Indian food this side of Mumbai, a joke has been making the rounds among Indian professionals in the UAE.
"What's the best city in India?" the joke goes. The answer? Dubai.
By: Afshin Molavi