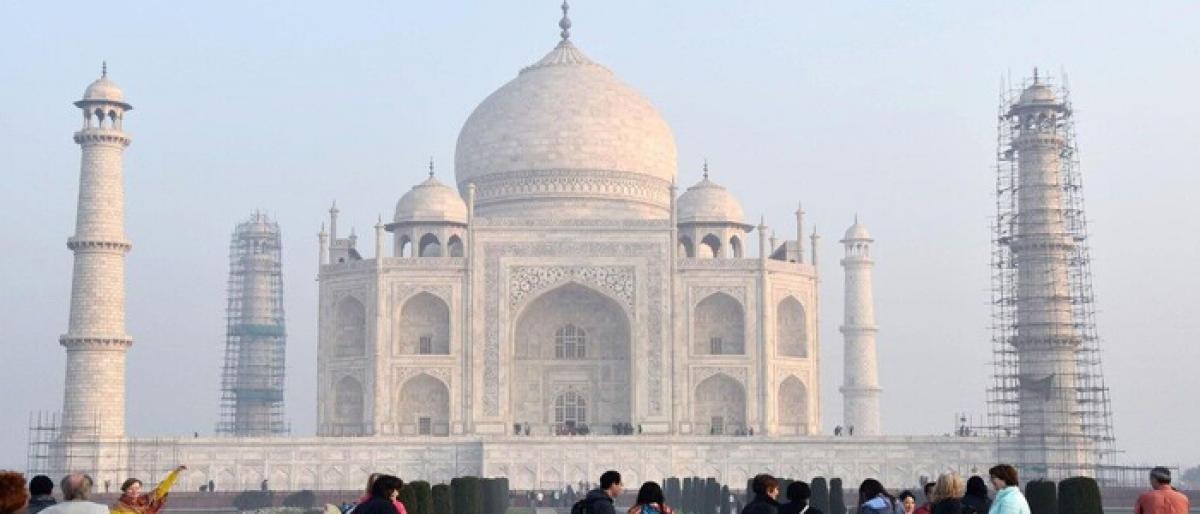 Highlights
We owe a lot to the Indians, who taught us how to count, without which no scientific progress worthwhile could have been made," according to Albert...
"We owe a lot to the Indians, who taught us how to count, without which no scientific progress worthwhile could have been made," according to Albert Einstein. 'Incredible India' is the ubiquitous sales-pitch of the India Tourism Department that greets the traveler these days in airports and railway stations. True enough! It can hardly be gainsaid that India offers a dream-come-true variety of pleasures and excitements to the visiting tourist. So much so that even internal tourism, meaning Indians from one region visiting interesting spots in another, has, in recent times, picked up as a major activity.
Tourism is well known as a major revenue earner for many countries, with its contribution to the gross domestic product (GDP) varying from 25% (Mauritius) to 80% (Maldives) –countries which have a substantial tourist footfall. It is, therefore, only proper that those in charge of tourism in our country should try to sell the sector's potential through such enticing advertisements. What is being done to back up such an invitation, and to support such appeals, with corresponding effort to spruce up tourist destinations in our country by making them visitor friendly, is quite another matter.
Normally, brisk business characterises tourist spots, and the surroundings quickly develop into hubs of transport and infrastructure facilities. They exude contemporariness in response to the demand, of the visitors, for state-of-the-art facilities. The Pyramids of Egypt, the Great Wall of China and cities of the likes of London, Paris and Cairo are all examples of the significant contribution of tourism to public revenues. Compared to those places, the Government of India would hardly appear to have done enough to make its tourist destinations attractive to visitors.
After all, what does India not have? It has geography, it has history, and bountiful nature endowed it with all the wonderful attributes a country can process – hot deserts, cold deserts, forests, ravines, hill-stations and attractive beach resorts. What is more, every known type of climate is there for one to choose from, the snow-clad mountains of the Himalayas to the Thar Desert of Rajasthan, from the rainforests of Chhattisgarh to the rich and prosperous deltas of the Indo Gangetic plain and the Godavari and Krishna basins.
What is more, the country boasts of a rich religious legacy, with ancient Hindu temples, Buddhist monasteries, Islamic mosques, Jewish synagogues, Jain temples and churches of all denominations from the Orthodox Syrian Christian to the Catholic – resplendent with Greek, Portuguese, French and Dutch architectures. The country also has an extensive rail and road network, apart from widespread air connectivity. A population largely able to speak English, and more than adequate boarding and lodging facilities of all price ranges add to the appeal of its tourist spots.
Despite all this, some strange bug appears to ail the tourism industry – witness India remaining at the seventh spot in the list of countries that are major tourist destinations. One obvious issue is the failure of the government and its agencies to organise sufficient publicity for the places. It is a different matter that, despite this shortcoming, Kashmir, Kerala and Goa (not to mention the Taj, of course!) are able to attract tourists on their own.
A number of suggestions strike one. As a person who spent the majority of his career in the agriculture sector, I have been a frequent visitor to Rome. Near the Colosseum, people dressed up as gladiators induce tourists to get photographed with them, making money in the process. Likewise, near the Warwick Castle in England, people depict historical characters. Dressed in appropriate costumes, they enact plays – a major attraction for tourists. One does not see such things happening all in our country.
Even the half-hearted Sound and Light shows are usually organised at such odd hours that not many tourists find it convenient to attend them. Visitors to the Taj can hardly help being revolted by the filth and squalor that present themselves, thoroughly putting them off. When questioned, the government offers the somewhat lame excuse – that the Taj Mahal is known well enough already and does not require publicity. For heaven's sake! It is the facilities that need publicity – not the monument!
In other words, we would rather have the tourists go, not where they would like to, but to places which we offer! While they would have a natural inclination to visit the Sabarmati Ashram at Ahmedabad, we believe that a dressed up museum, with Sardar Patel's life as the theme would attract their custom. Is this not somewhat like asking Shah Rukh Khan fans to see a movie with someone else as a hero believing that they will do that merely because of some publicity hype created in favour of the latter?
One important tendency that we have to remove, from the national psyche, is the somewhat defensive and apologetic attitude towards historical truths. Yes, the Moghuls were invaders. And the British colonised us. But can the enormous influence both those cultures have had on India's ethos, and history, be erased – merely by changing names? Like, for instance, Mount Road to Anna Salai and Kingsway to Raj Path? The British do not hesitate to admit that Henry the Eighth beheaded his Queens. In fact that historical spot earns a good deal of money for England's economy from tourists. Why should we, then, shy away from our own history? I think the time has come for us to disengage history from the imperatives of political correctness.
It is also essential to improve the arrangements at the various tourist spots in the country, to ensure that potential visitors are not scared away by the adverse publicity created by vested interests. Even that can only form the beginning of a number of positive steps that need to be taken to promote and sustain the tourism industry.
Declaring monuments as covered by the Ancient Monuments Preservation Act of India and handing over the maintenance to the Archaeological Survey of India can hardly be the answer. That department has, over several decades, proved singularly unequal to the task – no matter what the reason, such as lack of staff funds or expertise. Some state governments in the country have made efforts to involve the corporate sector in the maintenance and preservation of places of tourist interest. This can perhaps be tried out on a larger scale.
Take, for instance, the Taj again. Regarded for decades, if not for centuries, as a great legacy of our country and also as one of the Seven Wonders of the World (included in the UNESCO's list of heritage sites) the Taj would appear, in recent times, to have lost some of its lustre - at least in the minds of those who matter. If one were to go by what the Chief Minister of Uttar Pradesh said some time ago, this great monument is, in fact, a blot on India's fair history, a monument that lacks "Indianness" – an entry that has blotted the country's copybook!
When this opinion was expressed, it was, unsurprisingly, greeted with horror and widespread disapproval. A quick retraction followed, acknowledging that, after all, the blood and sweat of Indians had gone into its construction. This admission, however, was not followed by the re-entry of the Taj into the list of recommended destinations in the official tourist guide of Uttar Pradesh state, a list from which it had earlier been quite inexplicably dropped. Merely because it carries the name of the consort of a Moghul emperor, the Taj Mahal cannot become 'bad' word. No matter what we do or say now, the name has its own charm, and appeal, and is carried by a range of things from teabags to five star hotels!
Subscribed Failed...
Subscribed Successfully...