Olympic-bound wrestler Narsingh fails dope test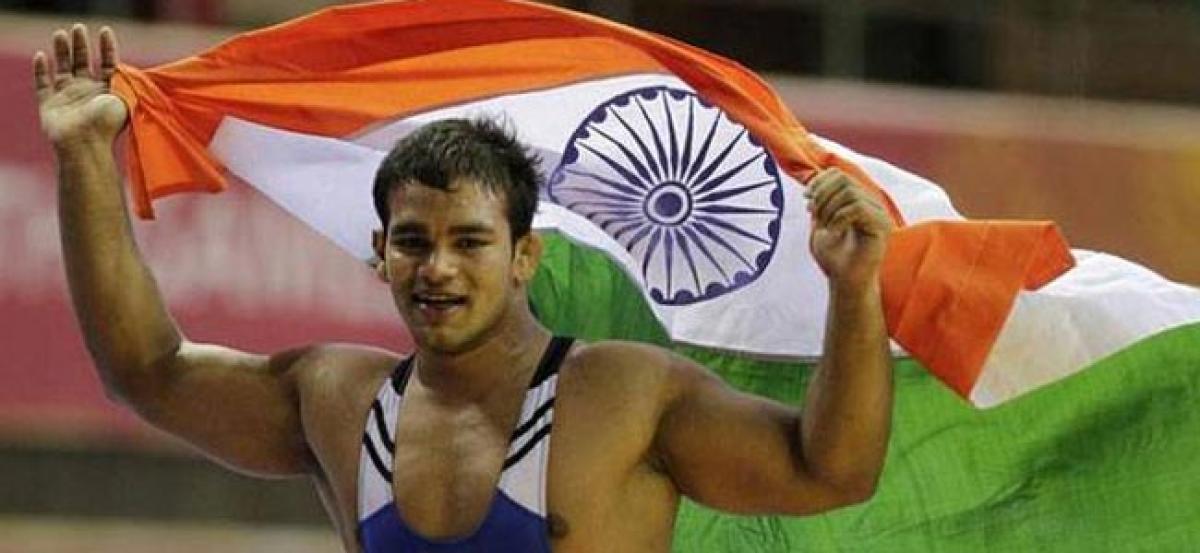 Highlights
Wrestler Narsingh Yadav has flunked a dope test for a banned steroid and his Rio Olympics accreditation has been withheld by the Wrestling Federation of India (WFI), it was announced here on Sunday.
New Delhi: Wrestler Narsingh Yadav has flunked a dope test for a banned steroid and his Rio Olympics accreditation has been withheld by the Wrestling Federation of India (WFI), it was announced here on Sunday.
The Sports Ministry confirmed that a wrestler had failed a dope test but it did not name Narsingh, who booked the Rio berth after claiming a bronze medal in the 74 kg category at the World Championships in Las Vegas last year.
The National Anti-Doping Agency (NADA) conducted a random dope test on Yadav on July 5 at the Sports Authority of India's (SAI) Northern Regional Centre in Bahalgarh near Sonepat, Haryana.
The report of his 'A' sample test was positive. Later, he was called for his 'B' sample test, which also turned out to be positive.
"One wrestler has been detected by the National Anti-Doping Agency (NADA) as dope positive. An Anti-Doping Disciplinary Panel (ADDP) has been constituted by NADA to hear the case. Its first hearing was held yesterday in which the wrestler was given an opportunity to defend himself," the ministry said on Sunday.
"After the hearing, the panel has asked NADA for further reports. After these are received, the panel will hold further hearing in the matter. ADDP is headed by a legal expert and includes doctors and sportspersons."
Narsingh, however, claimed that he has not taken any banned substance and alleged that there was a conspiracy against him.
"This is a conspiracy against me. I am sure the truth will come out," Narsingh told a news channel.
"I have never taken any banned substance. I know Indian Olympic Association will support me," he added.
IOA President N. Ramachandran said that Narsingh will have to go through the relevant legal process and no tainted sportsperson will be allowed to take part in the Olympics.
"If an athlete has tested positive, then the law will follow its course. The IOA will not allow any cheats to participate in the Olympics," Ramachandran was quoted as saying by a news channel.
Later on Sunday, Narsingh issued a statement asserting that all his dope tests before this have been clean and voiced confidence that he will be able to overcome the current predicament.
"I have been a professional freestyle wrestler for over 15 years and I have undergone almost 25-30 dope tests. I have come out clean every single time and never have any of my samples returned positive results," the Haryana wrestler said in the statement.
"I have undergone three tests in the last month and a half. I appeared for a dope test on June 2 before leaving for a training camp in Bulgaria. I was again tested on my return on June 25 and once again on July 5", he added.
"I believe that there is foul play involved in this entire episode. Someone has sabotaged my food supplements and water intake. I take pride in the fact that I have competed in every competition, international and domestic, in an honest, fair and transparent manner and I will continue to do so. I am a responsible athlete with an understanding of the country's expectations and hopes on me. I would never dream of betraying that hope."
London Olympics silver medallist Sushil Kumar, who had approached the court to persuade the Wrestling Federation of India (WFI) to grant him a trial against Narsingh to determine India's representation in the men's 74kg freestyle category in Rio, launched a stinging criticism of Narsingh.
"Respect should be earned, not demanded," Sushil posted on his Instagram account.
"Respect comes to those who earn it, not to those who beg for it. Jai Hind," the former world champion in the now disbanded 66kg freestyle category added.
Sushil's coach Satpal expressed his regret over the incident and stated that Narsingh's exclusion from the Olympic contingent will hurt India's medal chances in Rio.
"This is a sad development. There are now only 10-12 days left for the Olympics and this will hurt our medal chances. Feeling very sad," Satpal told IANS.
"We have not received any communication from the WFI or IOA so far regarding sending Sushil as a replacement. But if they do decide on this, then Sushil will do his best. But the final decision has to be taken by the IOA or WFI. We will abide by whatever decision they take," he added.