Pep Guardiola has stunning 100% win record with just 10 games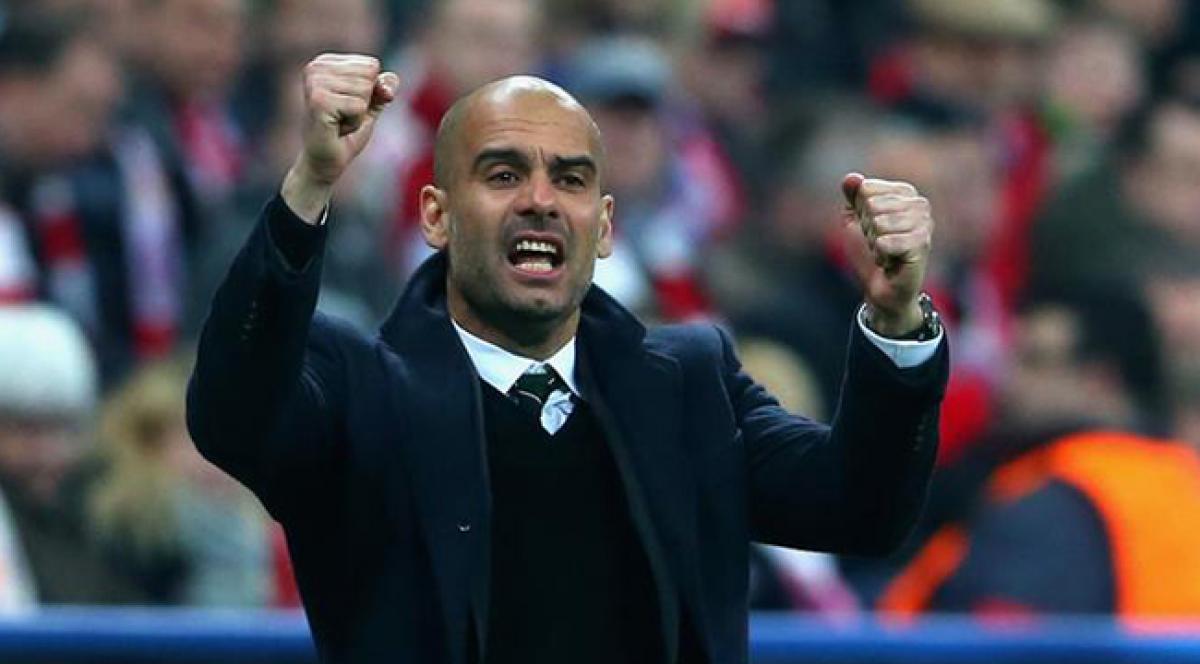 Highlights
The above are not just quotes of Yaya Touré's notorious agent Dimitri Seluk but also of several armchair experts who want to belittle one of the modern greats in coaching: Josep Guardiola. When in February this year, Guardiola was announced to take over the reins at the Etihad stadium,  many people were excited at the prospect of having the master tactician in the Premier League while many others
"My grandfather could have won the Bundesliga with that side."
"Pep didn't make Barça. Messi made Barça."
"He doesn't want players with personality. He only wants players who are scared of him and will do as he says."
The above are not just quotes of Yaya Touré's notorious agent Dimitri Seluk but also of several armchair experts who want to belittle one of the modern greats in coaching: Josep Guardiola.
When in February this year, Guardiola was announced to take over the reins at the Etihad stadium, many people were excited at the prospect of having the master tactician in the Premier League while many others rubbed their hands with glee, assured of his impending struggles. Fast forward 7 months and the 45-year old has proven his critics wrong in spectacular fashion.
At the time of writing, Guardiola has a stunning 100% win record at his new club with 10 games played. Manchester City couldn't have dreamt of a better start to life under Pep. So how did Guardiola transform an already formidable side to this relentless winning machine, and in such short time? Is he just lucky? Is it the squad again? Or is it the club's stupendous wealth? Or should he actually be given the credit that he deserves for being a top-class manager?
In 2008, a young 37-year old Guardiola was appointed as the manager of Barcelona, infamously pipping the proven, experienced, but controversy-courting Jose Mourinho to the post. What unfolded over the next 4 years is stuff for another article. 4 seasons, 14 trophies. This unprecedented success made Guardiola the manager in football and Barcelona the club in football. Everyone is very quick to point out that Guardiola had the riches of a fantastic squad and that he didn't have much to do with the club's successes. That is massively unfair.
What everyone must see and appreciate are the decisions he took once at the club. After two consecutive underwhelming seasons under Frank Rijkaard, there was an exodus of players, most notably, Brazilian maestros Ronaldinho and Deco. Pep felt, owing to their party lifestyle, that they were having a negative impact on the group and as a result, they both, amongst others, were shown the door.
Meanwhile, he made clever purchases in the form of Seydou Keita, Dani Alves, Pinto and Gerard Piqué. But his promotion of an unknown, 20-year old Sergio Busquets to the main team was most striking. The thing with Guardiola is that he is a man obsessed with perfection. He has a clear picture of a team in his head and doesn't rest till he gets what he wants. He worked with Busquets in the B-team and knew right away that he would be an important player for the senior side.
One of Guardiola's strong points is that he played professionally at the highest level. He imbibed the teachings of the iconic Johan Cruyff which made Guardiola's Barça "virtually unplayable" at times and the world had never seen anything quite like it. When Sir Alex Ferguson says so, it means something.
An unpleasant relationship with Zlatan aside, his time at the club was extremely successful and he departed in 2012 as the most successful manager in the club's illustrious history. At the end of his strenuous reign, he took a year's sabbatical. Next up was Bayern Munich. This was to be a more challenging job for one simple reason over all the rest – Bayern won the treble in 2012/13 under Jupp Heynckes. You can't top a treble-- at best you can match the incredible feat. The pressure was immense on Guardiola when he set foot in Germany.
One aspect of him that many overlook is how involved he gets in his team's training sessions. He is a 'coach' in the true sense of the term. He actually coaches world-class players and strives to improve them individually. This, in turn, helps the team at large. Then come the tactics. Guardiola is one those few managers who are a perfect amalgamation of coaching players, drawing tactics and managing his squad members.
As a manager, you ought to make some hard decisions and Pep realized that from the get-go. As for his tactics, they are essentially a simple idea made beautiful--keep the ball, pass it forward, don't lose possession and if you do, don't let the opposition have it for long. This basic idea, religiously implemented by his teams, is the genesis of Guardiola's ideals.
Even at Bayern, the players he did not believe would fit in his set-up were made to leave. He again got players who would suit his style. Mario Götze and Thiago Alcântara were promptly shipped in. He's never been a manager to make a big name signing just for the sake of it. It's a shame that his stint at the German club is outright called a "failure" by some only because he didn't win the Champions League. He did win the league comfortably in each of his seasons. He reached the semis of the CL on all occasions and was perhaps a tad unlucky against Simeone's rigid Atletico Madrid last season. His trophy haul of 7 in 3 seasons is still very impressive and no one can take that away from him.
Yet there was a feeling in sections of the footballing community, that Guardiola had it easy, that he was fortunate to manage two outstanding squads. But the fact that he brought his distinct style and ideas to both teams gets swatted aside. Of course, there were those who appreciated Pep's tactical nous and genius. Even after winning a haul of 21 trophies , people felt he needed a better challenge.
What better challenge than the Premier League?
He was announced as the successor of Manuel Pellegrini at Manchester City for the upcoming season with a chunk of the season left in the 2015-16 season, creating abounded excitement among many sections of the media and fans. Experts wondered how quickly would Guardiola adapt to the extremely competitive nature of the Premier League football and also successfully implement his style and system right away.
But unlike some other big managers, Pep is tactically very flexible. He sets out his teams keeping in mind the nature of the competition, the importance of the match or even sometimes mid-game according to the score. But most of all, according to the opposing team and their set-up. All these factors go into each game he is in charge of.
He will regularly tweak his formations, ask his versatile players to play in different positions, does not hesitate to make surprise inclusions and exclusions. His players are able to cope with this because it is all played out in training. He may have great players at his disposal, but he makes them greater. He may have a lot of superstars, but he makes them work as a unit under him.
What has been startling with his arrival at the Etihad is that he wasted no time in making clear that crowd-favourite Joe Hart is not needed at the club. Given his well-defined style of play, he needed a goalkeeper who's good with his feet and given that is not Hart's strong suit and the England No.1 was loaned out to Torino.
The situation with Yaya Toure was always going to be frosty given that Pep preferred a young Busquets to be his main man in the defensive midfield at Barcelona. He exactly has the sort of personality that Guardiola is not going to tolerate. He wants his group of players to be united and to have a feeling of being a 'part' of a team. With Pep, you either have strong team ethics or you are left out. Guardiola again made great signings which suit his style. Getting in Ilkay Gündoğan, Leroy Sané, John Stones and Nolito has greatly bolstered their squad and added depth to it. He got a goalkeeper in Claudio Bravo who would be a perfect fit for his vision of Manchester City.
The results are there for all to see. Manchester City had one of the most blistering starts to a campaign in recent memory. Raheem Sterling, Kevin De Bruyne and Sergio Aguero who are already fine players have looked to reached their prime under the guidance of Guardiola. You play for him, listen to his advice, stick to his ideas and he will treat you real good if you stray away from his ideologies, he will cast you aside . Currently, Manchester City almost look invincible exhibiting a level of fluidity and flexibility that is refreshing to watch.
They have had the dream start to the season but expect them to get better with time. Guardiola's stint at City will surely catapult them from England's elite to Europe's elite – a tag that has evaded them for a while now. And they have one man to thank for it.
I asked a lot of questions at the beginning regarding Pep's instant success at his new club. We can eliminate all of them, bar one:
Or should he actually be given the credit that he deserves for being a top-class manager?
Yes.
Credits: sportscafe.in