Sandeepti, Sarah spring surprises in Under 18 Tennis Tournament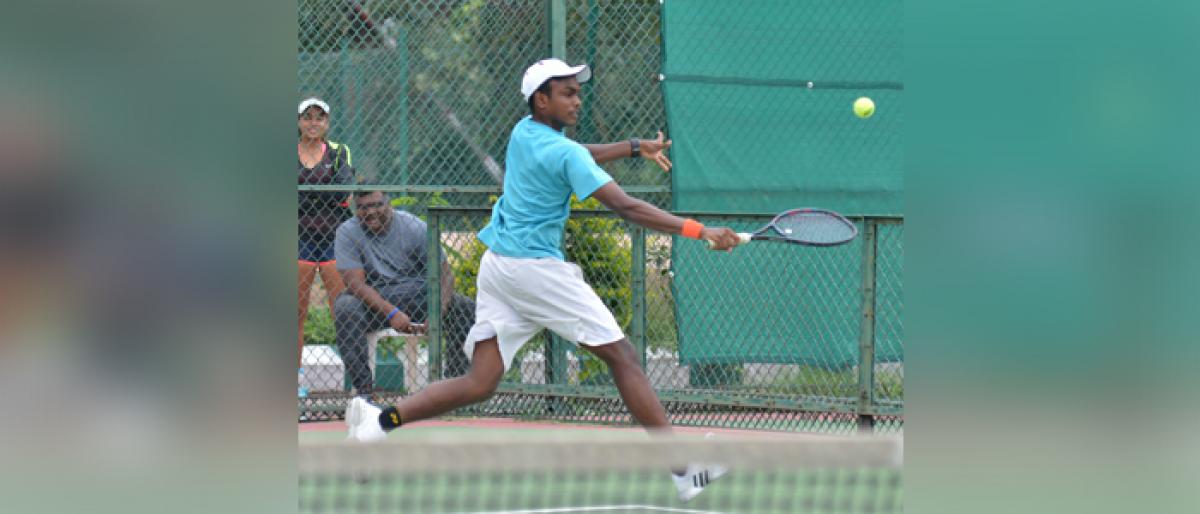 Highlights
In a major upset, unseeded Sandeepti Singh Rao toppled second seed Shivani Amineni 63, 63 to book a place in the girls singles semifinals of the Raja Narsimha Rao Memorial ITF Juniors Hyderabad Under18 Tennis Tournament at SATS Complex here on Wednesday
Hyderabad: In a major upset, unseeded Sandeepti Singh Rao toppled second seed Shivani Amineni 6-3, 6-3 to book a place in the girls singles semifinals of the Raja Narsimha Rao Memorial ITF Juniors Hyderabad Under-18 Tennis Tournament at SATS Complex here on Wednesday.
In another reversal, unseeded Sarah Dev toppled third-seeded Kaavya Sawhney 6-2, 6-3 to book her semifinal berth.
In boys singles, fifth seed Sai Karteek Reddy G advanced to the semifinals after brushing aside sixth seed Kabir Hans 6-1, 7-6(6).
However, Kabir avenged his loss in the doubles category with his partner Tejasvi R Mehra by upsetting the second-seeded pair of Sai and Naithaolin Calvin Golmei in straight sets.
Results: Quarterfinals: Girls: Singles: Sandeepti Singh Rao bt Shivani Amineni (2) 6-3, 6-3; Mai Napatt Nirundorn (THA 1) bt Muskan Gupta (6) 6-0, 6-2; Sarah Dev bt Kaavya Sawhney (3) 6-2, 6-3; Salsa Aher (4) bt Gargi Pawar 6-4, 6-2;
Doubles: Salsa Aher/ Rutuja Chaphalkar (4) bt Gauri Bhagia/ Malvika Shukla 1-6, 6-2, 10-6; Kaavya Sawhney/ Prinkle Singh (2) bt Gargi Pawar/ Deepshika Sriram 6-2, 6-3; Shivani Amineni/ Mai Napatt Nirundorn (1) bt Ananya Kothakota/ Bhakti Shah 6-3, 6-3; Sarah Dev/ Fangran Tian bt Vipasha Mehra/ Maanya Viswanath 6-3, 6-0;
Boys: Singles: Megh Bhargav Patel (1) bt M Theertha Shashank Macheral 6-0, 6-1; Sai Karteek Reddy G (5) bt Kabir Hans 6-1, 7-6(6); Denim Yadav bt Anurah Agarwal 6-1, 6-4; Nishant Dabas bt Bikramjeet Singh Chawal (USA) (retd due to illness);
Doubles: Dev Javia/ Madhwin Kamath (1) bt Anurag Agarwal/ Uddayvir Singh 6-2, 6-3; Theertha Shashank Macherla/ Kevin Patel (4) bt Krishan Hooda/ Dipin Wadhwa 6-4, 6-2; Arthav Neema/ Denim Yadav bt Kushan Shah/ Sandeep VM 6-3, 6-7(5), 10-2; Kabir Hans/ Tejasvi R Mehra bt Sai Karteek Reddy G/Naithaolin Calvin Golmei (2) 7-6(6), 6-1.