Mixed day for Telangana girls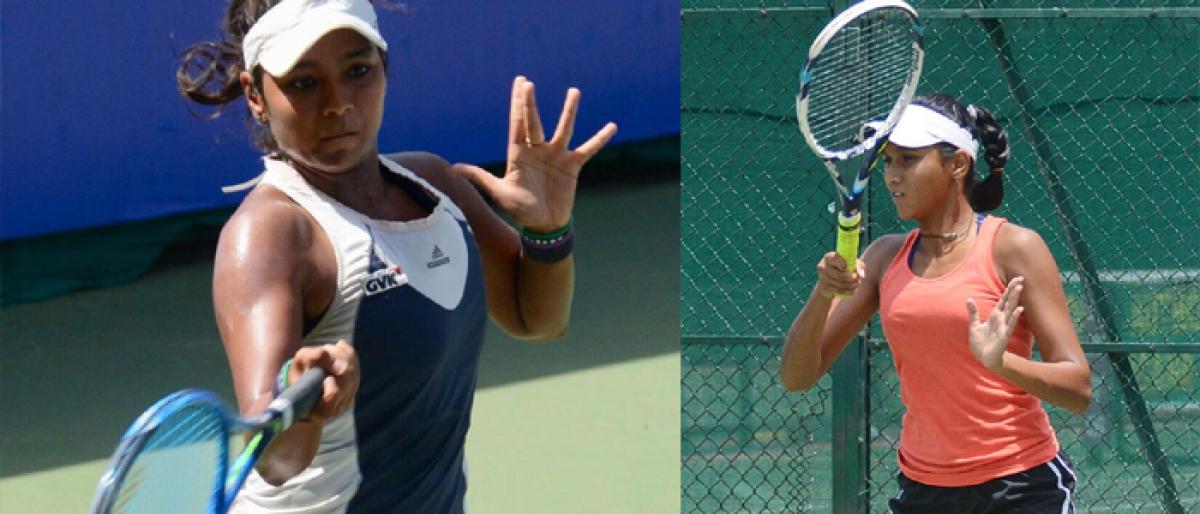 Highlights
Telangana girls Shrivalli Rashmikaa B and Sama Sathwika cruised ahead in the Fenesta Women Nationals Tournament, albeit in different events here on Thursday Shrivalli defeated Punjab girl Sara Dev 26,63,63 to enter the semifinals of Under18 girls singles
​New Delhi: Telangana girls Shrivalli Rashmikaa B and Sama Sathwika cruised ahead in the Fenesta Women Nationals Tournament, albeit in different events here on Thursday. Shrivalli defeated Punjab girl Sara Dev 2-6,6-3,6-3 to enter the semifinals of Under-18 girls singles.
Meanwhile, Sathwika and Mahak Jain of Maharashtra entered the women doubles finals with a straight sets win over Swetha Rana (Delhi) and Telangana girl Nidhi Chilumula 6-2, 6-1 while Sathwika lost to top seeded Zeel Desai 3-6, 3-6 in the women singles quarterfinals.
Results All quarterfinals- Men singles: Arjun Kadhe ( 1 MH) bt Ishaque Eqbal (WB ) 6-0,6-3; Siddharth Rawat(3 UP) bt VM Ranjeet (TN) 7-5,6-0; Nitin Kumar Sinha (5 WB) bt Siddhant J Banthia (3 MH)6-2,6-2; S Vishwakarma (6 UP) bt Manish Sureshkumar (2 TN) 6-4,7-6(4);
Women singles:
Zeel Desai (1 GJ) bt Sathwika Sama(TS) 6-3,6-3; Mahak Jain (2 MH )bt C Shavni Sharvya(TS) 6-2,6-4; Prerna Bhambari (4 DL) bt Humera Shaik (5 TS) 7-5,6-1; Natasha Pahla (Goa) bt Ramya Natrajan (6 TN) 6-2,5-7,7-6(2);
Under-18 boys: Siddhanth Bantia(1 MH)bt Krish Patel (GJ) 6-0,6-3; Calvin Golmei (3 CH) bt Kabir Hans (OD)6-3, 6-7(4), 7/5; Drona Walia (UK) bt Ajay Malik(6 HR) 7-5,6-7(4),6-3; M Kamath (GJ) bt Druv Tangri(PB) 6-4,6-3; U-18 Girls: Sara Yadav (MP) bt Ishita Singh (HR) 6-2,7-5; Rashmikaa S Bamadipaty (PB) bt Sarah Dev(TS) 2-6,6-3,6-3; Sharannya Gaware(2 MH) bt Kashish Bhatia(DL) 6-1,6-3; Humera Shaik(TS) bt Farhat Qamar(RJ) 6-0,6-1.