Arsenal come from behind to beat Leicester City 3-1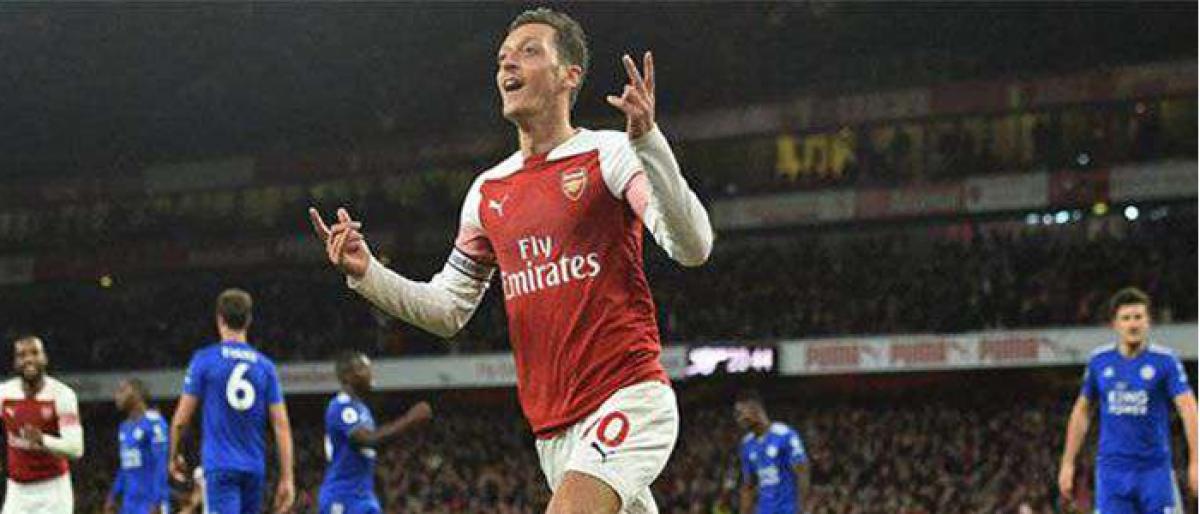 Highlights
Pierre Emerick Aubameyang had a brace here as Arsenal recovered from an own goal to beat Leicester City 31 and take possession of fourth place in the Premier League
London: Pierre-Emerick Aubameyang had a brace here as Arsenal recovered from an own goal to beat Leicester City 3-1 and take possession of fourth place in the Premier League.

The Gunners have now won 10 straight matches in all competitions for the first time since 2007. Coach Unai Emery's men last lost on August 18, in a London derby against Chelsea at Stamford Bridge.

Tied on points with 21 from nine matches, Chelsea, Arsenal and Tottenham Hotspur are third, fourth and fifth in the table based on goal difference.

Leicester were the better side in the first half on Monday and the match well have turned out differently if the referee hadn't failed to award the visitors for a clear hand ball in the 17th minute by Arsenal's Rob Holding, who was already on a yellow card.

The crowd at London's Emirates Stadium held their collective breath as Leicester protested the non-call but the official was unmoved.

The Foxes took a 1-0 lead in the 31st minute as a shot by Ben Chilwell deflected off Arsenal defender Hector Bellerin and ended up behind goalkeeper Bernd Leno.

Arsenal pulled level with a goal in the final minute before the break from new captain Mesut Özil after a give-and-go with Bellerin.

The hosts seized the initiative in the second half, yet Leicester would have reclaimed the lead if Wilfred Ndidi's thundering header off a corner in the 58th minute hadn't bounced off the cross-bar.

That turned out to be the visitors' last gasp of the night.

In the 63rd minute, Özil got the ball to Bellerin and the defender served up a cross for sub Aubameyang to make it 2-1 for the Gunners just three minutes after coming on.