Asian Champions Trophy: India defeat Korea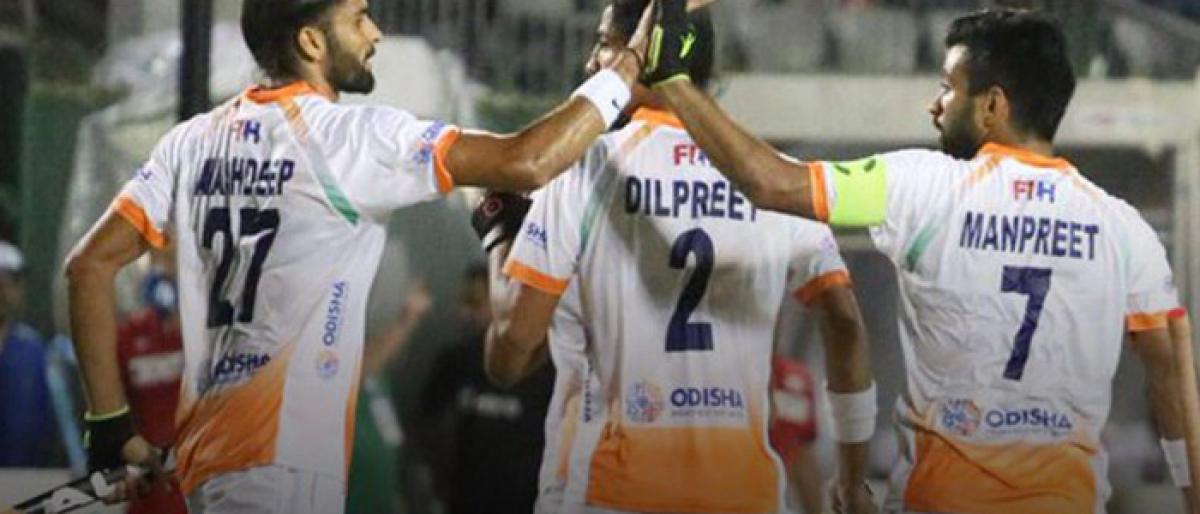 Highlights
On Wednesday, India defeated Korea 41 for their fourth win of the Mens in Muscat India secured their top position in the standings with 13 points from five matches
New Delhi: On Wednesday, India defeated Korea 4-1 for their fourth win of the Men's in Muscat. India secured their top position in the standings with 13 points from five matches.

Drag-flicker was in his elements and converted three of the four penalty corners (PCs) India earned to complete his hat-trick. Scored a brilliant field goal on the counter, though scored the only goal for Korea.

India booked their spot in the semi-finals before the match, but for the Koreans, it was a do-or-die game. They fought for the last spot in the semi-finals. But the defeat knocked them out of the contention. With India, Malaysia, Pakistan and Japan are the countries who have secured their place in the knock-out stage. Only after Thursday's final two league games, the final standings will be decided.

From the word go India dominated the game and took the lead before time in the fourth minute. Early break for the Indian team in the third quarter, they successfully overturned a Korea goal in the 31st minute with a referral. The ball passed into the circle by Korean striker was not even carried for five meters as needed. In 35th minute Korea earned their second PC. But they failed to score amid some good defending by the Indians. Like the second quarter, the third also belonged to the Koreans but they failed to match them.

In the 47th minute, India won a PC early in the final quarter. The re-penalty corner soon after gave Harmanpreet a chance to score his second which he did. Korea immediately went for a referral, but the ball had actually gone outside the Korea circle from the push-in and the referee gave the decision in India's favour. In the 53rd and 54th minute, India goalkeeper Krishan Pathak made two quick saves to maintain the 3-1 advantage. And in the 59th minute, India got their fourth PC after another successful review and Harmanpreet made the scoreline a more weighing one for the champions.