Amaravati extends warm invitation to Hyderabad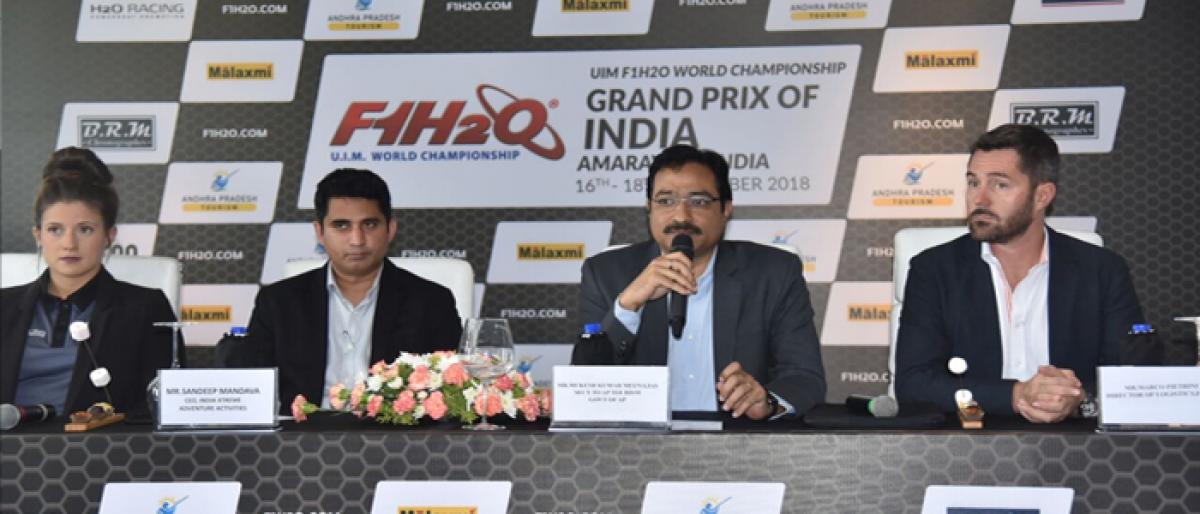 Highlights
All eyes will be on Amaravati as the fifth edition of F1H2O World Championship returns to Indian shores after a gap of 14 long years The prestigious racing extravaganza will be held on the banks of River Krishna from November 16 18, 2018 More than 350 international drivers from the F1H2O circuit will compete to finish first in the debut season of Amaravati in UIM motorboat racing
​Hyderabad: All eyes will be on Amaravati as the fifth edition of F1H2O World Championship returns to Indian shores after a gap of 14 long years. The prestigious racing extravaganza will be held on the banks of River Krishna from November 16– 18, 2018. More than 350 international drivers from the F1H2O circuit will compete to finish first in the debut season of Amaravati in UIM motorboat racing.
The city of Amaravati is set to welcome spectators and racing enthusiasts from across the globe in what promises to be an adrenalin-pumping action. There will be a carnival-like atmosphere with a host of attractions for everyone present. The resident organising committee of the F1H2O Grand Prix is geared to promote water sport culture in the region which will also benefit the local fishermen communities in the area. This is one of the foundation of the Amaravati development project.
Mukesh Kumar Meena, IAS, Secretary Tourism, Govt of Andhra Pradesh, said, "We are happy to invite sports lovers in Hyderabad to witness the spectacular event that will change the way grand sporting events are held in the country. All eyes will be on Amaravati and we are proud to put our country on the global sporting map with the F1H2O grand prix. Elaborate planning is being done in terms of hospitality and logistics, to welcome spectators and race enthusiasts from across the country and the globe.
AP Tourism has been applauded for all the initiatives taken so far and we intend to create solid resonance for Amaravati with F1H2O" Sandeep Mandava, CEO, India Xtreme of Malaxmi Group, spoke on the occasion and shared further plans "We are glad to have Marco Peitrini, Director of Logistics, F1H2O in Amaravati to help and guide us. His experience is invaluable and we are confident that with his guidance we will have an event that will be remembered in days to come. We look forward to Hyderabad attending the grand event in big numbers.