T10 Cricket League Schedule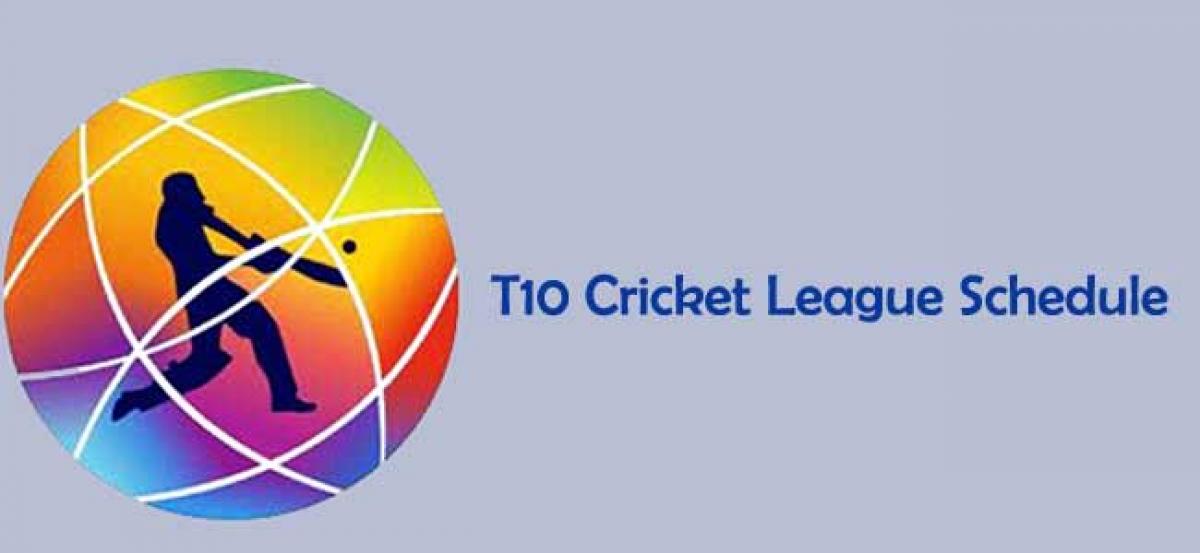 Highlights
The T10 Cricket League Season 2 will begin today On December 2 the final will take place Heres the T10 League full schedule
The T10 Cricket League Season 2 will begin today. On December 2 the final will take place. Here's the T10 League full schedule.

On Wednesday the second edition of the T10 League will start in Sharjah, with the Karachians is all set to take on the Rajputs in the opening encounter of the season 2. As compared to the last edition of the T10 league, two more teams have been included which will participate in this league that are prepared to play overall 29 matches among them.
The teams have been divided into two groups; with the playoffs set to take place after the teams have faced each other in their respective groups. The top four from each group will then qualify for the semi-finals, from where the two finalists will be decided, with the final will be held on December 2.
T10 Cricket League Schedule:
| | | | |
| --- | --- | --- | --- |
| Date | Group | Fixture | Time (IST) |
| 21-11-18 | A | Karachians vs Rajputs | 8:00 PM |
| 21-11-18 | A | Kerala Kings vs Pakhtoons | 10:15 PM |
| 22-11-18 | B | Bengal Tigers vs Northern Warriors | 5:00 PM |
| 22-11-18 | A | Karachians vs Kerala Kings | 7:15 PM |
| 22-11-18 | B | Maratha Arabians vs Northern Warriors | 9:30 PM |
| 23-11-18 | A | Pakhtoons vs Rajputs | 5:00 PM |
| 23-11-18 | B | Bengal Tigers vs Maratha Arabians | 7:15 PM |
| 23-11-18 | B | Northern Warriors vs Punjabi Legends | 9:30 PM |
| 24-11-18 | B | Karachians vs Pakhtoons | 8:00 PM |
| 24-11-18 | A | Bengal Tigers vs Punjabi Legends | 10:15 PM |
| 25-11-18 | B | Kerala Kings vs Rajputs | 8:00 PM |
| 25-11-18 | A | Maratha Warriors vs Punjabi Legends | 10:15 PM |
| 26-11-18 | Playoffs | TBD vs TBD | 8:00 PM |
| 26-11-18 | Playoffs | TBD vs TBD | 10:15 PM |
| 27-11-18 | Playoffs | TBD vs TBD | 8:00 PM |
| 27-11-18 | Playoffs | TBD vs TBD | 10:15 PM |
| 28-11-18 | Playoffs | TBD vs TBD | 8:00 PM |
| 28-11-18 | Playoffs | TBD vs TBD | 10:15 PM |
| 29-11-18 | Playoffs | TBD vs TBD | 5:00 PM |
| 29-11-18 | Playoffs | TBD vs TBD | 7:15 PM |
| 29-11-18 | Playoffs | TBD vs TBD | 9:30 PM |
| 30-11-18 | Playoffs | TBD vs TBD | 5:00 PM |
| 30-11-18 | Playoffs | TBD vs TBD | 7:15 PM |
| 30-11-18 | Playoffs | TBD vs TBD | 9:30 PM |
| 01-12-18 | Semifinal 1 | Playoffs 1st Pos vs Playoffs 2nd Pos | 5:00 PM |
| 01-12-18 | Eliminator 1 | Playoffs 3rd Pos vs Playoffs 4th Pos | 7:15 PM |
| 01-12-18 | Semifinal 2 | Semifinal 1 Runner Up vs Eliminator 1 Winner | 9:30 PM |
| 02-12-18 | Third Place | Eliminator 1 Runner Up vs Semifinal 2 Runner Up | 7:15 PM |
| 02-12-18 | Final | Semifinal 1 Winner vs Semifinal 2 Winner | 9:30 PM |