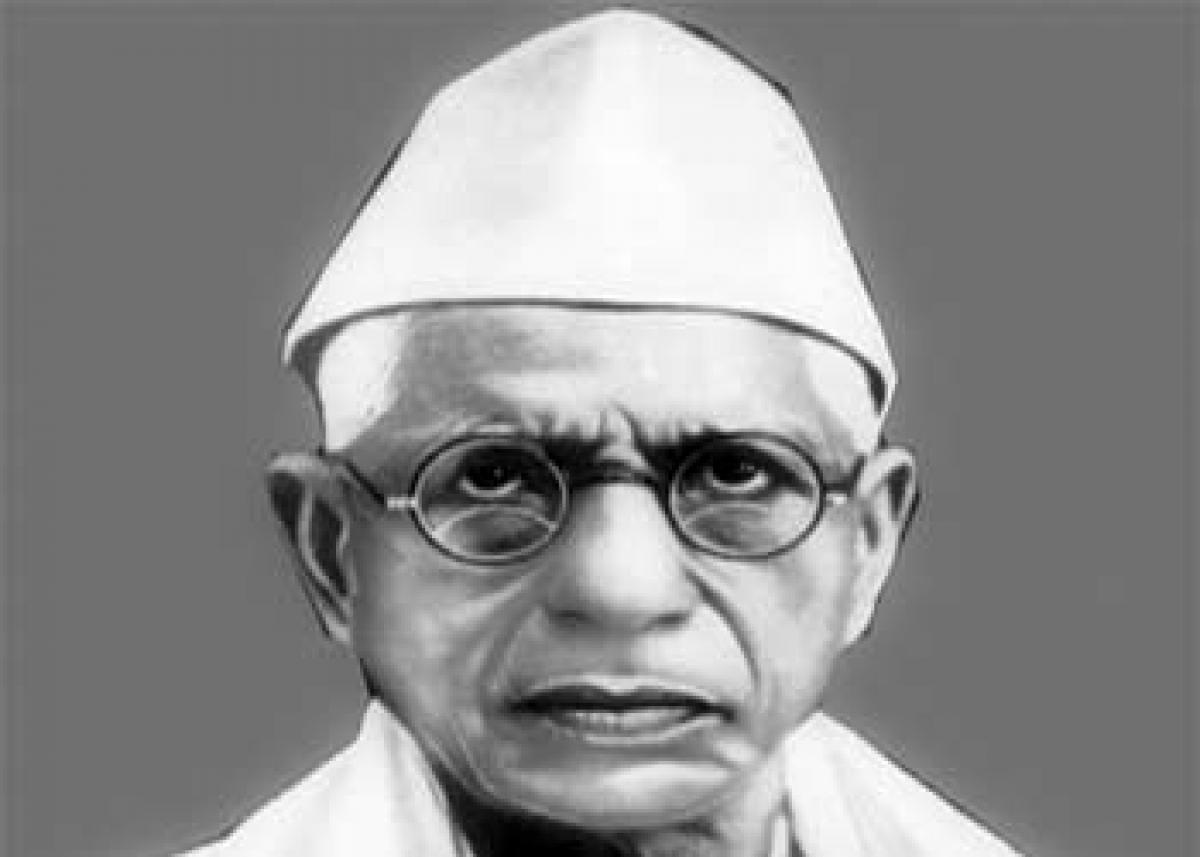 Highlights
Centennial of a Sentinal. In just matter of weeks, we would have missed the grandiloquent moment of the emergence of the first Telugu daily, in the year 1914, to which, the present year marks the turn of the century.
blast from the past
It was 100 years ago that the legendary Telugu daily 'Andhra Patrika' made its humble beginnings only to create significant milestones as it went ahead in its endeavours
In just matter of weeks, we would have missed the grandiloquent moment of the emergence of the first Telugu daily, in the year 1914, to which, the present year marks the turn of the century. Well, no guesses here, the daily was Andhra Patrika, the first Telugu daily news paper that was started from Madras by Desoddharaka Kasinathuni Nageswara Rao Pantulu.
Earlier, it ran as a weekly from Bombay, since 1908, with the help of the Bombay Telugu community, who later found it difficult to continue the magazine from a non-Telugu area. Also, the publishers felt the need to introduce it as a daily news paper and hence, the weekly, which had earned many accolades for its Ugadi (Telugu New Year) issues covering a wide range of topics, turned the goodwill to its advantage in its incarnation as a daily.
Kasinathuni Nageswara Rao, born on May 1, 1867, to Buchchayya and Syamalamba in Yelakarru, Krishna District, had his early education at Machilipatnam, and graduated from Madras Christian College in 1891. His early stints seeking employment took him to Calcutta, and then to Bombay as well. He worked with Bengal apothecaries for some time and also in a certain William & Company at Bombay, and went on to be become its owner in due course.
But it was Amrutanjan, which the young Nageswara Rao invented in his 26th year (1893) that made him a millionaire in a short span. The headache balm, marketed as "Siddhoushadham" (a drug prepared by ancient Siddhas) made this young man successful and soon he found money to forge ahead with his community oriented ideas.
He married Ramabayamma, Rentala Venkata Subbarao's niece. Rentala Venkata Subbarao was a man of reputation in the then Madras Society with his made easy (first generation guides) editions for students that made him a rich man. Gurajada Apparao also mentions him in the play 'Kanyasulkam', when, Gireesam, amongst his list of books that he dictates to his student Venkatesam, mentions "Rentala Venkata Subbarao made easy".
Kasinathuni, evolved as a writer, editor, nationalist, freedom fighter, founder of periodicals, and a publisher too with his 'Andhra Grandha Maala'. He served as a life-long president of Andhra Harijana Seva Sangham. He started the Telugu literary monthly "Bharathi" in 1924. Much before the entry of Gandhi into national politics, in 1914 itself, he remained in the forefront demanding self rule for India, and in 1914 he was one of the signatories on the letter sent to Woodrow Wilson, the then President of the US, written by S Subrahmanya Aiyar.
He participated in the salt movement, and was jailed for six months. During the period of confinement, he translated Bhagavad Gita, and called the text. a motivator for incessant action without any expectation of returns. It is said that the first Telugu periodical from Mumbai started when Kasinathuni faced a piquant situation when he wanted to do some marketing for his product via advertisement in the Mumbai Press.
The advertisement cost was so huge that he naturally thought of starting a periodical on his own for much lesser cost than placing advertisement in other periodicals. Thus, from a first hand market study and product promotion endeavours, a century ago, was born the idea of Andhra Patrika, the weekly. It was indeed Andhra Patrika that began the tradition of publishing a special issue on the occasion of Telugu New year Ugadi, and these issues covered a wide range of information.
When the orthodox Telugu society frowned upon the writings of Tripuraneni Ramaswami Choudhary, he readily published them and gave him a platform. Similar was the case with Nanduri Subbarao's 'Yenki Patalu' (which were scripted in rural slang). By prominently publishing the same in Andhra Patrika, and also in Bharathi, Kasinathuni Nageswara Rao, remained a disarming and humble progressive leader who worked for the cause of Andhras, and their renaissance.
Once he wrote to Gurajada Apparao, who was then spearheading the cause of the vernacular style of Telugu, to reconsider his position, and use some orthodox or Grandhika words too in his writings, but he later lauded him for his vision and determination in his last article, in 1938, and observed that his style of writing is finding more takers in the society. It is also said that when young radicals approached him for help with publications, he printed 3000 copies of "Communist Manifesto" free of cost for them.
In September, 1929, he was honoured at Vijayawada for his yeoman services, and was rightly called as 'Desoddharaka'. In 1935, Andhra University conferred the "Kalaprapurna" honour on this first generation philanthropist and founder of the first Telugu newspaper. Sribagh, was his residence at Luz Church Road in Madras that came into fame when Mahatma Gandhi visited the place on December, 23 and 24, 1932.
This place is also the venue for Sri Bagh Pact between Andhra and Rayalaseema leaders regarding regional development, a term which is referred to often in the present political situation. After starting the daily, Kasinathuni made a freedom fighter Gadicharla Harisarvottama Rao, its Editor. Stalwarts of the period representing different fields of the society have contributed their articles to this newspaper and the weekly too.
Komarraju Venkata Lakshmana Rao, Chellapilla Venkata Sastry, Gidugu Ramamoorthy, Kokkomda Venkata Ratnam Pantulu, Aadibhatla Narayana Dasu, Jalasootram Rukmininatha Sastry, Tapee Dharmaraavu, Mamidanna Kamesvaramma, Basavaraju Apparao, Duvvuri Ramireddy, Unnava Lakshmi Narayana,Suravaram Pratapa Reddy, Rallapalli Anantha Krishna Sarma, Chint Deekshitulu, Veluri Siva Rama Sastry, Panuganti Lakshmi Narasimha Rao; the pages of Andhra Patrika were adorned by the peerless scholars dwelling on myriad subjects ranging from science, occult, philosophy, dance, art, literature, folk art, and history.
On its Editorial desk , great personalities like Sankarambadai Sundarachari, the writer of "Maa Telugu Talliki Mallepoodanda", Puripanda Appalaswami, Veturi Sundara Ramamoorthy, Chirala Ramarao, Goparaku Venkatanandam served over the decades. After Gaidcharla, G Seshagiri Rao and Sivalenka Sambhu Prasad (Kasinathuni Nageswara Rao Pantulu's son -in -law), a worthy successor to his father in law, (who served as an MP also) held the reins as Editors.
The daily ceased publication in 1991. The literary monthly "Bharathi", which gave a break to many first and second generation modern-era writers during its hey days, also remained a measure for high standards of literature, epigraphic studies, and modern forms of writing, through out its existence of over five decades.
Remembering Andhra Patrika and its contribution to Telugu journalism at this turn of a century is the duty of Telugu people. The fact that today's high-tech journalism and digital photo data that started on zinco blocks and letter casing a century ago back, gives us a sense of realism and an opportunity to appreciate better the humble beginnings of media.
Looking at an old copy of the daily, with its galleys, proofs, letter cases, photo zinco blocks, is like taking into our hands, our grandfather's photograph, antique in character but solid in attitude. In this centennial year of this sentinel of right to expression, let us celebrate the spirit of journalism, wishing it a long life.
By Rama Teertha