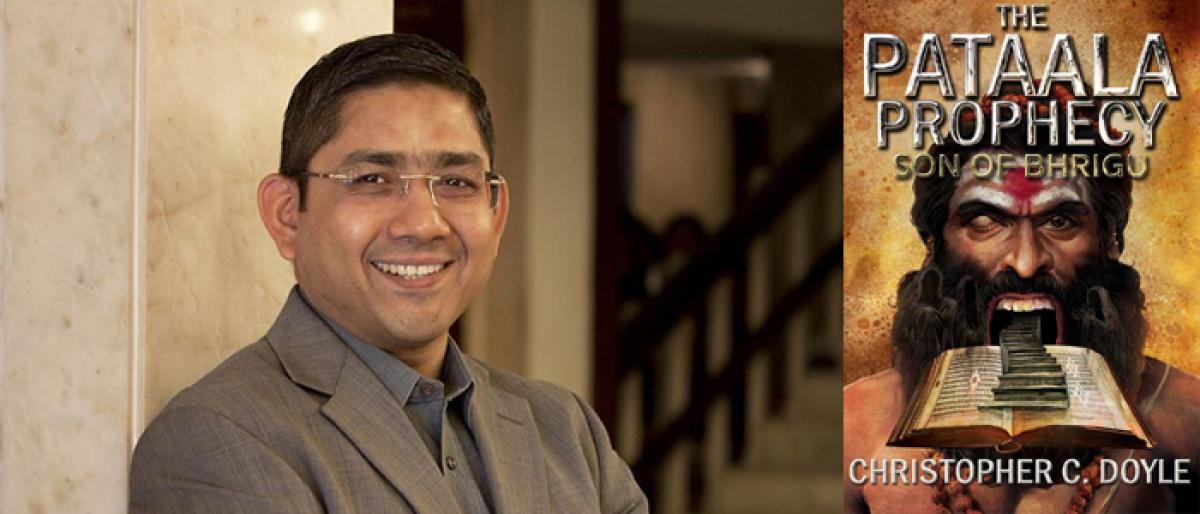 Highlights
He holds a degree in Economics from St Stephens College, Delhi and is a business management graduate from IIM, Calcutta After a stint with leading corporates, he is now in the business of training CEOs Christopher C Doyle became an author in 2013 with his first book, an instant hit The Mahabharata Secret where he brings in elements of the Indian epic, mythology, science and history to create
He holds a degree in Economics from St Stephens College, Delhi and is a business management graduate from IIM, Calcutta. After a stint with leading corporates, he is now in the business of training CEOs. Christopher C Doyle became an author in 2013 with his first book, an instant hit 'The Mahabharata Secret' – where he brings in elements of the Indian epic, mythology, science and history to create a thriller fiction. His second novel was 'Mahabharata Quest – The Alexander Secret' the first one in the Quest trilogy followed by 'The Secret of the Druids'.
Christopher's recent book is 'The Pataala Prophecy – Son of Bhrigu' – the first one in the fantasy fiction trilogy. A genre, which he has grown up reading and enjoying. Interestingly all his books draw from Indian texts, traditions, history and myth.
For the author who began researching ancient texts to be able to tell stories to his daughter, he was in for a rude shock that not much was available to him. "Since the last 12-13 years I have been researching mythology and history and realised, there are lot of interpretations by Western scholars. How will they know the nuances, the cultural context?" he adds.
"We have little regard for our ancient texts and most people misunderstand them," he says. No wonder when he writes a fiction it is compared to popular English fiction. There were people who called his 'Pataala Prophecy' a copy of Harry Potter.
"It's unfortunate that lot of us have not read ancient texts. We rely on hearsay. When I wrote my book, I knew there would be comparisons. Any teenager story, which involves mantas and stuff is Harry Potter and they say mantras are magic spells. Mantras are not magic spells. The mantra is something that is real, spells are unreal. Wizards are unreal; maharshis are real. Kshatriyas are real. We have many traditions in India; because they have been around we assume it's there and take it for granted," he states.
"As the series progresses, those who make comparisons and people who see similarities are in for a shock."
While it is a great trend that more and more authors are looking to Indian texts for themes, and hence there is finally a focus on our great culture; there is a flip side if there is no proper research. Christopher agrees, "I haven't read Mahabharat until I started writing my book. Or, I would still be holding on to a lot of misconceptions.
Everyone thinks it's about Pandavas and Kauravas. When I was doing Alexander Secret, which has the scientific explanation to 'Samudra Manthan', one lady on Amazon said - he doesn't know what he is talking about because 'Samudramanthan' is not part of Mahabharat. And my instant response was - she hasn't read it that's why she doesn't know. The Kurukshetra was less than 10 per cent of Mahabharat. There is so much more to it."
"One also has to be careful with Western interpretations, I realised this acutely when I started writing Pataala Prophecy series. I cannot have a Voldemort character, because in Indian mythology there is no good and bad. It is the basic tenet of the philosophy. In Western fantasy, you create demons and evil spirits, but for a fantasy story in the Indian context, it's extremely difficult. A Pisacha can have evil intentions. But it is his soul reborn as a result of karma. That doesn't make him bad," he explains.
"As I research more and more, I realise our knowledge is limited. There is so much more to learn. It's just scratching the tip of the iceberg in terms of what we know," he states. His second book in the fantasy series will be the next one to hit the shelves, meanwhile, his quest for knowledge continues to be able to write the third book in the Mahabharat Quest series.