Saga of violence and scorn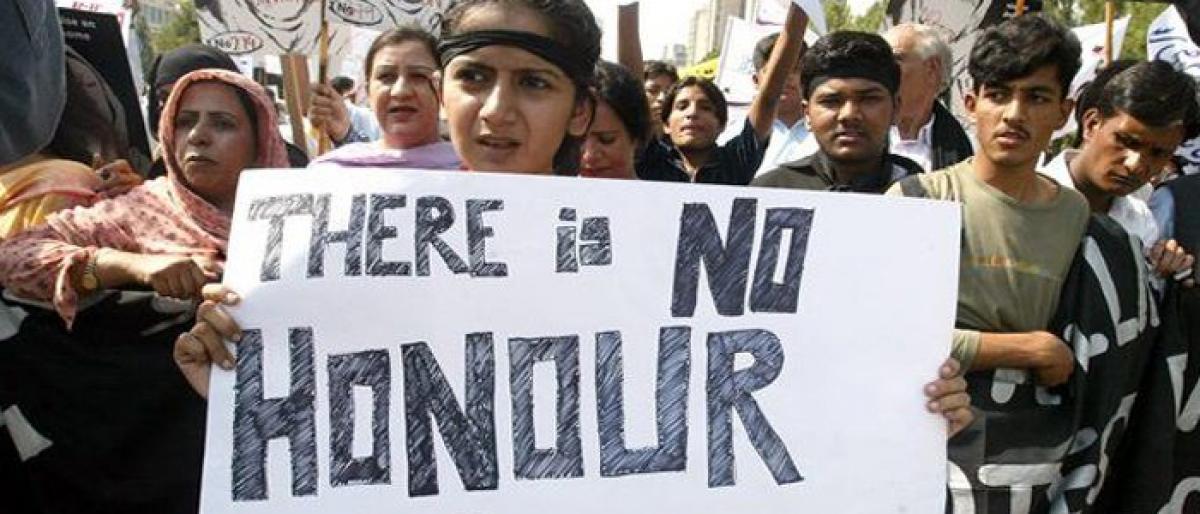 Highlights
t girl and adult boy can get into marriage alliance of their choice No panchayat, Khap, individual or even parents question such decision, be the marriage intercaste or otherwise, declared the Supreme Court Bench comprising of Chief Justice Dipak Misra and Justices AM Khanwilkar and DY Chandrachud on January 17, 2018
"An adult girl and adult boy can get into marriage alliance of their choice. No panchayat, Khap, individual or even parents question such decision, be the marriage inter-caste or otherwise," declared the Supreme Court Bench comprising of Chief Justice Dipak Misra and Justices AM Khanwilkar and DY Chandrachud on January 17, 2018. Eight months later, the nation woke up a yet another barbaric killing in the name of caste. 23-year-old Pranay was hacked to death in Miryalguda and Sandeep was attacked with a sickle in Hyderabad for marrying girls from so-called "privileged castes".
Dr B R Ambedkar envisaged inter-caste marriages as a tool to defeat casteism. "The real remedy for breaking caste is inter-marriage. Nothing else will serve as the solvent of caste," he said. However, in the past seven decades, inter-caste couples have seen nothing but violence and scorn. The very fact that only 5.4 per cent marriages in the country are inter-caste (according to a survey by India Human Development Survey (IHDS)) stands a grim testimony to the deep-rooted casteism in the country.
Anti-caste activists say that inter-caste marriages have a different dynamic. Though most such marriages evoke a violent response from "un-accepting" parents, the violence is always manifold, when one of the spouses in the married couple is a Dalit. The killing of Shankar in Tamil Nadu and others over the years are examples of how this violence manifests.
Despite the Apex Court talking tough on Caste Killings (read honour killings), nothing concrete has been done to change the fate of the couples. A bench of the court comprising of Justices Markandey Katju and Gyan Sudha Mishra on April 20, 2011, slammed caste killings. "There is nothing honourable in such killings, and in fact they are nothing, but barbaric and shameful acts of murder committed by brutal, feudal-minded persons who deserve punishment," they said.
More recently, the bench of the Supreme Court, which came in support of inter-caste marriages on January 17, 2018, also warned the government to come up with a legislation to protect such couples. Sadly, these directives fell on deaf ears.
Inter-caste marriages have been such a taboo in our country that the very first study on such marriages took place in 1978, three decades after independence by MS Das. It should be noted that it was not a direct study to determine the number of couples but a study on fertility in inter-caste couples.
There is no definite data available on inter-caste marriages since the Centre did not release the caste data from the Socio-Economic and Caste Census. However, much of the current data on inter-caste marriages is through sample surveys by NGOs and other such organisations.
Decline in the number of inter-caste marriages
When InShorts, a news app, published a survey in July 2018, which found that 70 pc of people (18-35 yrs, sample size 1,30,000) are open to inter-caste marriages, foreign publications like The Guardian picked up the survey and said that there was increased acceptance and willingness. Indian publications too followed the suit.
However, the results of the survey don't paint a right picture. A study, by researchers KC Das and others, pegged the percentage of inter-caste marriages at 11 per cent (based on National Family Health Survey (NFHS-III) 2005-06 data) but a decade later the inter-caste marriages dropped to 5.4 per cent (India Human Development Survey (IHDS) 2017). Hence, it is fair to argue that mere acceptance didn't translate into action.
It is one thing to say that "I shun caste and open to inter-caste marriage" and altogether a different ball game to marry someone outside your caste. Socio-psychological factors like; educational achievement level of husband and wife, rural or urban place of origin, fear of caste or racial discrimination and acceptance of the family and the community, play a major role.
Sinking government schemes
The Central government started 'Dr Ambedkar Scheme for Social Integration through Inter-caste Marriage' in 2013. The aim of the scheme is to provide a monetary incentive to at least 500 such inter-caste couples per year. Couples are eligible to get a one-time incentive of Rs 2.5 lakh from the Centre. This was meant to "appreciate the socially bold step" and to enable them to "settle down in the initial phase of their married life".
Since its inception, the scheme has fared very poorly in its implementation. As against an annual target of 500 couples, merely five were given the sum in 2014-15. In 2015-16, only 72 of the 522 couples who applied were approved, while 45 of the 736 applications were cleared in 2016-17. This year, of the 409 proposals it has received so far, the social justice ministry has cleared only 74 couples. It is said that the awareness about the scheme is too low. Most of the proposals came from a few states such as Andhra Pradesh, Telangana and Maharashtra.
Paying price for falling in love
The survey by IHDS in 2017 also found that inter-caste marriages were rarest in Madhya Pradesh (less than 1 per cent) and most common in Gujarat and Bihar (over 11 per cent). It is interesting to note that Madhya Pradesh, which is at the bottom of the inter-caste marriages, takes the top spot in caste killings. According to the National Crime Records Bureau (NCRB) 2016 data, the state gained notoriety with 18 caste killings. Uttar Pradesh with 16 and Gujarat with 10, complete the infamous top three.
Multiple narratives
The brutal murder of Pranay evoked a widespread response with many condemning the act. However, there are many people, who support the main accused – Maruti Rao, father of Amruta. There are many posts, pages and long discussion threads supporting the main accused. A Facebook user posted an alleged consolidated mark sheet of Pranay claiming that the deceased has 23 backlogs and wrote in defence of Amruta's father's barbaric act. A few are trying to change the narrative from caste killing to reservations. "If caste is not needed for marriage then why reservation in education and jobs," many asked.
More than 70 years have passed since we became an independent nation, but we are yet to be independent of casteism – the biggest social evil. Recalling Ambedkar, "Make every man and woman free from the thraldom of the Shastras, cleanse their minds of the pernicious notions founded on the Shastras, and he or she will inter-dine and inter-marry, without your telling him or her to do so."
The curious case of Telangana
The newest State until the recent two incidents has fared well on inter-caste marriages and recorded zero caste killings.