MIM seeks `2,000 crore for minorities welfare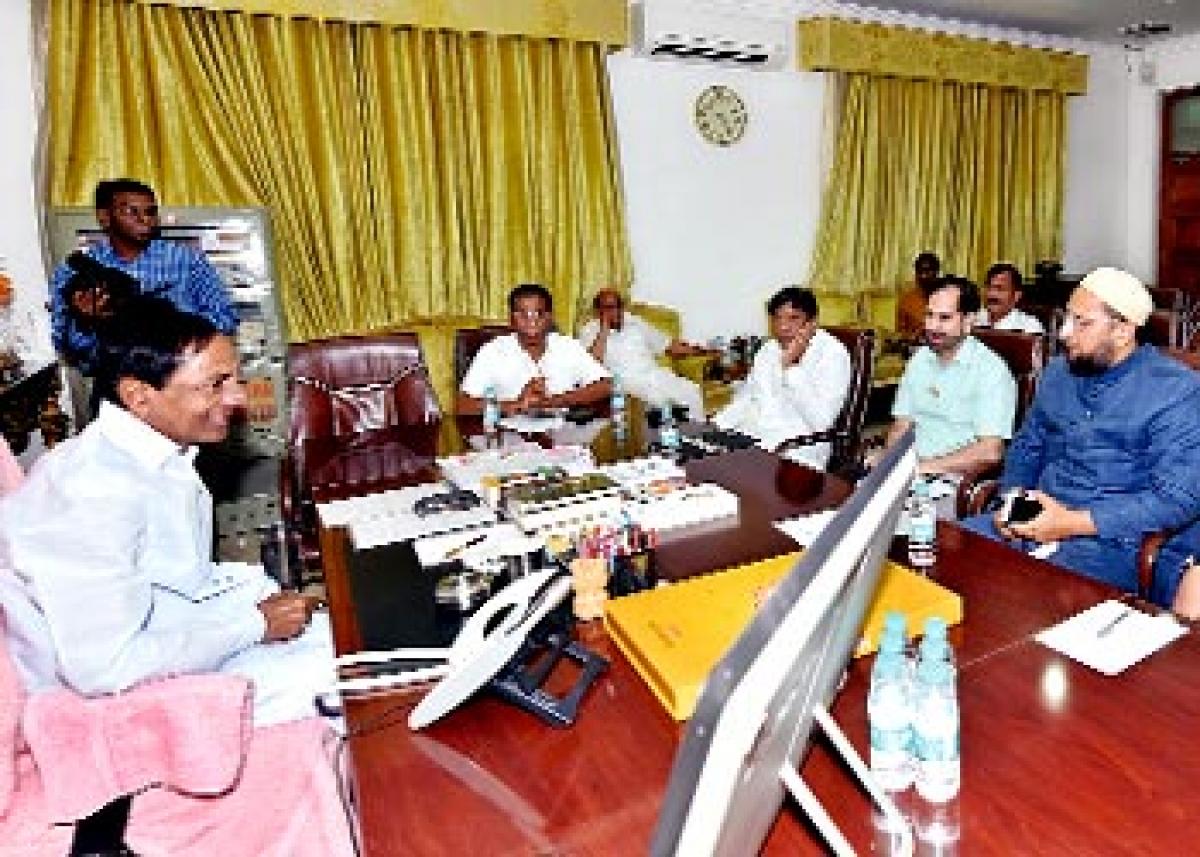 Highlights
Chief Minister instructs officials to prepare modalities to encourage minority youth as entrepreneurs under the newly launched TS-iPass 
Chief Minister instructs officials to prepare modalities to encourage minority youth as entrepreneurs under the newly launched TS-iPass
Hyderabad: The All India Majlis-e Ittehadul Muslimeen (AIMIM) on Sunday urged Chief Minister K Chandrashekar Rao to allocate Rs 2,000 crore for the welfare of minorities in 2016-17 annual budget to be presented in the budget session that would begin from March second week.
Party president and Hyderabad MP Asaduddin Owaisi and his younger brother and party Floor Leader in the Assembly Akbaruddin Owaisi called on Chandrashekar Rao at the Chief Minister's camp office here and put forth a plethora of demands before him.
Speaking to newsmen after the meeting, Asaduddin said he requested Chandrashekar Rao to clear all pending bills with regard to fee reimbursement and scholarships. The establishment of 40 residential schools for minority community, protection of Wakf Board properties, utilisation of funds earmarked for Muslim welfare and shortage of staff in the Minority Welfare department were among other issues discussed during the meeting.
The MIM leaders also sought more funds for the Old City and Greater Hyderabad development in the general budget.
Earlier in the day, the Chief Minister conducted a review meeting on minority welfare attended by the Owaisi brothers and officials of the department.
He instructed officials to extend the last date for submission of applications to avail of the loan-cum-subsidy scheme to all unemployed minority youth up to march 15. He asked officials to clear all applications received under Kalyana Laxmi scheme. He took serious note of the influence of middlemen in the implementation of the scheme. The Chief Minister wanted the benefits to reach the deserved directly.
The Chief Minister instructed the officials to prepare modalities to encourage minority youth as entrepreneurs under the newly launched TS-iPass industrial policy and complete the construction of all buildings for minority educational institutions this year.

He said that pending fee reimbursement dues would be cleared by March 31 this year.
All eligible minority families would be provided housing under the double bedroom scheme launched by the government recently, he added.