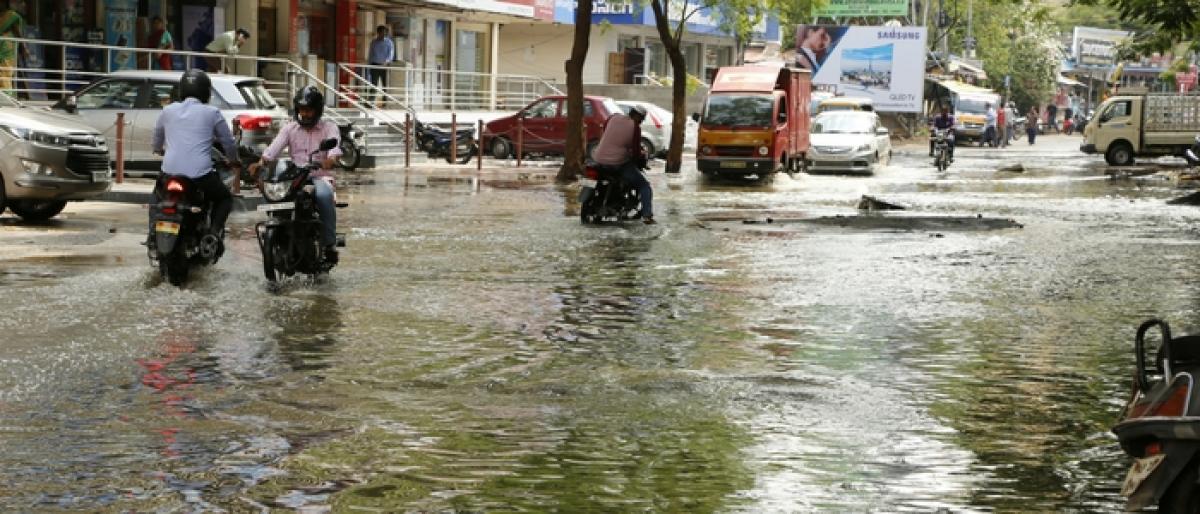 Highlights
While the administration has been boasting of making Hyderabad a city on par with other international cities with the best infrastructure and most modern amenities, the tall claims of powers-that-be have been proved hollow as the first thundershowers of monsoon in the early hours of Thursday battered the city into a wreckage, with broken roads, knee-deep puddles and forceful rivulets along the roa
Hyderabad: While the administration has been boasting of making Hyderabad a city on par with other international cities with the best infrastructure and most modern amenities, the tall claims of powers-that-be have been proved hollow as the first thundershowers of monsoon in the early hours of Thursday battered the city into a wreckage, with broken roads, knee-deep puddles and forceful rivulets along the roads. City residents were put to untold hardships, thanks to the lack of foresight of the authorities.
The sickening scenes were grim reminders of the times when cities come to a standstill in the aftermath of nature's fury. Only this time around, it was less of heavy rains that lashed the city since Wednesday night and more to do with human ineptness in gearing up for such calamities.
If anything, the low-lying areas that were inundated and the traffic that went haywire exposed the inefficiency of the authorities, including municipal department, who all failed to reduce the impact of such rain devastations.
The way the people had to wade through lanes and by-lanes and the snail-paced traffic movements came as a slap on all those who claimed that Hyderabad was a Global City. Yes, indeed if could lay claims for a dubious distinction on that count, if Thursday is taken as a parameter. Sadly, this is not even the first day of the monsoon season.
A walk around every locality gave the same nauseating and hellish feeling. Trees fallen in the middle of the road; traffic stranded for 'eons' together and water-logging at every juncture were the order of the day. Cesspools, overflowing manholes, wires dangling perilously added to the misery. Even ambulances had a tough time in moving ahead.
Jubilee Hills, Banjara Hills, Panjagutta, Madhapur, Mehdipatnam, Ameerpet, Malakpet, Begumpet, Alwal and Bowenpally recorded rainfall ranging between 7.5 cm and 9cm. The rains were accompanied by heavy winds, thunder and lightning. Traffic snarls impacted Begumpet, Secunderabad,, Nacharam, Srinagar Colony, Bowenpally, Marredpally, Begum Bazar, Chilkalguda, Jambagh, Boudhanagar, Masab Tank, Langer Houz, Nampally, Mozamjahi market, Aramgarh bridge, Raj Bhavan Road, Khairatabad, Saroornagar, Kukatpally and Banjara Hills.
Houses in many low-lying areas like Mohammad Guda, Prakash Nagar, Abids, Hayathnagar, Ganganagar, Barkatpura, Hastinapuram, Shalivahana Nagar, Moosarambagh, Babu Jagjivan Ram Nagar, Srinagar Colony, Ashok Nagar, Kavadiguda, Lower Tank Bund, Shivam Road and Raj Bhavan road remained submerged even hours after rains had stopped. Water levels had risen to 5 cm in some of them.
Motor-cyclists and cyclists were hurt while manoeuvring and a woman was injured when a wall in Vanasthalipuram collapsed and she had to be rushed to hospital.
The Greater Hyderabad Municipal Corporation (GHMC), whose primary responsibility it is, along with traffic police, to ensure that people would not be put into too many ordeals during such critical times, did what they do best-urging people not to venture out on vehicles except for emergencies.
The reasoning was equally baffling. A city that is supposedly equipped with ultra-modern infrastructure needed hours to drain out the water on the main roads. What's more, the roads were flooded because of the non-removal of silt from sewerage pipes and drains during summer. On his part, Mayor Bonthu Ram Mohan asked the GHMC officials to be vigilant and attend to any distress call.
What is intriguing is that despite past experience, especially last year, when the rains have caused a havoc all over the state capital, the administration, especially the civic authorities, is caught napping. Quite possibly they, including the likes of the MAUD Minister KT Rama Rao, have not heard of 'once bitten twice shy' and 'prevention is better than cure'.
Responding to the wake-up call, GHMC Commissioner B Janardhan told The Hans India that the corporation would clear critical bottlenecks in city nalas at an estimated cost of Rs 230 crore for which orders will be released at the earliest.
Interested in blogging for thehansindia.com? We will be happy to have you on board as a blogger.