Cabinet Advisory Board of Education prod for women's varsity in every State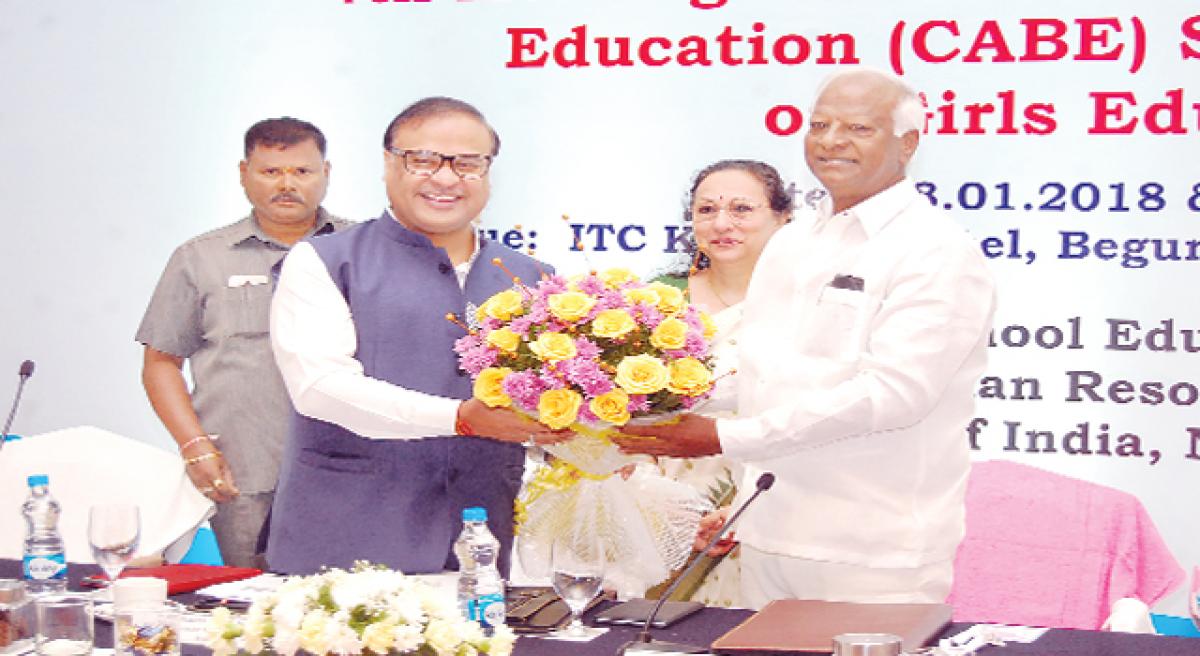 Highlights
The Cabinet Advisory Board of Education (CABE) at its 4th meeting here on Tuesday decided to submit its interim report by January 16 and a final...
Hyderabad: The Cabinet Advisory Board of Education (CABE) at its 4th meeting here on Tuesday decided to submit its interim report by January 16 and a final report by the end of February this year.
The meeting was presided over by State Minister for Higher Education and Chairman Kadiyam Srihari. The board decided to recommend the Centre to provide free education to women in the country from primary to postgraduate level. Besides, it stressed on establishing an exclusive university for women in every State and women residential degree colleges in every district of the country.
Briefing the media after the meeting, Srihari said the Centre had constituted the board to come up with a series of recommendations on the measures to be taken to encourage girl education in the country. As part of the same, CABE had met thrice before in Guwahati, New Delhi and Bhubaneswar, he said.
Srihari explained a series of measures being taken up in Telangana to encourage girl education. As part of this, free and compulsory residential educations need to be introduced for the girls. "As the girls and their parents are evincing more interest in the residential education to their wards, free education would play a key role in encouraging girls to continue their education," he said.
Similar steps have been taken by establishing Gurukul Residential Schools for SC and ST girls to encourage them. Further, currently, the KGVBs are running classes from VI to VIII standard and this needs to be upgraded to XII standard, he added. Also, the maximum intake of the current model school is limited to only 100 and it needs to be increased to 200, creating additional facilities, he said.
To take care of the adolescent girl students, top priority should be given to maintenance of hygiene and health, besides establishing positive and safe academic environs for them.
This includes appointing counsellors and free distribution of personal hygiene kits. The meeting also recommended that every school should have toilets, running water and adequate infrastructure. It also decided to ask the Centre to increase the number of residential schools providing English medium education on the lines of Kendriya Vidyalaya and Jawahar Navodaya Vidyalaya.
It was also decided to select around 15 best practices being implemented by the education departments of different States in the country and to replicate them across the country. All these will be made part of the final report of the CABE. He said another meeting is scheduled on January 15-16 at Delhi, which will be presided over by Union Human Resources Development Minister Prakash Javadekar.
Assam Education Minister Himanta Biswa Sarma said the CABE would make definite recommendations on the measures to be taken to promote girls' education and to address the issues coming in its way. Jharkhand Education Minister Neeraja Yadav expressed confidence that the recommendations will empower girl child educationally and socially to stand on their own feet and to contribute their might to the country.
Union Ministry of Human Resources Development, Special Chief Secretary and Member Secretary of the CABE Minakshi Garg, senior officials from education departments from different States attended the meeting.

Subscribed Failed...
Subscribed Successfully...