TDP ready for truck with Telangana Congress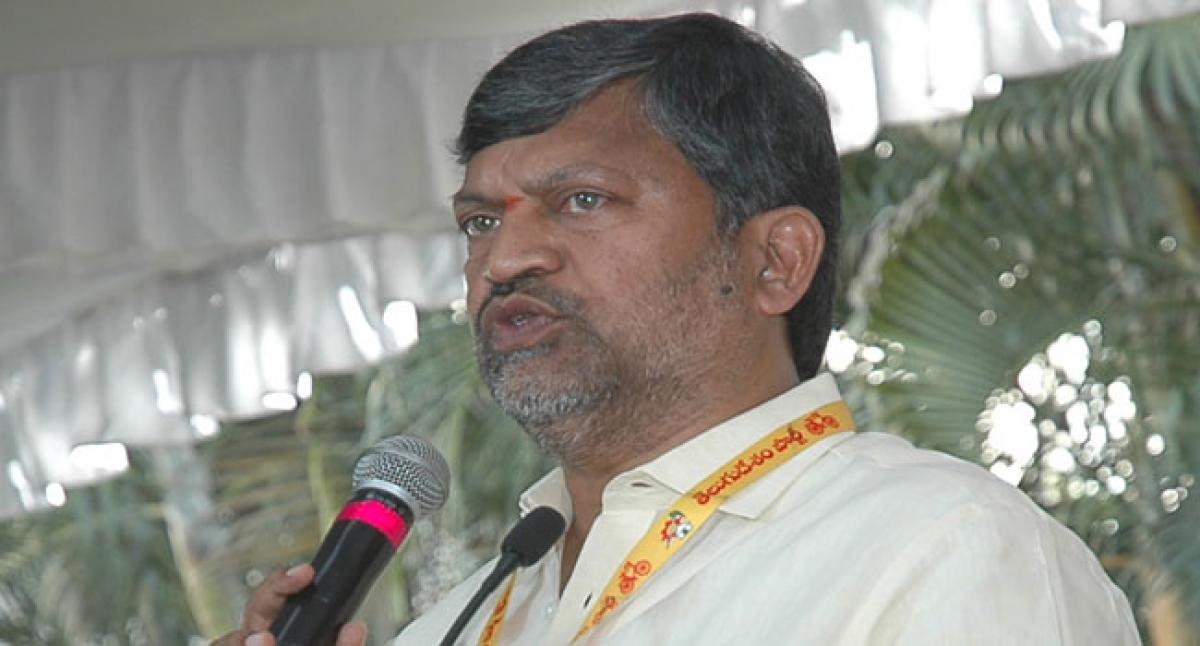 Highlights
To begin with, the TDP committee held talks with CPI Telangana state secretary Chada Venkata Reddy on Sunday After the talks, Venkata Reddy said the CPI will have an alliance with the TDP He said he had made a request to the TDP to allot seats for the CPI in areas where it was strong
Hyderabad: The Telugu Desam Party on Sunday hastened the process of forming a 'Grand Alliance' with the Congress, Left and other parties. TDP president N Chandrababu Naidu constituted a committee with TDP Telangana unit president L Ramana to hold talks with the leaders of grand alliance partners to finalise seat-sharing and also joint poll campaign. The grand alliance that is in the making now will have a slogan for creation of "Samajika Telangana".
To begin with, the TDP committee held talks with CPI Telangana state secretary Chada Venkata Reddy on Sunday. After the talks, Venkata Reddy said the CPI will have an alliance with the TDP. He said he had made a request to the TDP to allot seats for the CPI in areas where it was strong.
"We have arrived at a broad understanding to forge an alliance of democratic parties to fight the Telangana Rashtra Samiti. We will contest where our winning prospects are bright," the CPI leader said. His party would discuss with the TJS as well as with others.
For the grand alliance to work effectively, a common minimum programme has to be evolved which should be binding on all the constituents," Venkata Reddy said, pointing out that the agenda of his party was to defeat the TRS.
In another development, Ramana called up TPCC president N Uttam Kumar Reddy on phone and informed Telugu Desam's readiness to forge a pre-poll alliance with the Congress. The state-level leaders meeting from the two parties is likely to be held on Monday to decide the number of seats to be shared between the two parties. They said they are keen to bring Kodandaram's Telangana Jana Samithi into the grand alliance fold.
Chandrababu Naidu also constituted the TDP manifesto committee headed by party senior leader T Devendar Goud and also Election Campaign Committee under the supervision of Garikapati Rammohan Rao. The party leaders said that the two committees have already begun preparations to finalise the party manifesto and campaign strategy.
Once the TDP forges an alliance with the Congress, the two party leaders will hold a joint meeting to take up a combined poll campaign. However, the TDP will introduce its own manifesto in the election. Sources said that Naidu told his party leaders that he would stay away from participating in the election campaign in Telangana as he is busy with a series of programmes in Andhra Pradesh in the next two months.
Naidu is understood to have told party leaders to be realistic in claiming seats. If there is no alliance, the TDP will be at loss and hence the demand for seats should not be too high. He told them to complete the process by Tuesday or Wednesday. The TRS has already announced its candidates and launched campaign any delay will be loss to the Opposition, he averred.
Interested in blogging for thehansindia.com? We will be happy to have you on board as a blogger.