Ensuing polls add glitter to Ganesh fest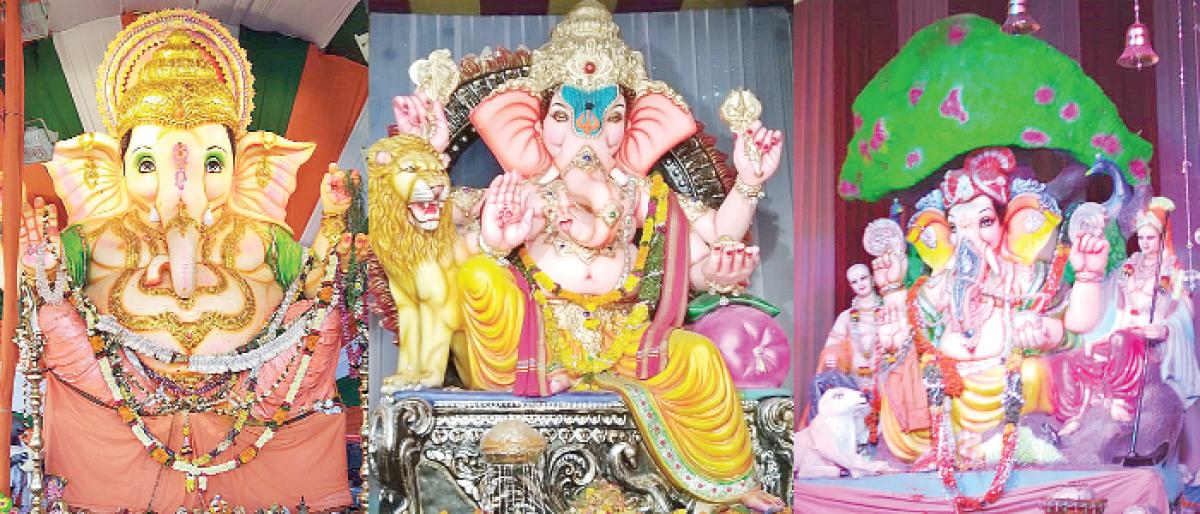 Highlights
Come elections and cadres of all political parties in the ground level have great time campaigning, knocking a few back and gorging with funds provided by their leaders
Generous donations by politicos cheer up local youth who are celebrating the 10-day-long festival in a grand manner
Khammam/Warangal: Come elections and cadres of all political parties in the ground level have great time campaigning, knocking a few back and gorging with funds provided by their leaders.
If coupled with a 10-day-long festival, it is a time quite worth pushing the boat out and making the best.
It seems that is what this season for squads of political parties of all hues in erstwhile Warangal and Khammam districts as the State is all set to witness elections in a few months and the much-sought after Ganesh Chaturthi round the corner.
The Ganesh Chaturthi is being celebrated on a big note like never before in erstwhile Khammam and Warangal districts as political leaders provided copious amounts of money for the celebrations without compromising, keeping in view of the ensuing elections.
Besides this, contributions to the pandals from local households - anything from Rs 50 to Rs 500 make their budgets abundant for celebrations.
It is learnt that each pandal, on an average, is spending around Rs 2 to 3 lakh for organising the 10-day festival.
The politicians, this time, seem to be keen on making most out of this festival with an eye on upcoming Assembly elections in Telangana.
They are sponsoring other events such as dance, rangoli, drawing and cooking competitions other than funding the pandals.
Due to the uncertainty over the model code of conduct, the number of banners and posters has reduced significantly this time compared to last year.
But, under the guise of NGOs, the politicians are giving huge donations to the pandals to project the leaders to the people visiting the pandals.
P Rathnakar, a college lecturer and resident of Nehru Nagar in Khammam city said, "In the wake of elections, politicians are waiting for this opportunity to make their presence felt in the area.
They always try to reach out to the people by hook or by crook." Several NGOs and other organisations controlled by politicians are also advertising and donating huge funds to make sure that their leaders secure their position since this election is 'do or die' for them, he added.
T Laxman, a resident of Hanamkonda, who is in-charge of two Ganesh pandals said, "Getting funding for the Ganesh festival has never been a problem.
Since this is a pre-election period, there is no doubt that the sponsorship from politicians is at a higher level than usual.
We had so many requests from local politicians this year to put up their banners in our pandals. But we took a conscious decision not to accept such banners, yet they have funded our pandals," he added.
Among more generous political contributors is former MLA of Khammam Puvvada Ajay Kumar who donated Rs 3 lakh cheque on the behalf of Puvvada Foundation for the Ganesh pandals set up under Stambadri Utsav Committee in Khammam city.
A cheerful environment is prevailing around Ganesh pandals that are set up on the occasion of Ganesh Chaturthi festival across the districts due to huge funds received from various sources by the Utsav Committees and may continue till Dasara and Diwali until the elections are held in the State, observed by a local resident.
Subscribed Failed...
Subscribed Successfully...