500 TRS activists join Congress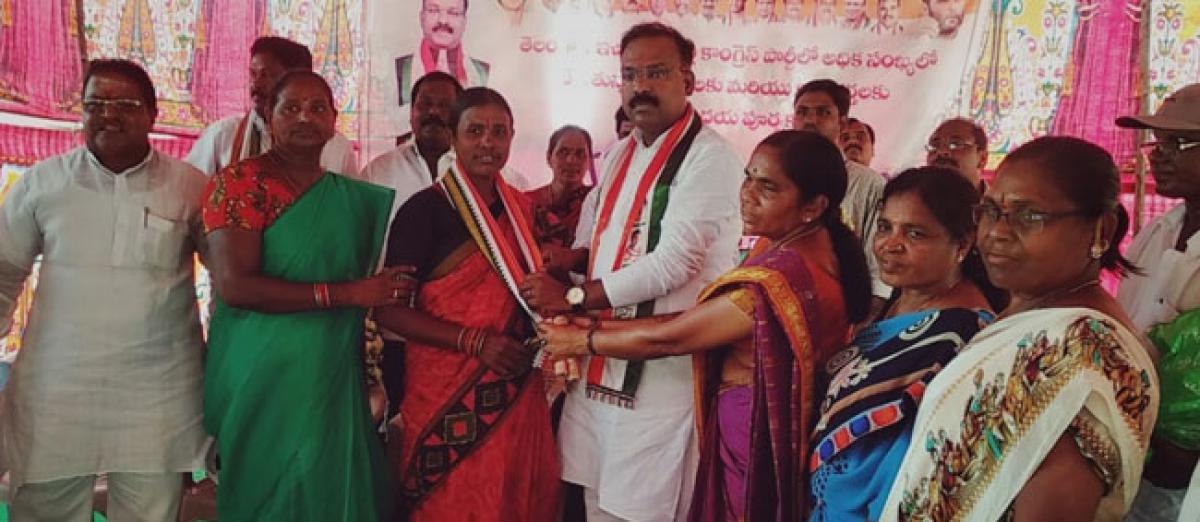 Highlights
Under the leadership of town TRS women wing president Kallepalli Suguna, as many as 500 TRS activists of wards 1, 2 and22 had joined Congress here on Sunday
Mandamarri: Under the leadership of town TRS women wing president Kallepalli Suguna, as many as 500 TRS activists of wards 1, 2 and 22 had joined Congress here on Sunday.
Also, several members of Rajaka Sangham, headed by Chinna Rajaiah, joined the Congress on the day. Congress leader Borlakunta Venkatesh offered them party 'kanduva' at a meeting held at old police station area in Yapal.
Addressing the new entrants, Venkatesh stated that time has come for repaying gratitude to AICC leader Sonia Gandhi for giving Telangana and that the State could progress only under the party. He called upon the Chennur voters to elect the Congress candidate with a big majority, 'as a present to be given to Sonia'.
Venkatesh said he had given up Group I post to serve the people. If given an opportunity he would strive to develop the constituency. He advised them not to be misled by the promises being made by the TRS leaders.
Among those present were senior Congress leader Nomula Yella Goud, Manda Bhaskar, INTUC central secretary Kampelli Sammaiah, PCC member Gudla Ramesh, SC Cell district president Sangi Santosh, Netakani Sangham leader Goleti Lakshmi, Jilla Kowmuramma, Jilla Raju, Singareni Srinivas, Pindi Anjayya, Ravi Varma, Kishore, Bhagya Suresh, Devaji, Lakshmayya, Lakshmi, Rajender, Shantha, Satish and Ashok.