Keerthi, a young turk in politics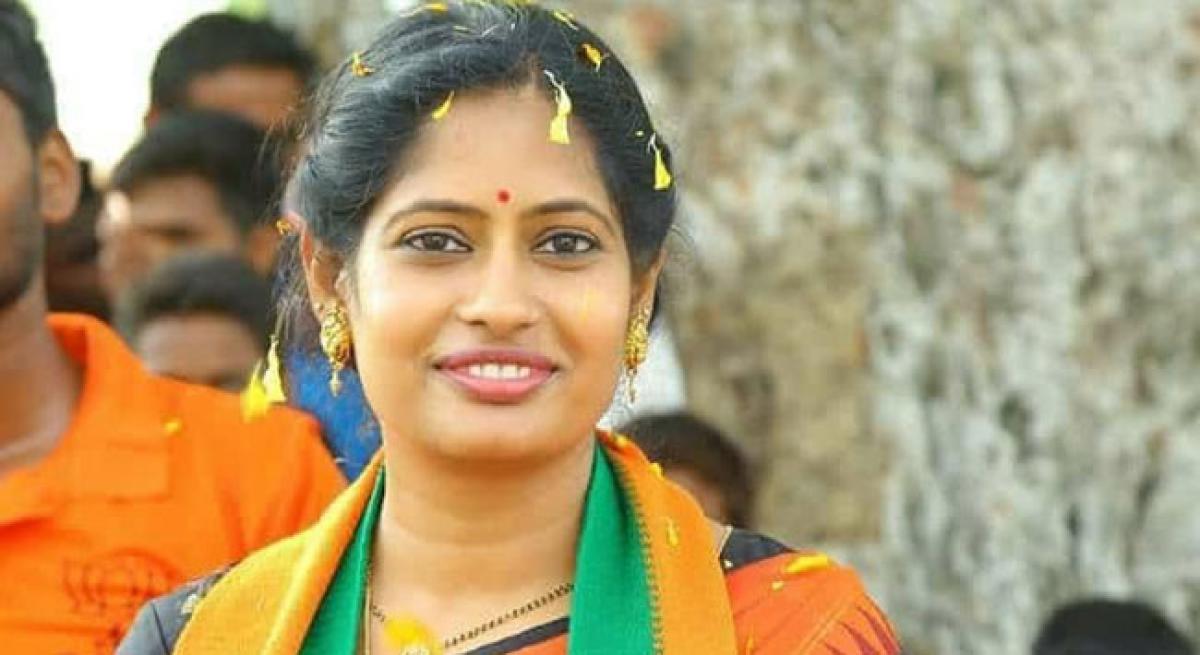 Highlights
It is heartening to see some young people being attracted towards politics, especially at a time when the people are vexed with the ageold politicians and their trumpeting One thing that came across clearly from the Mondays BJP meeting in Parkal constituency was that the impact that the new breed of politicians can create
Warangal: It is heartening to see some young people being attracted towards politics, especially at a time when the people are vexed with the age-old politicians and their trumpeting. One thing that came across clearly from the Mondays' BJP meeting in Parkal constituency was that the impact that the new breed of politicians can create.
Swami Paripoornananda may be the chief guest at this meeting, but it was Chandupatla Keerthi Reddy, BJP's Bhupalpally candidate, who stole the show with her nearly 10-minute powerful speech.
She is the daughter-in-law of none other than senior BJP leader Chandupatla Janga Reddy, who created ripples by defeating Congress stalwart and former Prime Minister P V Narasimha Rao in 1984. Those who were present at the meeting said Keerthi the best bet to make a mark in the State politics as she has the potential to withstand the political imbroglio.
The 38-year-old Keerthi, who holds a Bachelor degree in Physiotherapy (BPT), hails from Mahbubnagar district. She became active member of the party in 2009 and had worked as party's Warangal district treasurer. Presently, she is the State Executive Member of the party.
Proficient in all three major languages of the region – Telugu, Hindi and English, Keerthi, mother of two children, has been vigorously touring her Bhupalpally constituency since the party announced her candidature in the first list.
It is not going to be an easy task as she is pitted against two seasoned politicians – Sirikonda Madhusudana Chary (TRS) and Gandra Venkata Ramana Reddy (Congress probable) in addition to Gandra Satyanarayana Rao (TRS rebel) and others.
The way she attacked the Congress and the TRS reflects that she is not one to flinch to make her point. Such is her eloquence and thorough knowledge of the political situation in State and Centre. "The accent in which Keerthi speaks is sure to go down well with the people. The anecdotes she was using during her speeches were also catchy.
Bhupalpally is one of those countryside constituencies where habitations are scattered and hard to reach the people, who are predominantly tribes," Bhagavatham Bikshapathy, businessman in Bhupalpally, said, extending a word of praise to Keerthi for showing grit and determination to roam in forest fringe areas for campaigning.
It is inspiring to see someone like Keerthi who hails from an affluent family taking to politics for the cause of distressed sections, Chityala Vinod, a student, said. Speaking to The Hans India, Keerthi said: "The zeal to do something for the poor drew me close to politics. My father-in-law Janga Reddy is my inspiration. It's really awe-inspiring to see him work hard even in his 80s."
Interested in blogging for thehansindia.com? We will be happy to have you on board as a blogger.