Clean air drive at Shilparamam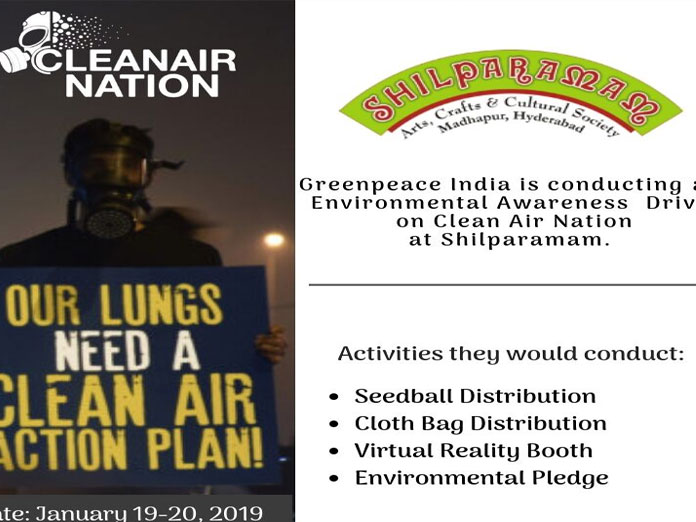 Highlights
Greenpeace India is conducting an environmental awareness drive on Clean Air Now at Shilparamam on January 1920 to make people aware of the consequences of air pollution and to demand the concerned authorities to take steps toward reducing air pollution
Hyderabad: Greenpeace India is conducting an environmental awareness drive on 'Clean Air Now' at Shilparamam on January 19-20 to make people aware of the consequences of air pollution and to demand the concerned authorities to take steps toward reducing air pollution.
Greenpeace India is an independent organisation registered in India and connected to a network of its other offices in over 55 countries.The organisation earlier launched a campaign called, 'Clean Air Nation,' through which they were able to highlight the hazards of air pollution to the public and made 'National Clean Air Programme' a reality.
Furthermore, Greenpeace India played a vital role in obtaining information through RTI on states' preparedness in reducing air pollution. The information revealed shocking statistics about Maharashtra.
The records of Central Pollution Control Board (CPCB) as of August 20, 2018, showed that even though seven out of the seventeen cities in Maharashtra had submitted their action plans, they needed to be revised further. Maharashtra tops the list of cities that have failed to develop action plans. The state is followed by Uttar Pradesh, Rajasthan and Karnataka.

Apart from air pollution, Greenpeace India also campaigns for Solar Shakti and Solar Pumps. It also looks into sustainable alternatives that can help make the transition towards renewable energy.