Hazare urges youth to imbibe Gandhian values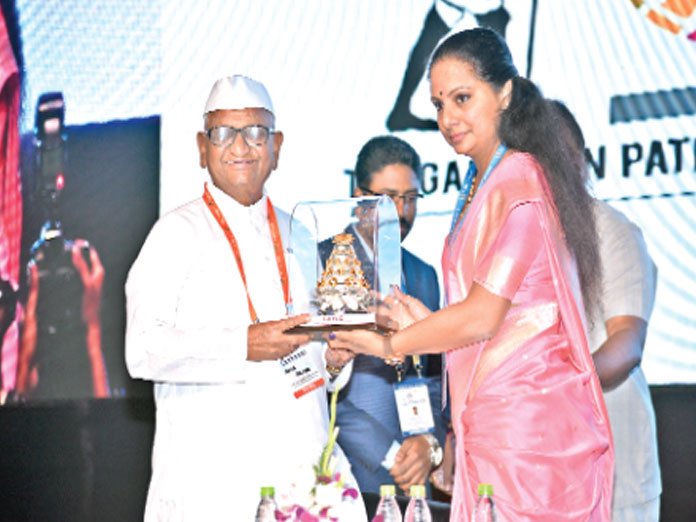 Highlights
Padma Bhushan awardee and Gandhian civil rights activist Anna Hazare gave a clarion call to the youth to emulate Gandhian values of good behaviour, positive thinking, sacrifice and service He asserted that youth power is nations power at the inaugural session of Telangana Jagruthi International Youth Leadership Conference TJIYLC here on Saturday
Hyderabad: Padma Bhushan awardee and Gandhian civil rights activist Anna Hazare gave a clarion call to the youth to emulate Gandhian values of good behaviour, positive thinking, sacrifice and service. He asserted that youth power is nation's power at the inaugural session of Telangana Jagruthi International Youth Leadership Conference (TJIYLC) here on Saturday.
The civil rights activist said that people remember only those who serve the society and nation and not millionaires. They great personalities will only be remembered by generations. "People would be celebrating 150th birth anniversary of Mahatma Gandhi this year.
But there is not a single instance of people celebrating a millionaire's birthday," he said. Hazare urged the youth to follow Gandhian values for a better life in the society. Youngsters are free to serve at their desired religious places, but they should also consider their village and nation as a religious place. Service to mankind is service to God, he said, speaking after inaugurating the event, Hazare said, "consider your village your family.
Big families are blessed with bigger happiness and nuclear families face different problems. Gandhiji always considered the entire nation as his family."Stating that youth power is the nation's power, he said that nation's development and welfare depends on the youth who will do wonders if they are guided properly.
Telangana Jagruthi Founder President and Nizamabad MP K Kavitha said youngsters across the globe are facing different problems like unemployment, drug abuse, mental disorder and others. The TJIYLC is a first step towards networking the organisations in different countries and to nurture the youth in addressing these issues, she added.
During a panel discussion as part of the TJIYLC, Hyderabad MP Asaduddin Owaisi said youth empowerment will help the country prosper on all aspects. Over 550 delegates from 110 countries are participating in TJIYLC, which will conclude on Sunday.